Same-Sex Marriage Gets Its Day In Court
A big week at the Supreme Court.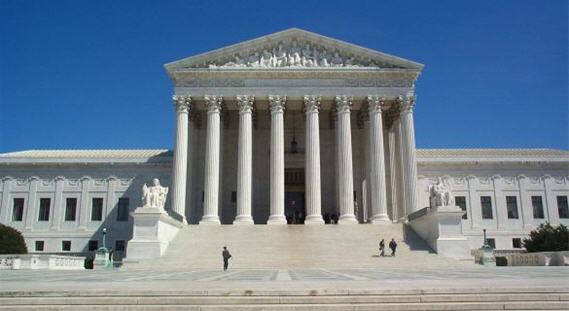 Starting tomorrow, the issue of same-sex marriage will be front and center at the Supreme Court. One case, Hollingsworth v. Perry, deals with the Constitutionality of California's Proposition 8, the 2008 ballot initiative that reversed an earlier decision by the California Supreme Court declaring that marriage equality was a right under the state's Constitution. The other other case, United States v. Windsor, is one of a number of cases challenging Section Three of the Defense of Marriage Act, a law passed in the 1990s that defines marriage for the purposes of Federal law as only being between one man and one woman.  In both cases the Courts below found that the laws in question were unconstitutional. Now, the fate of both laws will soon be in the hands of the Supreme Court:
The Supreme Court is poised to hear two blockbuster cases on gay rights this week, with historic implications for a cause that is advancing politically at lightning speed.

The cases to be heard on Tuesday and Wednesday involve the constitutionality of California's Proposition 8, which defines marriage as between a man and a woman, and the federal Defense of Marriage Act, which bars married same sex couples from receiving federal benefits.

By the end of June, nine justices will either advance the cause of gay rights, set it back, or punt on the larger questions, as support for gay equality in various forms rises in the polls.

All eyes are on Justice Anthony Kennedy, who has a pro-gay-rights streak, and to a lesser extent Chief Justice John Roberts, whose legacy will be shaped by the ruling.

"There have been two decisions in American history expanding rights for gays and lesbians. … Anthony Kennedy wrote the opinion for the Court in both," Erwin Chemerinsky, a constitutional law professor at UC-Irvine School of Law, told TPM recently. "He knows where history is going and that he faces the choice between writing the next Plessy v. Ferguson and the next Brown v. Board of Education. He wants to be on the right side of history."

Among court watchers, the prevailing expectation is for DOMA to be struck down, an outcome supported by various corners of the legal and political spectrum. The decision is about whether or not to equalize federal treatment of married heterosexual and same-sex couples.

Prop 8 is harder to predict — and its implications trickier. The favored outcome among gay rights advocates is one where the Court recognizes a constitutional right to marry and overturns all state bans on gay marriage. The justices may also overturn Prop 8 on the particulars and leave other bans intact. Or they may decide that states are free to prohibit gay marriage. The first option would all but remove the issue from the political arena; the latter two would likely incite a series of long and contentious battles in states.
It is exceedingly difficult to predict how the Supreme Court will decide a case like this, especially before oral argument has taken place. Indeed, as last year's litigation over the Affordable Care Act showed us, it's often hard to predict what SCOTUS will do even after oral argument. Nonetheless, it does seem as though the hunches that DOMA is likely in trouble and that there's at least a strong possibility that Proposition 8 will be struck down do seem to have some merit. At the center of both cases, as is usually the case in high profile cases, is Justice Anthony Kennedy. Kennedy is notable for being the author of the majority opinions in both Lawrence v. Texas, which struck down sodomy laws as unconstitutional, and Romer v.Evans, which struck down a Colorado law that made it illegal for any political subdivision in the state to make sexual orientation a protected class under civil rights laws. Given that history, most Court watchers seem to think that Kennedy would at least be susceptible to being persuaded by the arguments being made by those challenging both laws.
There isn't very much to say about these cases that hasn't already been said. When oral arguments are over tomorrow and Wednesday,, we'll be able to get at least some glimpse at what the Justices might be thinking. Keep in mind, though, that oral argument isn't always the best guide to determining which way the Court will go in a given case. In the meantime, those interested in finding out more about the cases and the issues that will be argued this week can check out the overviews posted by SCOTUSBlog here and here, as well as this  excellent link-filled post by Walter Olson. What happens going forward is something only the Justices know at this point.