Same-Sex Weddings Come To New York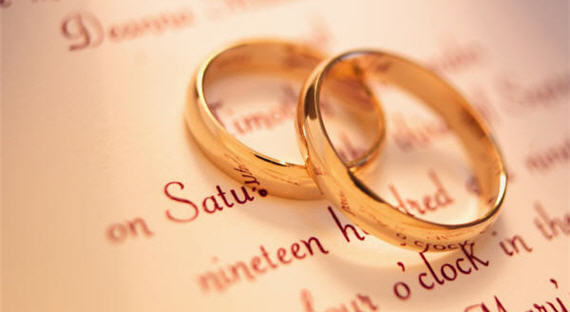 Today was the first day that same-sex couples could obtain marriage licenses in the State of New York, and there were plenty of people waiting to be the among first to get married
From New York City to Niagara Falls, N.Y., hundreds of gay and lesbian couples across the state began marrying on Sunday — the first taking their vows just after midnight — in the culmination of a long battle in the Legislature and a new milestone for gay rights advocates seeking to legalize same-sex marriage across the nation.

Outside the city clerk's office in Lower Manhattan, an orderly crowd had gathered in sweltering temperatures alongside metal police barriers hours before the doors opened around 8:45 a.m., prompting a cheer. At least one veil was in evidence.

Phyllis Siegel, 76, and Connie Kopelov, 84, who have been together in Manhattan for 23 years, were the first couple in, receiving a waiver from the rule requiring 24 hours between a license and a ceremony. They were ushered right into the chapel. Ms. Kopelov used a gray walker anchored by two tennis balls as they were married by the city clerk, Michael McSweeney.

As Mr. McSweeney declared to the couple, "I now pronounce you married," Ms. Siegel tenderly held Ms. Kopelov's head and kissed her on the left cheek. "I am breathless," said Ms. Siegel.

The first male couple, Marcos A. Chaljub, 29, and Freddy L. Zambrano, 30, both of Queens, wore matching white shirts, green ties and black and white boat shoes — even their beards matched. After the newly married couple kissed for a sustained 12 seconds, a friend tossed rice grains out of a Ziploc bag and a small audience in the chapel erupted into loud applause.

In New York City, 823 couples had signed up in advance to get marriage licenses on Sunday. Marriage offices in each borough were open, with some drawing more than others. In some places, small groups of protesters with signs were on hand, as well, denouncing the new law. But there were no reports of major disturbances.

By late morning, hundreds of people were still waiting in line outside the office in Manhattan. Those who emerged after being married were greeted with cheers from passers-by, a cadre of journalists seeking interviews and even the congratulations of police officers assigned to keep order.

The City Council speaker, Christine C. Quinn, who is openly gay, witnessed the first marriages in Manhattan. "To hear a judge say, 'By the laws of our state'? It sent a chill up my spine," Ms. Quinn said.

Outside the five boroughs, more than a dozen other cities and towns from Buffalo to Brookhaven opened their offices to issue licenses, and over 100 judges across the state have volunteered to officiate.

"This is long overdue," said Mayor Matthew T. Ryan of Binghamton, who planned to preside at the wedding of at least two local couples, and invited same-sex couples from Pennsylvania to come to his city to be married. "It really is a great day for all of us who believe in inclusiveness and equal rights for everybody."

A few glitches were reported: in Manhattan, a printer jammed, delaying some marriages, and in Buffalo, a key local official was absent, causing a backlog.

The day of ceremonies began just after midnight. Against a cascade of rainbow-colored falls, and with cicadas humming in the background, Kitty Lambert and Cheryle Rudd married at the first possible moment in Niagara Falls. After a bell tolled 12 times to ring in the new day, Ms. Lambert, 54, and Ms. Rudd, 53, held hands and kissed in front of more than 100 friends and family members.
Of course, now that gays can get married in New York, that means that the Moms are getting involved:
Being gay has downsides: social bias, discrimination and homophobia, to name but three. But one blessing gay people have had was not having to endure pushy moms (and some dads) pestering them about when they are going to settle down and marry. With same-sex marriage now legal in New York, some gay sons and daughters are starting to feel the same heat from parents as do their straight siblings.

"I've been tracking it on our site's chat boards," said Carley Roney, editor in chief of the wedding site the Knot, which has had a gay wedding section since 1998. "Now that more states are legalizing gay marriage, parents are saying, 'Oh, good, so you told me this was serious and I've been supporting you, but now you can make it official.' "

In a sense, it's no different from what drives overbearing parents everywhere.
Welcome to the club, guys and gals.
Seriously, though, I have a hard time looking at the pictures of people getting married in New York today and understanding why anyone would think there's something wrong with it. How, exactly, are your lives harmed because two people who love each other have entered into a legally recognized relationship? Isn't that something worth celebrating rather than condemning?