Sanders Wins In Wisconsin, But Clinton Remains In Control In The Race For Delegates
Bernie Sanders pulled off another win, but it puts him no closer to having a realistic chance of winning the nomination.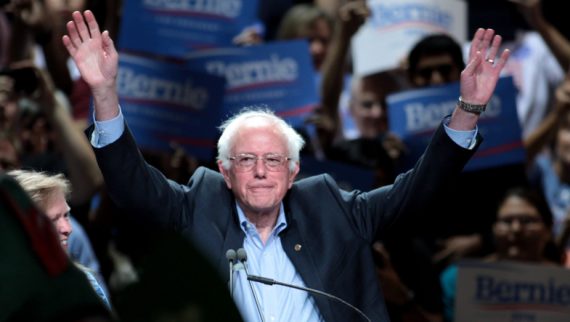 While the delegate numbers continue to show that the odds of his actually winning the Democratic nomination are quite low at best, Bernie Sanders continues to stack up wins against Hillary Clinton in a race for the nomination that is likely proving to be far more difficult than Clinton thought it would be. Ever since Clinton won the Arizona primary on March 22nd, Sanders has swept her with wins in Utah, Alaska, Hawaii, and Washington. Last night, Sanders followed those wins up with a solid win in Wisconsin, but the delegate count still suggests that Clinton is headed toward a win at some point before the Democratic National Convention:
Senator Bernie Sanders defeated Hillary Clinton in the Wisconsin primary on Tuesday, his sixth straight victory in the Democratic nominating contest and the latest in a string of setbacks for Mrs. Clinton as she seeks to put an end to a prolonged race against an unexpectedly deft and well-funded competitor.

Mrs. Clinton's defeat does not significantly dent her comfortable lead in the race for the 2,383 delegates needed to secure the Democratic nomination. But the loss underscores her problems connecting with young and white working-class voters who have gravitated to Mr. Sanders's economic message — a message he will now take to economically depressed parts of New York State ahead of the April 19 primary there.

Mr. Sanders's victory came after he had hardly left Wisconsin in recent days, pouring his energy and resources into securing a win that would help him put to rest any doubts that he could capture a major primary state, and providing his campaign with renewed focus as he strives for an upset in New York, Mrs. Clinton's adopted home state.

He used his victory speech to remind voters of how far his long-shot candidacy had come, defining the word "momentum" as exceeding the expectations set by a skeptical news media and establishment political class.

"Momentum is starting this campaign 11 months ago and the media determining that we were a 'fringe' candidacy," Mr. Sanders told a crowd of more than 2,000 on a college campus in Wyoming, which holds its caucuses on Saturday and where he is also favored to win. "Do not tell Secretary Clinton — she's getting a little nervous," he said. "But I believe we've got an excellent chance to win New York and a lot of delegates in that state."

His victory signaled vulnerabilities that have trailed Mrs. Clinton's candidacy amid persistent criticism of her paid speeches to Wall Street banks and her email practices while serving as secretary of state. In Wisconsin, Mr. Sanders held a significant edge among voters who said they wanted a candidate who cares about people like them. Nine in 10 voters said the Vermont senator was honest and trustworthy, compared with six in 10 who said the same about Mrs. Clinton, according to exit polls of voters from Edison Research.

Wisconsin provided a friendly setting for Mr. Sanders's brand of economic populism. Liberals made up two-thirds of the overwhelmingly white Democratic primary voters, and the economy, followed by income inequality, topped the list of voters' concerns, according to exit polls.

As Mrs. Clinton shifted focus to New York, Mr. Sanders embarked on a week of campaigning through Wisconsin, speaking to crowds of thousands in Madison, Milwaukee, Green Bay and La Crosse and visiting more sparsely populated or rural areas like Eau Claire, Onalaska and Wausau.

Mrs. Clinton spent most of her time in the state in Milwaukee, where she held a discussion about gun violence at Tabernacle Community Baptist Church alongside black mothers who had lost children to gun violence or clashes with the police.

About seven in 10 black voters in Wisconsin, mostly concentrated in Milwaukee, supported Mrs. Clinton. She also outpolled Mr. Sanders among voters over 45. Mr. Sanders won among men, younger voters, independents and white voters.

Mr. Sanders also captured a majority of voters who said the economy was the most important issue, and about two-thirds of those who cited income inequality. The more than four in 10 voters who said trade with other countries took away from American jobs favored Mr. Sanders by a large margin, exit polls showed.

Mr. Sanders's aides said his victory in Wisconsin signaled that his anti-trade message would appeal in areas of upstate New York that have been eviscerated by companies' moving jobs overseas. "There are parts of western New York that have been severely hurt by these bad trade deals that the secretary has consistently supported," said Jeff Weaver, Mr. Sanders's campaign manager.

Mrs. Clinton appeared ready to move forward to New York. "Congrats to Bernie Sanders on winning Wisconsin," she wrote on Twitter. "To all the voters and volunteers who poured your hearts into this campaign: Forward!"

The victory on Tuesday, like most of Mr. Sanders's recent wins, was expected to bring a deluge of online donations to his campaign, allowing it to buy television ads in expensive media markets in New York and in Pennsylvania, which votes on April 26.

The Sanders campaign spent more than $3.3 million on ads in Wisconsin, roughly $1 million more than the Clinton campaign, according to Kantar Media.

But Wisconsin, with a population that is 88 percent white, does not reflect the larger and more diverse populations of New York and Pennsylvania, more comfortable terrain for Mrs. Clinton. In 2008, Barack Obama defeated Mrs. Clinton in Wisconsin by 17 percentage points.

As Mr. Sanders focused on winning Wisconsin, Mrs. Clinton courted African-Americans in New York on Sunday by visiting black churches.

Mr. Weaver rejected the notion that Mr. Sanders performed well only in overwhelmingly white states, pointing to victories in Michigan and Hawaii

Robby Mook, Mrs. Clinton's campaign manager, said on Monday that Mr. Sanders's unlikely path to the nomination would amount to "overturning the will of the voters" by trying to flip pledged delegates at state and party conventions, as was done in Nevada.
As with Ted Cruz's victory on the Republican side, Sanders' win here was not entirely a surprise given that most of the polling prior to yesterday showed him headed for a victory in the Badger State, something that the Clinton campaign appeared to acknowledge given the fact that they have spent more of the past several days in New York than in Wisconsin. At the same time, it's worth noting that Sanders did outperform the polling, much of which showed him with only a single digit lead over Clinton leading into the voting yesterday. As was the case with many other states in which he has done well, though, the combination of larger than expected voter turnout and what seems to be a well-oiled Sanders ground operation worked to given him a larger than expected margin of victory. Psychologically speaking, this is certainly a boost to Sanders and his campaign, but given the manner in which Democrats allocate delegates, the actual impact on the race for the nomination is far smaller than it might seem. While the final numbers have yet to be announced, it's entirely possible that Sanders will only actually gain less than ten delegates on Clinton, who continues to have the overwhelming lead in the delegate count. Moreover, the fact that Clinton spent the twenty-four hours before the primary in New York rather than Wisconsin shows that her campaign realizes where the important numbers are, because the nearly 250 delegates at stake in New York will dwarf whatever advantage Wisconsin gives to Sanders. Presently, Clinton has a double digit lead in the polls New York, although it has shrunk somewhat from the massive lead she had several weeks ago, as well as a double digit lead in Pennsylvania, where there are 189 delegates up for stake on April 26th.
Turning to the delegate count, Sanders' win in Wisconsin seems even less relevant. Leaving out the Superdelegates, there have been 2,464 delegates allocated in Democratic primaries or caucuses to date, leaving 1,587 pledged delegates still to be allocated. To date, Hillary Clinton has won 1,279 delegates, meaning that she has won 51.91% of the pledged delegates that have already allocated. In order to get to the majority of 2,382 delegates based on pledged delegates alone, then, Clinton would need to win 69.50% of the outstanding pledged delegates. Bernie Sanders, on the other hand, has won 1,027 of the pledged delegates that have been allocated to date, representing 41.68% of the delegates so far. In order to win the nomination, he would need to win 85.38% of the delegates yet to be allocated. Bringing the Superdelegates into the mix makes the difference between Clinton and Sanders even more stark. With the Superdelegates that are pledged to her, Clinton would need to win roughly 35% of the remaining pledged and Superdelegates. Senator Sanders, on the other hand, would need to win 73.60% of the remaining pledged and Superdelegates. Clinton's goal is achievable, and it's likely that she'll get there sometime by mid-May. Sanders goal is, simply put, not achievable unless for some reason the remaining Superdelegates that remain uncommitted start lining up behind him and the Superdelegates that have already pledged themselves to Clinton start jumping ship. Neither of those events are very likely and, indeed, I'd suggest that they are largely impossible. Hillary Clinton is going to be the nominee of the Democratic Party, the only question left is when she hits the magic number.