Santa Clara Police Threaten to Not Do Job Over Cartoon Socks
Blue feelings matter.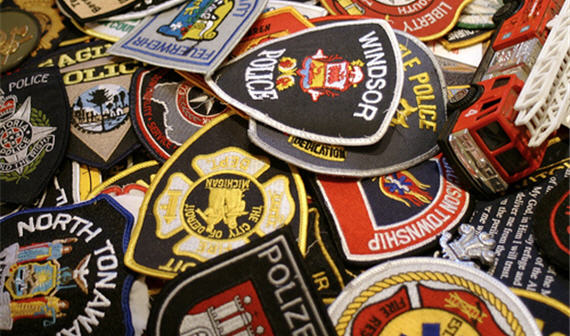 The Santa Clara police union has threatened not to provide security for 49ers games unless the team disciplines backup quarterback Colin Kaepernick for protesting police brutality.
ESPN:
The Santa Clara police union has sent a letter to the San Francisco 49ers, warning that police might stop working the team's home games due to Colin Kaepernick's statements on police brutality and his wearing of socks during a practice that showed cartoon pigs dressed as police officers.

The letter, obtained by NBC Bay Area, states that if the 49ers do not discipline Kaepernick, "it could result in police officers choosing not to work at your facilities."

The letter also states that "the Santa Clara Police Officers' Association has a duty to protect its members and work to make all of their working environments free of harassing behavior."

It criticizes what it called anti-police statements made by Kaepernick, calling them "insulting, inaccurate and completely unsupported by any facts."

The 49ers reiterated Friday night that they stand behind Kaepernick and respect his right not to participate in celebrating the national anthem.
This follows incidents in July when four Minneapolis police officers walked off the job after a similar protest involving the city's WNBA team and Cleveland police threatened not to work Browns games because a backup running back posted a message critical of cops on his social media page. In the first instance, the team backed down. In the second, the player had already apologized.
In both cases, the officers in question are technically "off duty" and working as private security contractors. In reality, though, they're operating under the color of authority of their police uniforms and leveraging that power to threaten the safety of citizens exercising their First Amendment rights in an extremely peaceful manner. The notion that Colin Kaepernick's cartoon socks constitute some sort of "harassment," much less something that requires "protection" is laughable.
Frankly, I'd prefer that police officers not be allowed to moonlight as security personnel—especially in uniform. It gives the impression that some businesses and activities are being accorded special favor by law enforcement and creates all manner of obvious conflicts of interest. But, once they've accepted that responsibility, they lose the right to walk off in protest.
We've allowed police to create a dangerous climate, wherein even obviously unlawful actions by members of the guild are to be above questioning. Already, juries are extremely loath to convict officers for even egregious over-use of force under the premise that police are a "thin blue line" that save us from mayhem. They're permitted to search citizens at a whim and allowed to use tactics appropriate for a combat zone in peaceful suburbs on the pretense that their lives are constantly in peril and that it's better that a hundred civilians (and a thousand of their pets) die than one heroic officer. Now, apparently, they're also above any criticism.