Majority Of Americans Disagree With Trump On N.F.L. Anthem Protests
Donald Trump has apparently made the American public more supportive of players who kneel for the National Anthem.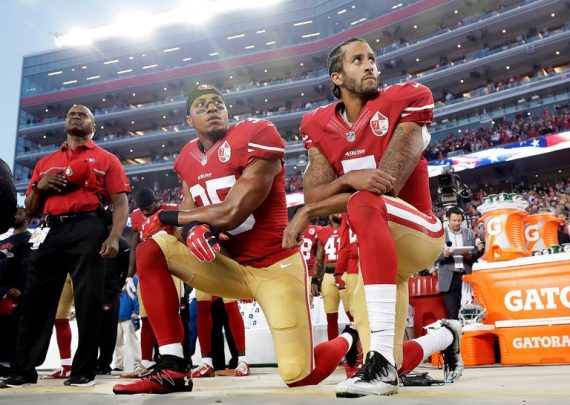 A new poll indicates that the general public is turning against Donald Trump's position regarding the National Anthem protests at National League Football games:
The poll, conducted Oct. 15-17 by HBO Real Sports and Marist College, found that an increasing number of Americans believe that professional sports leagues should not require athletes to stand during the national anthem. In this October poll, 51 percent said that standing should not be required. In a September 2016 poll by HBO and Marist, only 43 percent said this.

The shift is particularly sharp among Democrats, whose opposition to requiring athletes to stand has increased by 13 points. Meanwhile, Republican opposition has declined. Self-described independents look more like Democrats: Their opposition to requiring athletes to stand has increased from 47 percent to 54 percent.

If you know your political science, this is an entirely predictable finding. When presidents take visible positions on issues, it naturally polarizes public opinion. As citizens, we routinely take cues from political leaders in our party — or react against leaders in the opposite party.

Repeatedly during Trump's presidential campaign and presidency, the net effect of this polarization has been to move overall opinion against his views. During the campaign, for example, Americans' opinions of Muslims became more favorable. Support for a border wall with Mexico decreased.

Indeed, in this new HBO-Marist poll, 68 percent of respondents, and 41 percent of Republicans, said that Trump did the "wrong thing" in criticizing the athletes who have knelt during the anthem. Only 41 percent said the athletes themselves were doing the wrong thing.
This chart shows the extent to which public opinion on the issue has changed in just a year: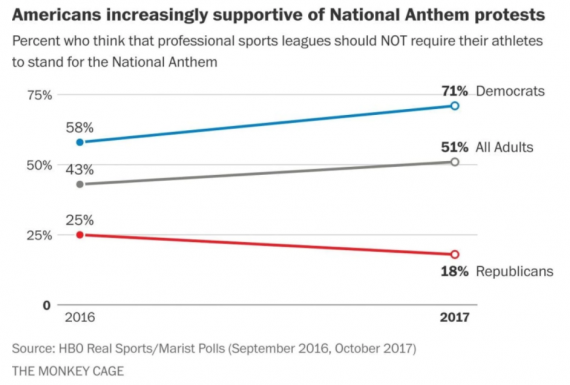 The National Anthem protests started with former San Francisco Quarterback Colin Kaepernick. Kaepernick, of course, said last season that he was engaging in the silent protest to bring attention to issues relating to police abuse and the disproportionate use of force against African-American men, an issue that had gained national attention beginning with the shooting of Michael Brown by Ferguson, Missouri police officer Darrin Wilson in August of 2014. That incident, as well as others, has spawned nationwide protests by groups such as Black Lives Matter and other groups. It was Kaepernick's protest, though, that seemed to gain the most attention and arose the most controversy, with many seeing it as being disrespectful to the flag and to the nation while others have argued that it is a legitimate and entirely respectful form of protest.
To a large degree, the controversy over Kaepernick's protest died off as the season progressed last year, and seemed to be mostly over after the 49ers decided to release him. Since then, Kaepernick has not been signed by any other team in the league and there have been some who have suggested that he's being passed over in no small part due to the controversy that the protest that he began had generated during the previous season. Whether that was true or not remains unclear, though, since there's also a case to be made the Kaepernick's performance had declined in recent years and that, much like Tim Tebow before him, few teams were interested in taking on the potential controversy that would come with signing someone who at least initially would be a backup Quarterback at best.
All of that changed a month ago when the President decided to resurrect the issue of players standing or not standing for the National Anthem during a speech in Alabama where he referred to the protesting players as "sons of bitches." In the wake of that speech, and notwithstanding the fact that Colin Kaepernick, the issue was resurrected and players reacted to it beginning with the first games of the season when more players than ever before kneeled or engaged in some other silent show of solidarity, in many cases joined by team owners who spoke out in favor of their players. As the controversy continued, Trump seemingly egged it on by continuing to attack the players via his Twitter feed and calling for the league to fire players who are not standing for the Anthem. Most recently, the issue came back into public view at the beginning of this month when Vice-President Pence walked out of an Indianapolis Colts game when several of members of the opposing team chose to kneel during the anthem. In the meantime, the N.F.L. itself announced last week that it would not follow Trump's lead and would not require players to stand during the Anthem. Additionally, a poll that was taken after Trump's Alabama speech also showed that a majority of Americans disagreed with Trump's position that players who refuse to stand for the National Anthem should be fired or otherwise disciplined.  As noted, this was a marked change from the polling last season, which showed the public more supportive of the idea that players should be required to stand during the National Anthem.
As the article above notes, there's only one thing that has changed in the time between the initial protests and the new polling showing that the public has changed its mind significantly on this issue. Donald Trump became President and, shortly after the new season started last month, began to resurrect the issue as part of his never-ending appeal to the culture war issues that resonate with his base. To some degree, it seems clear that part of the reason for this change in position is likely the fact that Trump has become the face of the issue rather than Colin Kaepernick or any of the players and that voters, who already view the President negatively according to opinion polls dating back to the beginning of his Presidency, are reacting as much to that fact as they are to the issue itself. This is one of the concrete ways that Trump's negative job approval and favorability, most recently reflected in a new Fox News Poll, can have an impact in the real world. It's a phenomenon that also seems to have played a role in forming public opinion on issues such as health care reform and other issues that Trump hs championed, and one that Republicans who are remaining silent about Trump's Presidency because they want to focus on their legislative agenda would do well to take note of. In the long run, it may turn out that using the President to push that agenda could end up backfiring them simply because he's the one advocating the idea, and that could have real implications at the ballot box in 2018 and beyond.