Trump's Job Approval Hits New Low In Fox News Poll
President Trump remains the most unpopular newly elected President since the end of the Second World War, and there's no sign that will change.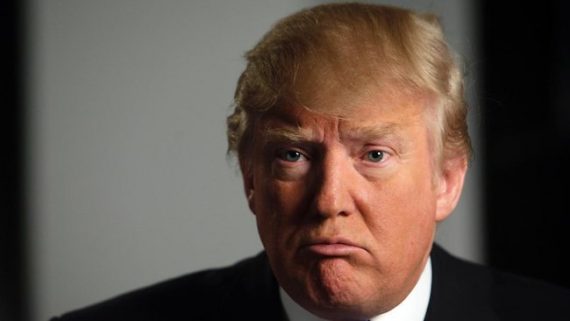 As we head toward the one-year anniversary of his surprise victory in the 2016 Presidential election, a new Fox News Poll shows President Trump hitting new lows in his job approval rating:
Was it the tweet storms or the hurricanes?  Something hit President Trump's numbers.  His personal ratings have deteriorated and his job approval has hit a low.

Thirty-eight percent of voters approve of the job Trump is doing in a new Fox News poll, down from 42 percent last month.  At the same time, disapproval is up 4 points to a high of 57 percent.  That includes 49 percent who "strongly" disapprove.

Some of the drop comes from white men without a college degree, as 56 percent approve of the president, down from 68 percent last month.  Working-class white men were a key voting bloc for him in the election (71 percent backed Trump according to the Fox News Exit Poll).

Republican support held steady at 83 percent approval.

John Kelly bests his boss:  42 percent approve of the job the White House chief of staff is doing, while 30 percent disapprove.  Twenty-nine percent of voters are unable to rate him, including 25 percent of Republicans.  Fewer Republicans approve of Kelly (69 percent) than Trump (83 percent).  Yet more than three times as many Democrats approve of Kelly (24 vs. 7 percent).

Thirty-three percent think Trump is honest and trustworthy, though that's hardly changed from just before the election when 35 percent felt that way (November 2016).

Roughly 4-in-10 think Trump has the knowledge (38 percent), compassion (37 percent), and judgment (37 percent) to serve effectively as president.

A similar 38 percent believe Trump "cares about people like me," while 6-in-10 disagree (60 percent).  Those most likely to feel he doesn't care include non-whites (79 percent), women (68 percent), voters under age 45 (68 percent), and lower-income voters (67 percent).

Trump's favorability stands at 39 percent.  That's down from 44 percent in August, and a high of 47 percent in June.  His unfavorable number is 59 percent.

Voters are more favorable toward Melania Trump than her husband, but her numbers have taken a hit too.  She's at 45 percent favorable and 34 percent unfavorable.  It was 51-28 percent in June.

The White House receives mixed marks for its response to recent disasters.  Voters give net positive ratings for the response to the hurricanes that hit Houston (+7 points) and Florida (+2), but sharply negative ratings to how it responded to the Puerto Rico hurricane (-32), mass shooting in Las Vegas (-23), and the California wildfires (-21).

Meanwhile, 60 percent disapprove of how Trump's handling health care.  One third approves (33 percent).  At a net negative 27, that makes health care his worst issue rating.  He performs better — but is still underwater — on North Korea (-24 points), Iran (-21), taxes (-14), and the economy (-5).

President Obama's signature law remains divisive.  Twenty-five percent would repeal the health care law entirely (near the low of 23 percent wanting repeal), while another 31 percent would repeal parts of the law.  On the other hand, a record 29 percent would expand it, and 13 percent would leave it as is.

When asked to look ahead 10 years, most voters expect at least some of the law will be changed:  21 percent expect it to be repealed entirely, up from 16 percent in 2015.   Nearly half, 47 percent, say parts will be repealed.  Fewer than one in four thinks it will be either expanded (14 percent) or left alone (9 percent).

What happens with health care carries more risk than reward for Republicans.  The poll shows about the same number would credit Obama or the Democrats in Congress (37 percent) as Trump or the Republicans (33 percent) if the health insurance system improves.  If the system gets worse, however, twice as many would blame Trump or the GOP (48 percent) as Democrats or Obama (22 percent).

(…)

Among Trump voters, the president receives his largest negative rating on trust, as 14 percent say he is dishonest.  Sen. Bob Corker (R-TN), himself once a Trump supporter, tweeted about the president's dishonesty Tuesday, "Same untruths from an utterly untruthful president."  That was in response to the president tweeting, in part, that Coker had decided against running for reelection "when I refused to endorse him."

Overall, 57 percent of voters disapprove of Trump's tweets, while 30 percent "wish he'd be more cautious."  Only 11 percent approve.  Even Trump voters aren't as enamored as they once were:  25 percent approve of his tweeting, down from 35 percent in March.
Looking at the polling averages, we find much the same news for the Trump Administration, and none of it is good. RealClearPolitics, for example, has the President's job approval overall at 39% approve and 56.1% disapprove, while the average for job approval as it relates to the economy stands at 44.1% approve and 45.8% disapprove. Previously, the economy had been the one area where the President's job approval was at least somewhat positive, so the fact that he is dipping into negative territory in this area as well could be an indication of growing dissatisfaction with his Presidency that could have a real impact going forward. On foreign policy meanwhile, Trump's job approval stands at 36.6% approve and 55% disapprove. When it comes to personal favorability, Trump's numbers remain nearly as bad as they were on Election Day with 38.6% saying they have a favorable opinion of the President and 56.8% having an unfavorable opinion for a net negative of -18.2 points. At Pollster, meanwhile, Trump's job approval stands at 38.4% while his approval stands at 56.8%. As has been the case since January, Democrats have an overwhelmingly negative opinion on the President's job approval while Republicans have an overwhelmingly positive one. Among Independents, meanwhile, Trump continues to do worse than he does with Americans as a whole with 34.3% approving of the job he's doing and 56.1% approving. Finally, FiveThirtyEight's job approval average, which is also weighted based on Pollster reliability and rankings, shows Trump's job approval at 37.1 % and his disapproval stands at 56.9%.
As the RealClearPolitics chart shows, Trump's job approval has continued its overall downward trend after briefly going slightly positive for him in the immediate aftermath of Hurricanes Harvey and Irma: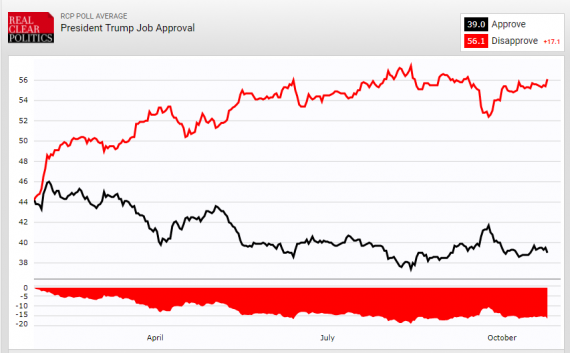 At some point, of course, all of this polling news begins to sound like something of a broken record. Trump continues to have an overwhelmingly negative job approval that stands as the worst for any newly elected President since World War Two and his personal favorability continues to be just as bad as it was during the campaign and roughly the same as it was on Election Day 2016. For most Presidents, numbers such as this would be the kind of political disaster that would mandate serious changes at the White House and a change in strategy aimed at turning public perception around. Instead of doing that, though, the Trump White House has responded by, well, not doing much of anything. There have been some changes in personnel, such as the departure of figures such as Sean Spicer, Reince Priebus, Anthony Scaramucci, Steve Bannon, and Sebastian Gorka, but none of that has changed the overall tone coming from the Administration and it certainly has not changed the behavior of a President who has spent the last two weeks attacking his predecessors, yet another Gold Star family, and sitting Senators such as Bob Corker. It's also worth noting that as bad as Trump's job approval numbers are, he does currently appear to have a floor somewhere in the range of the 37 to 39 percent, which likely represents the hardcore Trump supporters and Republicans who have decided to stand behind the President notwithstanding his lack of notable accomplishments and rather obvious flaws. While this seems like an odd way to govern, it seems to be what the Administration wants so it's likely to continue for the foreseeable future. Whether this is a wise decision on their part is, of course, another question.