Trump's Pathetic Lies Reach A New Low
Now Donald Trump is using the death of American soldiers to tell lies about his predecessor.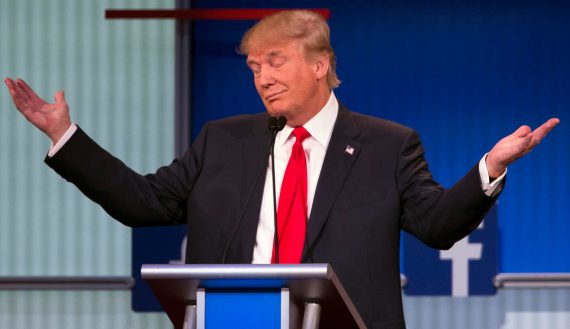 Nearly two weeks ago now, four American soldiers were killed in an incident in the African nation of Niger in what was apparently a joint mission against Boko Haram, the terrorist group that has been active in the region for years now and which has proclaimed alliances with and allegiance to both ISIS and al Qaeda in recent years. In addition to raising questions about exactly why Americans were involved in a nation that few of us have ever heard of, the incident is apparently under Pentagon review due to questions about the circumstances under which the deaths occurred, the incident also raised questions about the White House's response to the incident. For example, while President Trump has been quite active on Twitter in the nearly two weeks since the soldier's deaths' he has had nothing to say about these days and the White House has been virtually silent on the matter.
All of this led reporters to bring the issue up yesterday, which gave the President the opportunity to tell what amounts to a bald-faced lie about President Obama's response to the death of troops under his own watch:
 President Trump falsely asserted on Monday that his predecessor, Barack Obama, and other presidents did not contact the families of American troops killed in duty, drawing a swift, angry rebuke from several of Mr. Obama's former aides.

Mr. Trump was responding to a question about why he had not spoken publicly about the killing of four Green Berets in an ambush in Niger two weeks ago when he made the assertion. Rather than answering the question, Mr. Trump said he had written personal letters to their families and planned to call them in the coming week. Then he pivoted to his predecessors.

"If you look at President Obama and other presidents, most of them didn't make calls," Mr. Trump said during a news conference in the Rose Garden with the Senate majority leader, Mitch McConnell. "A lot of them didn't make calls. I like to call when it's appropriate."

Mr. Trump's assertion belied a long record of meetings Mr. Obama held with the families of killed service people, as well as calls and letters, dating to the earliest days of his presidency. Before he decided to deploy 30,000 troops to Afghanistan, Mr. Obama traveled to Dover Air Force Base in Delaware to greet the coffins of troops.

While Mr. Obama's former staff members have grown used to Mr. Trump's gibes about the "failure" of the Affordable Care Act or the "disastrous" Iran nuclear deal, they lashed out at his remarks on Monday with unusual bitterness.

"This is an outrageous and disrespectful lie even by Trump standards," Benjamin J. Rhodes, a former deputy national security adviser to Mr. Obama, posted on Twitter. "Also," Mr. Rhodes added, "Obama never attacked a Gold Star family."

That reference was to the public feud Mr. Trump began with the parents of a Muslim American soldier, Humayun Khan, who was killed in Iraq in 2004. The soldier's parents, Khizr and Ghazala Khan, appeared at the Democratic National Convention in 2016, where Mr. Khan criticized Mr. Trump.

Alyssa Mastromonaco, a former senior aide to Mr. Obama, used even stronger language on Twitter, calling Mr. Trump's statement a lie — along with an expletive — and describing him as a "deranged animal."

A spokesman for Mr. Obama declined to comment.

Several former Obama administration officials recalled the former president's walks through Section 60 at Arlington National Cemetery, where the dead from Iraq and Afghanistan are buried, his visits to the wounded at Walter Reed National Military Medical Center, and the time he spent with families of the fallen at the White House and around the country.

In August 2011, after a Chinook military helicopter was shot down over Afghanistan, killing 38 people, including 25 Special Operations forces, Mr. Obama consoled the families of all those killed, according to Jeremy B. Bash, a former chief of staff to Defense Secretary Leon E. Panetta, who attended the ceremony.

David Axelrod, a senior adviser to Mr. Obama, said, "I don't recall anything moving him more. He saw it as his duty to console them as best he could and thank them on behalf of the nation."

But several officials said it was not always realistic to expect presidents to call the families of every fallen soldier. During the peak years of the wars in Iraq and Afghanistan, Mr. Obama and former President George W. Bush faced hundreds of fatalities each year.

In 2009, the first year of Mr. Obama's presidency, there were 317 American military fatalities in Afghanistan and 149 in Iraq. So far this year, there have been 11 fatalities in Afghanistan and 14 in Iraq. Seventeen sailors were killed in accidents involving two Navy warships, the John S. McCain and the Fitzgerald.

(…)

While he did not explain why he had not called their families, Mr. Trump said he had written letters to the family members over the weekend, which he said would be mailed later in the day or on Tuesday. He said he also planned to call them.

"I felt very, very badly about that," he said. "The toughest calls I have to make are the calls where this happens. Soldiers are killed. It's a very difficult thing," he said. "Now, it gets to a point where, you know, you make four or five of them in one day. It's a very, very tough day. For me, that's by far the toughest."

A senior official said Mr. Trump had planned to speak sooner to the families, but the White House had to wait until the Pentagon's paperwork was completed.
In addition to repeating what is clearly a falsehood regarding his predecessors, Trump sunk even further today when he apparently sought to use the 2010 death of the death of the son of General John Kelly, his own Chief of Staff, as a cudgel against his against his predecessor in office:
Trump on his claim other presidents didn't call the families of fallen soldiers: "You could ask General Kelly if he got a call from Obama."

— Kaitlan Collins (@kaitlancollins) October 17, 2017
While neither Kelly or his family apparently received a direct phone call from the President, reporters did point out that President Obama did have at least some kind of conversation with the Kelly family after their son died:
Gen. Kelly and wife attended Gold Star families breakfast at WH in 2011 and sat at Mrs. Obama's table, person familiar with breakfast says.

— Jeff Zeleny (@jeffzeleny) October 17, 2017
Kelly also attended 2012 White House dinner honoring "those who served in Operation Iraqi Freedom and Operation New Dawn" hosted by Obamas

— NBC Politics (@NBCPolitics) October 17, 2017
That Donald Trump is lying again is hardly a surprise, of course. This has become so common under his Presidency that one can hardly keep up with the number of easily debunked falsehoods are passed off as true on a daily basis by the President, his underlings, or his supporters and surrogates on talk radio and cable news. The same can be said about his continued obsession with engaging in political attacks against his predecessor in office, something that we haven't really seen from preceding Presidents such as Ronald Reagan, George H.W. Bush, Bill Clinton, George W. Bush, or Barack Obama, even in situations where such criticisms may have been warranted by the facts. Not only has Trump broken with that precedent, but he appears to revel in attacking both former President Obama and Hillary Clinton in attempts to defend his own failures in office notwithstanding the fact that the General Election occurred nearly a year ago.
In this case, though, there is something particularly distasteful about using the deaths of American soldiers, including the death of your own Chief of Staff's son, to score political points against people who aren't even part of the political scene anymore. There's plenty to criticize about the war policies followed by both former President Bush and former President Obama, but it is clear from their behavior while in office and since leaving office that they did care about the men and women they sent into battle and that they did the best they could to reach out to the families of the fallen when and where appropriate. The fact that Trump would attack either man over this issue, and that he would lie about them in the process, is an insult to the men and women who died and a slap in the face to their families. (Not that Trump is unfamiliar was slapping Gold Star families in the face, of course.) If nothing else, it reveals just how deep the narcissism of the current occupant of the Oval Office runs and how little he cares about the consequences of what he says. In this case, a combination of a long-standing refusal to take responsibility for his own actions and rhetoric that pre-dates his career as a politician by several decades, a willingness to lie at the drop of a hat even when those lies can be easily debunked, and a core group of supporters that will believe anything he says and support him no matter what he does seems to have combined to allow him to sink to even lower lows than we've already seen from him.
I'd say I'm surprised and shocked by this kind of behavior, but this is Donald Trump we're talking about. Nothing is surprising or shocking anymore, and saying something offensive appears to be standard operating procedure for this White House. What would be surprising is if they told the truth and took responsibility for mistakes, but we all know that's not going to happen.