Santorum And Gingrich Cannot Win The Nomination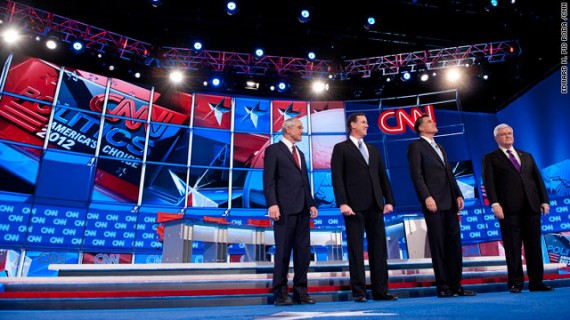 Josh Putnam does some delegate math and argues that it's impossible for either Rick Santorum or Newt Gingrich to get the majority of delegates needed to win the Republican nomination for President:
The bottom line here is that Romney has enough of a delegate advantage right now and especially coming out of today's contests that it is very unlikely that anyone will catch him, much less catch him and get to 1144. The latter seems particularly far-fetched given the above scenarios. And that is a problem in this race. Well, a problem for Gingrich and Santorum anyway. If all either of them can take to voters is an argument that all they can do is prevent Romney from getting to 1144, then neither has a winning strategy. That sort of strategy has a half life; one that will grow less effective as, in this case, Romney approaches 1144. Complicating this scenario even further for Gingrich and Santorum is the fact that if neither can get to 1144 or even close to it, neither is all that likely to be the candidate to emerge as the nominee at any — unlikely though it may be — contested convention.

These contests today may not be decisive in terms of settling the nomination, but they very much represent a mental hurdle in this race. That Santorum and Gingrich cannot get to 1144 without vastly over-performing in the remaining contests (relative to how well they have done in the contests thus far) ushers in a new phase in the race.

But how long will the "keep Romney from 1144 plan" last? With southern contests scattered throughout the rest of March, Gingrich and Santorum will have legitimate chances at wins. However, that means Illinois on March 20 and the bulk of April end up being rather tough terrain. Wins on Romney's turf become imperative to stay alive at that point for Gingrich and Santorum. By that point, though, Romney will still hold the delegate advantage and favorable contests in front of him. That is not a good combination for anyone hoping to catch him in the delegate count.

…or even keep him under 1144.
You can read the entire post to understand why Putnam reaches this conclusion, but it seems to me that he's pretty much on-point. Given how today is expected to go, there simply isn't any realistic shot for either Santorum or Gingrich to pass Romney in the delegate count. So, they will have to decide for themselves if they want to continue a campaign that is only going to hurt their party's nominee, or if they want to do the responsible thing and bring this race to an end. My guess is that, after tomorrow, you are going to see the GOP Establishment rallying around Romney in a way we haven't up until now, and that there will be both public and private pressure on the rest of the candidates to bring this process to an end already.