Santorum: Social Policy Killed the British Empire
Santorum has an interesting theory about the decline of great powers.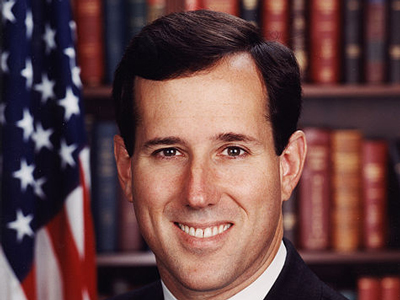 Via CNN we find some odd (to be kind) historical claims from former Senator and GOP presidential hopeful Rick Santorum:
He spoke of how the British Empire faded because "they accepted the mediocrity of state control."

"We face that moment right now," he said. "It is our watch right now."
He said this after noting:
"We have a president who does not understand what American exceptionalism is," he said.

He faulted President Obama for telling an audience last month that America "would not be a great country" without the entitlement programs of Social Security and Medicare.
I take it from this series of statements that Santorum is arguing that the British Empire fell because of the institutionalization of social welfare policies like the National Health Service, old age pensions, unemployment benefits, and the like.  I will admit that the strained nature of the logic does make it difficult to follow, so perhaps I am misinterpreting.
First, there is the curious association of US exceptionalism and the British Empire.  Is Santorum suggesting that a) we are an empire and/or b) that greatest requires empire?  It is an odd formulation at best, and I am not sure what it has to do, per se, with Americanness.
Or, perhaps it isn't so odd, as it does seem that a lot of people who extol "American exceptionalism" focus far too much on power than they do on values.
This is important because if relative power to the rest of the world is the real issue that defines the greatness of America, then really the values aren't the relevant issue.  Surely the things that make America great are ideas like democracy, freedom, equality, etc.
Second, I would question the hypothesis that the British Empire fell because of social welfare programs in the UK.  For one thing, India gained its independence in 1947, but the National Health Service wasn't founded until the next year.  I suppose we won't get into that pesky question of whether imperial overreach had anything to do with the fall of the British Empire (not to mention some serious involvement in two World Wars in a  way that US did not).  There is also the niggling fact that the country that eclipsed Britain was the US and the generic fact that the post-WWII era was an era of decolonization in general.  In other words:  the era of empire (as defined by colonization) was done, and not just for the British.
Third, I won't even try to figure out how social welfare programs like universal health care, old age pensions and the like equals "accept[ing] the mediocrity of state control."
Also, a parting question:  if the US falls from global hegemony because of Medicare, Social Security, and (presumably) the PPACA, then who is going to take its place?  I guess by the Santorum Theorem it can't be any European country, what with all their mediocrity of state control and all.  And if it isn't a European state, it surely can't be Japan for the same reason.  And, btw, forget China, given that they have a rather substantial amount of state control in their economy in a way that would make event the Europeans blush.
Quite the puzzle, I must say.
Ultimately I find this kind of stuff maddening because a) it conflates power with greatness without thinking about what really matters and b) it is historical claptrap.