Sarah Palin Apparently Thinks She's A Catholic Theologian
Who knew?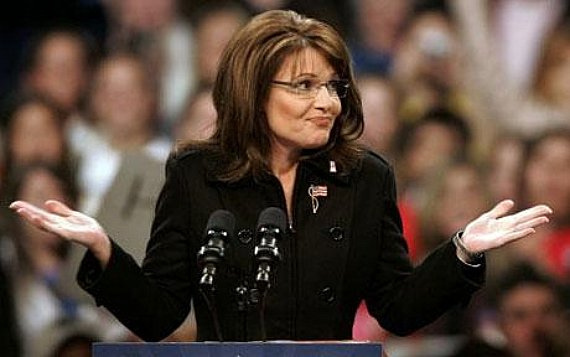 Sarah Palin is on a tour to promote her new book and the non-existent "War On Christmas." and she apparently felt the need to weigh in on developments out of Rome in the wake of the elevation of Pope Francis to the Papacy:
Former Alaska Gov. Sarah Palin (R) said Tuesday that some of the pope's statements "sounded kind of liberal," but assured CNN's Jake Tapper that she wouldn't necessarily trust her ears nor the "lamestream media" until she did her "own homework" on the matter.

"Having read through media outlets, he's had some statements that to me sounded kind of liberal, has taken me aback, has kind of surprised me," the former Republican vice presidential nominee said on "The Lead with Jake Tapper." "But there again unless I really dig deep into what his messaging is, and do my own homework, I'm not going to just trust what I hear in the media."
What's amusing, of course, is that Palin is making the same mistake that the institution she often derides as the "lamestream media" does when discussing things that come out of Rome, she's applying "left" and "right" labels traditionally used to talk about American politics to Catholic theology while at the same time clearly not understanding what that theology is all about. While I don't pretend to be an expert in the subject myself, it doesn't take much knowledge of the field to understand that nothing that Pope Francis has said is inconsistent with Church teaching, and that it's completely inaccurate to describe it as being either "liberal" or "conservative." Indeed, much of the explanation for the "change in tone" that we are seeing from those people can be exampled by a combination of his own personality, his Jesuit training, and the fact that he is clearly heavily influenced by the teachings of his namesake, St. Francis of Assisi. This is is more prominent in the fact that he has chosen to forgo much of the regal trappings of the Papacy for a simpler lifestyle and that he has called on Bishops and Cardinals to do the same. The same is true of the fact that he has chosen to be more direct in the manner in which he emphasizes the Church's work on behalf of, and concern for, the world's poor, especially those in the Third World, which is after all the part of the world where Catholicism is growing the fastest. Similarly, his comments about the Church being more compassionate toward gays and lesbians, while continuing to adhere to Catholic teaching that sexual relationships outside of a male-female marriage are sinful, is entirely consistent with Church teaching on the matter. It's not "liberal," nor it is "conservative." At the most, it's choosing to emphasize and more compassionate side of Church teaching, which shouldn't really be something that gets a meaningless political label attached to it.
In other words, it doesn't take much to understand what Pope Francis is doing and saying as long as you understand the background that it's based upon. Of course, that requires being able to apply a level of nuance to a subject that stretches back through 2,000 years of human history that both Palin and the media she loves to criticize are, generally, utterly incapable of doing. The fact that Palin herself isn't Catholic only makes the effort to comment on the subject all the more filled with error and failure.
Here's an idea for talking heads like Palin, stick with what you know rather than pretending to understand what you clearly don't.