Sarah Palin: Fiscal Conservatism Shouldn't Apply To Defense Spending
Sarah Palin is among a group of Republicans concerned that the Tea Party movement's fiscal conservatism could pose a danger to defense spending.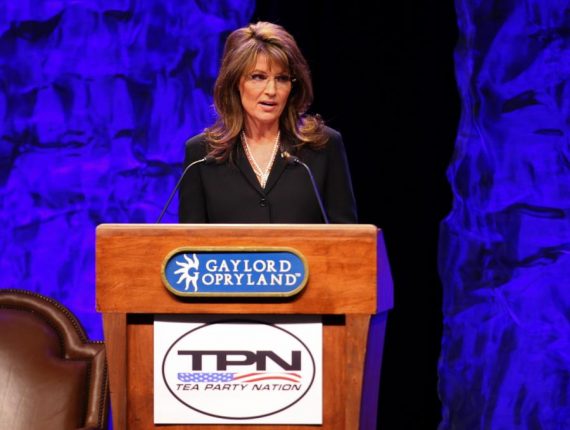 It looks like Sarah Palin is trying to convince her Tea Party admirers that their devotion to fiscal conservatism shouldn't apply to defense spending:
Sarah Palin is waging a battle inside the Tea Party movement to exempt defense spending from the group's small-government, anti-deficit fervor.

There's growing concern among Republicans — and especially among the pro-defense neoconservative wing of the party — that national-security spending, which is under a level of scrutiny and pressure not seen since the end of the Cold War, could fall victim to the anti-establishment, anti-spending agenda of the Tea Party movement. Palin, as the unofficial leader of that movement and its most prominent celebrity, is moving to carve out such funding from any drives to cut overall government expenditures.

(…)

Palin's drive to lead the charge against defense cuts on the right was on display in a June 27 speech at "Freedom Fest," a conservative gathering in Norfolk, VA, where she sent a clear message to Republicans that deficit reduction can't come at the expense of the military.

"Something has to be done urgently to stop the out of control Obama-Reid-Pelosi spending machine, and no government agency should be immune from budget scrutiny," she said. "We must make sure, however, that we do nothing to undermine the effectiveness of our military. If we lose wars, if we lose the ability to deter adversaries, if we lose the ability to provide security for ourselves and for our allies, we risk losing all that makes America great! That is a price we cannot afford to pay."

Palin also directly took on Defense Secretary Robert Gates, a Republican, challenging his drive to reign in procurement spending and reevaluate the need for certain huge weapons systems and platforms.

"Secretary Gates recently spoke about the future of the U.S. Navy. He said we have to 'ask whether the nation can really afford a Navy that relies on $3 to $6 billion destroyers, $7 billion submarines, and $11 billion carriers.' He went on to ask, 'Do we really need … more strike groups for another 30 years when no other country has more than one?'" Palin said. "Well, my answer is pretty simple: Yes, we can and, yes, we do, because we must."
Palin's enthusiasm for defense spending without regard to whether it's actually useful isn't shared by all Republicans, though:
Republican Sen. Tom Coburn of Oklahoma sent a letter to the commission explaining exactly why he thinks defense spending is ripe for cost-cutting. "I appreciate that some of these thoughts are controversial," he wrote, "even to the point that I have some reluctance in suggesting them" — highlighting the sensitivity of even challenging increased defense spending, something of a third rail in GOP politics. "However, if we are to fulfill our mandate, we must make some difficult choices, not just recommend that others do so," he said.
Coburn, of course, is absolutely right on this one, and Palin is completely wrong. If we are going rein in Federal spending and make a serious move toward cutting the budget deficit, then there is no area that can be completely off the table, including a $ 700 billion defense budget. To say otherwise while claiming the mantle of fiscal conservatism is to be a completely hypocrite and, if Palin is serious about her comment that defense spending is untouchable, and similarly serious about her previous comments that tax increases are out of the question, then she is demonstrate an astounding amount of economic illiteracy.
You can't pay for something with nothing, Mrs. Palin, and you can't call yourself a fiscal conservative if you're not really serious about spending cuts. And your comments demonstrate a distinct lack of seriousness.
H/T: United Liberty