Sarah Palin Thinks Being President Might Be Too "Shackley"
Sarah Palin apparently thinks having an actual job would be too confining.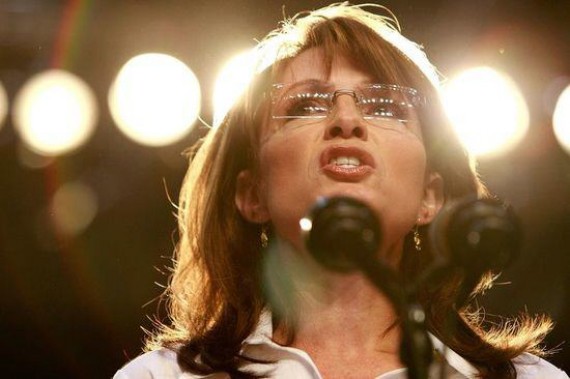 Sarah Palin appears to the laying the groundwork for the announcement that she won't be running for President, with the basic argument being something along the lines of the job being beneath her:
A Palin presidency: Too "shackle-y?"

That's what Sarah Palin suggested on Fox News' "On The Record with Greta VanSusteren" tonight, saying that she's concerned jumping into the 2012 presidential race will muffle her message.

"Is a title worth it?" she asked, rhetorically. "Does a title shackle a person? Are they someone like me who's maverick? I do go rogue and I call it like I see it and I don't mind stirring it up in order to get people to think and debate aggressively."

"Is a title and a campaign too shackle-y?," she continued. "Does that prohibit me from being out there, out of a box, not allowing handlers to shape me and to force my message to be what donors or what contributors or what pundits want it to be? Does a title take away my freedom to call it like I see it and to affect positive change that we need in this country? That's the biggest contemplation piece in my process."

Palin expressed a concern about "being caricatured" if she runs, and asked again "whether a title is needed to make a difference or someone can be rogue, can be maverick, can be passionate about issues and can get people to think very wisely about issues."

Palin also said she didn't know anything about a recent e-mail her political action committee sent to supporters saying she's "on the verge" of making a 2012 decision: "Well I don't know what went out to voters that said I'm on the verge."

But she admitted it's getting late.

"For logistical reasons though, certainly, decisions have to be made," she said. "You have to get your ducks lined up in order to get your name on ballots."
Indeed, now that Florida is on the verge of moving its primary to January 31, 2012, those deadlines start falling on October 31st.

As for Palin's comments, I suppose I'd just join Greg Sargent in noting that President of the United States isn't just a "title," it's an actual job with actual powers and responsibilities. Of course, considering that she quit the last position she was in that has actual powers and responsibilities and has spent the last two years touring the country on bus tours and pontificating on Fox News Channel from her custom built Wasilla studio, I can understand why she might not want to be all shackely-ied down with job requirements and all that stuff. After all, it's much more fun to talk about stuff than actually do stuff, isn't it?
The other notable part of last night's interview was the way manner in which Palin dismissed Herman Cain as a "flavor of the week" and, well, kept referring to him by a nickname I'm pretty sure he doesn't have:
Take Herb Cain. Look at why he's doing so well right now. He's, I guess you could say, with all due respect, the flavor of the week because Herb Cain is the one up there who doesn't look like he's part of that permanent political class. Herb Cain — he came from a working class family. He's had to make it on his own all these years. We respect that.
Some commentators have said they thought that Palin was referring to him as "Herm Cain," which would at least be closer to his actual name although no less strange. I'm not sure why Palin choose to not only dismiss such low-hanging fruit as Cain but also refer to him by something other than his actual name.
In any event, I suppose we'll be getting popups like this from Palin throughout October as she drags this thing out as long as possible, but this strikes me as the clearest signal yet to whatever's left of her supporters that she isn't going to run. The other signal, of course, being the fact that she's done absolutely nothing to put together a campaign organization either nationally or in any of the early primary states. The worst you can say about Chris Christie is that he's being coy. Palin's being a tease.