Sarah Palin Trails Obama By 17 Points, September 3rd Announcement In Doubt
Is she in or is she out? And does it matter?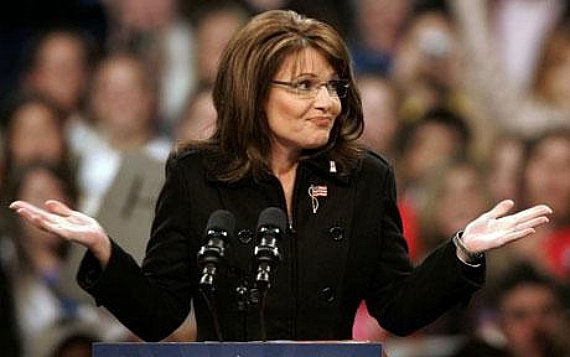 A new Rasmussen poll shows that nominating Sarah Palin would essentially be a suicide pact on the part of the GOP:
If Election Day was right now, President Obama would defeat the former Alaska governor 50% to 33%, according to a new Rasmussen Reports national telephone survey. This marks the first time that the president has risen out of the 40s in hypothetical matchups with any of the major GOP presidential hopefuls. Fifteen percent (15%) prefer some other candidate, and two percent (2%) are undecided. (To see survey question wording, click here.)

Last month, Obama posted a 47% to 38% lead over Palin, the GOP's unsuccessful vice presidential candidate in 2008.

Palin earns support from 62% of Republicans, while 88% of Democrats back the president. Voters not affiliated with either party prefer Obama by a 51% to 30% margin.

Obama holds a narrow 44% to 38% lead over Palin among male voters, but women prefer the incumbent by a sizable 56% to 29% margin.
The poll also shows Palin trailing Obama by significant margins among voters under 30 (12% Palin/64% Obama) 30-somethings (30/50). Obama also beats Palin among every single ethnic and income demographic, including white voters, where he beats Palin 43% to 38%. This isn't entirely surprising, of course. Palin's unfavorable numbers remain at all-time highs despite the fact that she's kept herself out of the media spotlight (other than the bus tours, of course) over the past several months. Does anyone really think that Americans are going to like her more when she starts showing up on their television screen every single day between now and the Iowa Caucuses? Yea, I don't either.
Numbers like this may be why, despite much speculation that September 3rd will see some big announcement about a campaign, the word now is that we won't be hearing much of anything in two weeks:
Speculation that Palin might use the Labor Day weekend event to declare her candidacy has ramped up on cable news and the conservative blogosphere, but RCP has learned from sources close Palin that an official announcement is unlikely at that time.

Still, Palin's speech is expected to offer more clues about whether she will jump into the race sometime in September, as some of her public comments and behind-the-scenes actions over the past several months have suggested is possible. And a core group of self-appointed volunteer organizers hope that the Indianola shindig will be one of the best-attended events of the presidential campaign season to date.

(…)

Peter Singleton, a California attorney who leads the Iowa branch of the all-volunteer group Organize4Palin, told conservative radio host Tammy Bruce on Saturday that in addition to Palin's speech, the three-hour midday rally would include a diverse undercard of speakers, music and video interludes, and even a group lesson on precinct organizing.

The event will pose a significant test for Singleton and the rest of the all-volunteer army of Palin devotees who have for months been quietly paving the way for a presidential run that would be fueled by a dedicated core of political novices.
As Ed Morrissey notes, however, these volunteers are the only evidence, anecdotal as it is, that there might be some kind of a campaign organization forming:
At the moment, that seems to be the only evidence that Palin's running at all — the proliferation of volunteer auxiliaries working to organize the event.  That will eventually pose a problem for an entry into the campaign, though, which is that the other campaigns will have staffed up in Iowa and elsewhere.  Assuming Palin does jump into the race, she will find the pickings slim for experienced staffers and organizers.  Of all the potential candidates who have yet to declare, Palin has the best odds of overcoming that handicap due to her near-universal name recognition, but in Iowa, organization and retail politics are the key to victory.
There's another sign of what Palin's intentions might actually be that's might actually be more reliable. When Mike Huckabee was flirting with the idea of running for President, his bosses at Fox News warned him that he needed to make a choice between running for President and being a Fox News on-air personality. They gave the same warning to other potential candidates such as Newt Gingrich and Rick Santorum. Eventually, Fox terminated the contracts with Gingrich and Santorum even before they formally entered the race and, of course, Huckabee famously decided to sit 2012 out despite the fact that he was arguably the frontrunner at one point. To date, there has been no indication that anyone at Fox has said anything similar to Palin, and no sign that she's close to cutting back her appearances on the network. At some point, I've got to beleive that Roger Ailes has had a conversation with Palin like he did with Huckabee, and made the choice clear. If she was really running, then why hasn't Fox acted yet?
Perhaps Palin will get in, I'm beyond trying to figure out her intentions at this point. What the Rasmussen poll makes clear, though, is that nominating her would be handing the White House to Barack Obama on a silver platter, with the possibility of losing the House thrown in. Say what you might about them, but I don't think Republicans are quite that stupid.