Sarah Palin's Bus Tour To Hit Iowa
Sarah Palin's latest media spectacle will be heading west next month.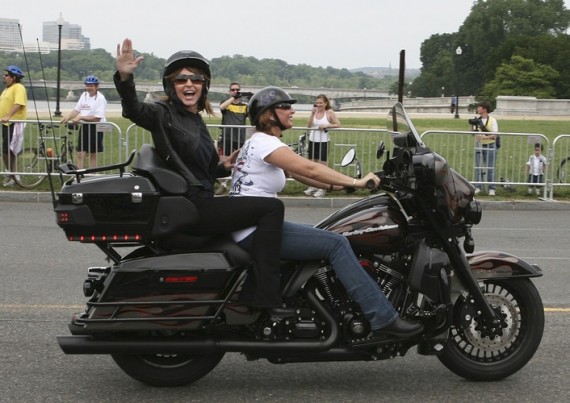 What was originally announced as a tour of East Coast historical sites appears to be taking a significant detour west:
WASHINGTON — Former Alaska Gov. Sarah Palin will travel to Iowa next month as part of her nationwide bus tour, two sources with direct knowledge of the plan told RealClearPolitics.

Palin's trip to the nation's first voting state — where she has not yet set foot this year –will further escalate the already feverish speculation that she is leaning toward a White House run.

Though Palin has insisted that her "One Nation" bus tour — being kicked off from Washington over the holiday weekend — is intended merely to "highlight America's foundation," RCP has learned that the road trip was designed as a test run to find out whether she can execute a decidedly unconventional campaign game plan.

Palin — and especially her husband, Todd — is said to be leaning toward running. But multiple sources said that their foremost remaining concern was whether it would be logistically feasible for their large family to hit the road together for the next several months in a prospective campaign that would rely heavily on bus travel.

The answer to that question will play a critical role in how the 2012 race develops.

For months, the prospective candidates for the Republican nomination for president have methodically lined up donors, hired operatives, and laid the groundwork in early-voting states to set the gears in motion for their painstakingly planned campaigns.

Eager to avoid burning through resources and peaking too early, the GOP White House hopefuls have, for the most part, eased incrementally into a slowly developing race, while eyeing one another warily.

Enter Sarah Palin in a black leather jacket, cruising through the nation's capital on a Harley-Davidson. "I love that smell of the emissions!" she told the crowd as she kicked off her tour at the annual Rolling Thunder motorcycle rally on Sunday.

And with that, the question arises: Could Palin leave some of the less charismatic candidates in the dust?
Indeed. If I were Tim Pawlenty, Herman Cain, or any of the other number of GOP candidates trying desperately to break through in the race, this is bad news. Even if Palin doesn't enter the race, her presence touring the country for the next 4-6 weeks is going to be all over the political press, meaning there will be less time for coverage of the latest stump speech from Cain, Pawlenty, or any of the other candidates. If she does enter the race, then I think it's fairly accurate to state that those candidates would be hurt significantly in the race for the GOP base.
The person a Palin candidacy would help the most? Mitt Romney:
"It's possible someone may get in later on," Gillespie said, "but Republican activists, officials and donors are going to begin picking a horse from the current field. We have a field that will produce a nominee capable of beating Obama next November."…

Republicans officials have no idea what [Palin is] planning, although they agree she would have tons to lose by entering a race that would cost her the mystique she has built up. And Romney advisers said her entry would help the former Massachusetts governor dramatically.

"The shock value would cause elected officials and party officials to rally around Mitt, because she'd scare the daylights out of them," one official said. "And it would allow him to position himself very much in the middle of Republican, conservative thinking and avoid the fringe, and look more moderate for the general election."

Bachmann would have the same effect, the advisers said. Either of them "gives Romney a bogeyman: 'Stop this crazy woman.'"
Slate's John Dickerson mostly agrees:
The view among Republican strategists involved with various current and past campaigns is that Romney benefits from Palin's entry. Romney's supporters are unlikely to leave him for Palin. Palin not only steals a portion of the anti-Romney vote from candidates like Tim Pawlenty and Jon Huntsman; she also steals available television air time. She makes it harder for second-tier candidates to get noticed.

A Palin candidacy also potentially changes the shape of the Iowa caucus, which helps Romney, who is not in a position to do well there. She appeals to the state's large number of evangelical caucus voters. If she wins or does well, Romney can argue that Iowa is following its pattern of selecting quirky, unlikely-to-win-the-nomination candidates like Mike Huckabee and Pat Robertson.

There is one scenario, however, in which Palin's entry could cause Romney's numbers to fall. Right now, the dynamic of the race is that there is Romney and an anti-Romney candidate. If it becomes instead Palin and an anti-Palin candidate, Huntsman or Pawlenty might have a moment in the sun.
Perhaps, but Pawlenty has yet to show that he can break out of the pack. In fact, the most recent poll shows him trailing not just Romney and Palin, but also Rudy Giuliani (who probably isn't even running) Herman Cain, Ron Paul, and Michele Bachmann. Moreover, Pawlenty's blandness on the stump does not contrasts well with Palin who, whatever one might say about her, does know how to fire up a crowd. Huntsman, on the other hand, is a cypher who seems unlikely to break out this time around despite the fact that pundits seem to think he's the next big Republican star. At this point, then, Romney would be best situated as the anti-Palin and, for Republicans who actually want to win in November 2012, the best hope against a Palin campaign that is, in the end, nothing but a suicide mission.