Scalia: No 'Falling Out' With Roberts, Ginsberg 'Best Buddy'
Antonin Scalia says Supreme Court justices have a collegial relationship and make decisions based on legal philosophy, not politics.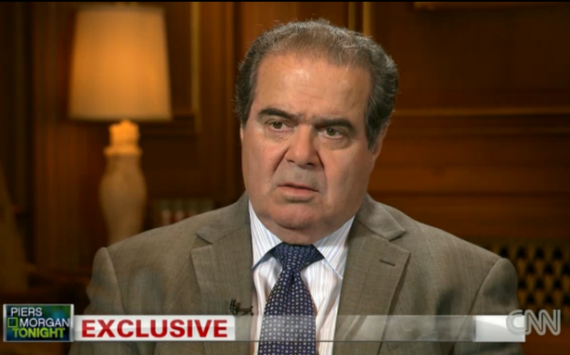 Antonin Scalia says Supreme Court justices have a collegial relationship and make decisions based on legal philosophy, not politics.
AP's Jesse Holland ("Scalia says no 'falling out' with Roberts"):
Justice Antonin Scalia said Wednesday he hasn't had a "falling out" with Chief Justice John Roberts over the Supreme Court's landmark 5-4 decision validating much of President Barack Obama's health care overhaul.
In an interview on CNN's "Piers Morgan Tonight," the justice said despite reports that he and Roberts had clashed, there is not a personal feud going on between the court's two leading conservatives. "There are clashes on legal questions but not personally," Scalia said of the court.

The Supreme Court earlier this month upheld much of Obama's signature health care law, with Roberts siding with the court's liberals to uphold the hotly debated core requirement that nearly every American have health insurance. The decision allowed the law to go forward with its aim of covering more than 30 million uninsured Americans. Since then, Roberts has been the focus of derision from some of the nation's leading conservatives, and there have been reports of fractures in the relationships on the court's conservative wing, of which Roberts and Scalia are members.

"No, I haven't had a falling out with Justice Roberts," Scalia said, when asked about a purported clash between him and Roberts.

"Loud words exchanged, slamming of doors?" prompted Morgan.
"No, no, nothing like that," said Scalia, who noted that he was out of the country for most of the criticism of Roberts.

Scalia also emphasized "the court is not at all a political institution" and said he believed "not a single one" of his Supreme Court colleagues considers politics when making decisions at the court. "I don't think any of my colleagues on any cases vote the way they do for political reasons," he said. "They vote the way they do because they have their own judicial philosophy."
Atlantic Wire's Connor Simpson ("Everything Is Okay Between Antonin Scalia and John Roberts") picks out another interesting tidbit from the exchange:
 Scalia did say that his "best buddy" on the court is and always has been Ruth Bader Ginsberg, even though they don't agree on anything. (It's true. Scalia agreed with Ginsberg the least of any of the Supreme Court Judges over the last year according to a Washington Post chart.)
Indeed, Scalia and Ginsberg have been good friends since well before they were on the Court together, sharing a love of opera, classical music, and a similar sense of humor. They're also roughly the same age, have a New York sensibility, and have grown children roughly the same age.
While I think Scalia goes too far in saying that the Justices don't consider partisan politics at all—they certainly seem to do so in timing their retirement, if nothing else—his description of the professional relationship on the Court strikes me as more than plausible. It's pretty much the same as one finds in any intellectual community, whether it be a college faculty or a think tank staff. Relationships are formed on the basis of all manner of things, with partisan political views rather low on the list.