Second Veteran Police Brutality Victim in Occupy Oakland
If Occupy protestors getting hit by cars in two cities is the beginning of a trend, so is a second Iraq War veteran being seriously injured by police during the Occupy Oakland protestors.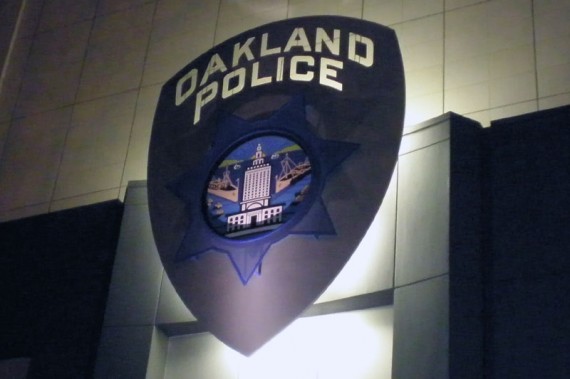 If Occupy protestors getting hit by cars in two cities is the beginning of a trend, so is a second Iraq War veteran being seriously injured by police during the Occupy Oakland protestors.
San Francisco's KGO-TV, ABC 7 ("Second veteran injured in 'Occupy Oakland' violence"):
There are fresh charges of police brutality against a war veteran arrested near an Occupy Oakland demonstration.

The veteran, 32-year-old Kayvan Sabeghi, underwent surgery on Friday for a ruptured spleen. Before he went into surgery, Sabeghi told his sister that he was walking to his home near Frank Ogawa Plaza when he was stopped by police, hit in the abdomen four times and then arrested and taken to jail where he could not receive medical treatment.

Sabeghi is a former Army ranger who served two tours in Iraq and Afghanistan. Sabeghi's sister Shoole Sabeghi said her brother dedicated his life to serving his country and that he did not deserve the treatment he received Wednesday night. "I am absolutely furious," Sabeghi said. "I'm absolutely furious at the way they treated my little brother. I'm so mad. They hurt him and then they refused to help him."

Sabeghi underwent surgery at Highland for about two hours. Doctors tried to repair his spleen, which was apparently ruptured after Sabeghi was beaten and arrested.

"Just because you have the power to do so does't mean you have the right to do so," Sabeghi said. "You can't treat people that way. If someone is injured…you have to take care of them."

His sister said Sabeghi spent the night in a jail cell and was refused medical treatment for nearly 24 hours. "At one point he asked for assistance and they told him to stop taking heroin," Sabeghi said. "Another time they told him he was an alcholic and a diabetic, neither of which are true."

It's the second time in two weeks that an Iraq war veteran has been injured in violence between protesters and police.

[…]

In a statement to ABC7, the Alameda County Sheriff's Department said they have heard claims that Sabeghi didn't receive medical attention and are launching an investigation, which will include reviewing video from Wednesday's incident.

The Oakland Police Department said they are also launching an investigation.

Sabeghi is out of surgery and is recovering in the intensive care unit.

The following statement was released by the Oakland Police Department: The Oakland Police Department is conducting an investigation regarding Kayvan Sabeghi and the circumstances of his arrest on November 3, 2011. This case, as are all reported or alleged instances of force, is under investigation. Anyone with information is asked to contact the Major Crimes Section at (510) 238-3821.
Now, the fact that these men are veterans doesn't matter much to me, even though I'm a Desert Storm veteran and son of a Vietnam veteran. Americans, regardless of their service background, have a fundamental right to free expression and to expect protection, not abuse, at the hands of the police forces we pay to protect us. It's almost never reasonable for police to use violence against citizens who aren't using violence against them  and there's hardly a fathomable circumstance where even the most contemptible criminal suspect, injured by police who are using the minimum force necessary to protect themselves and civilian bystanders, wouldn't expect to receive immediate medical attention after his custody has been secured.
The Oakland Police Department has a serious problem with brutality. Which is to say, the Oakland Police Department employs criminals and allows them to roam the streets with guns, badges, and the color of state authority. If they don't handle this quite soon, President Obama should direct the Attorney General of the United States to investigate and use every tool at the disposal of the federal government to put an end to this condition.