Secret McConnell Tape Records Politicians Being Politicial
Mother Jones's recording of a secret McConnell campaign strategy meeting is much less than meets the eye.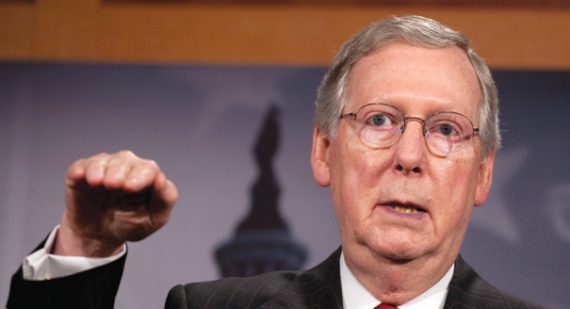 David Corn at Mother Jones seems to have some kind of proclivity for secret records. He was, after all, the person who ended up making public the tape of Mitt Romney's infamous "47 percent" speech to campaign donors back during the Presidential campaign. Now, he's out today with another secret recording of Mitch McConnell and a group of advisers, well, doing what any politician would do:
Aides to Senate Minority Leader Mitch McConnell discussed attacking Ashley Judd's mental health if the actress had opted to challenge the Kentuckian in 2014, according to a secret audio recording.

"She's clearly, this sounds extreme, but she is emotionally unbalanced," a McConnell aide says on the recording, which was obtained and posted by the liberal magazine Mother Jones. "I mean it's been documented. Jesse can go in chapter and verse from her autobiography about, you know, she's suffered some suicidal tendencies. She was hospitalized for 42 days when she had a mental breakdown in the '90s."

McConnell himself is heard speaking at the beginning of the meeting, which features aides presenting a whole range of opposition research they were considering using against Judd. At one point, a person describes "a wealth of material" to use potentially against Judd, prompting laughter from those present.

The veteran senator invokes an old arcade game to describe the campaign's strategy for dealing with challengers.

"I assume most of you have played the, the game Whac-A-Mole?," he said to laughter. "This is the Whac-A-Mole period of the campaign…when anybody sticks their head up, do them out.

Most of the discussion focuses on Judd's liberal positions, including support for gay marriage and President Barack Obama's health care reform law. It is unclear how long McConnell was present during the session, which took place on Feb. 2 in Louisville, Ky.
The McConnell campaign has responded to the report by requesting that the FBI investigate the recording:
Senate Minority Leader Mitch McConnell's reelection campaign asked the FBI and the U.S. attorney's office on Tuesday to investigate how Mother Jones magazine obtained a recording of a February strategy session.

"Senator McConnell's campaign is working with the FBI and has notified the local U.S. Attorney in Louisville, per FBI request, about these recordings," McConnell campaign manager Jesse Benton said in a statement. "Obviously a recording device of some kind was placed in Senator McConnell's campaign office without consent. By whom and how that was accomplished presumably will be the subject of a criminal investigation."

Added a source close to the campaign: "We're going on the assumption that a crime has been committed. No one at the meeting leaked this."
That would seem to be a logical assumption. After all, why would a Republican be leaking anything to a left-wing website like Mother Jones?  And if there was a crime committed, then it ought to be investigated and, if warranted, prosecuted.
That's separate, to some degree, from the question of what the big deal out of all this actually is. Reading through Drum's original report, and listening to a few of the recordings, this strikes me as no different from any other conversation that any other campaign would be having about a prospective opponent, especially one with a record as, well, colorful as Judd's was at the time. It's worth remembering, after all, that at the time McConnell and his aides were having this meeting, Judd was considered a serious contender for the Democratic nomination, was being touted as national Democrats as a candidate, and was being personally urged by prominent Democrats to through he hat into the ring. At the time, there were plenty of Kentucky Democrats who were reportedly not quite as enthusiastic about a potential Judd candidacy because they realized just how of step she was with the state's voters. From these tapes, we get a preview of the rich amount of material that McConnell and those supporting him would have had in going after Judd. For that reason, Democrats should be glad she decided not to run.
More broadly, though, I really have to wonder what Corn thought he was accomplishing here. This is how politics works. As much as people claim to dislike it, negative campaigning works. It always has been and it always will be. Politicians will always look for vulnerabilities in the opponent's record and will exploit them during the course of a campaign if they think they can get away with it. Had Judd ctually run for the Senate, the McConnell campaign would have been foolish not to dive into the rich treasure trove of her previous comments and policy positions. The conversation that is on these recordings is no different from ones that have occurred in countless campaign offices over the years. The only different this time is that someone managed to record it. Beyond there, there really isn't anything remarkable here.