Senate To Move Ahead On Health Care Reform Votes That Seem Unlikely To Succeed
The Senate isn't giving up in its efforts to 'repeal and replace' the Affordable Care Act, despite the fact that it seems clear that the votes aren't there.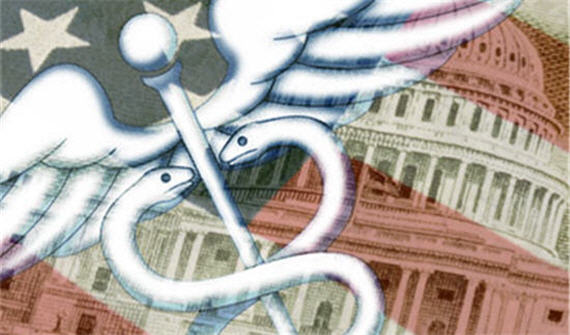 Just since the beginning of the month, we've seen Senate Republicans delay a planned vote on their health care overhaul until after the July 4th recess because they didn't have the votes to pass it in its then-current form. delay the vote again due to Senator McCain's illness only to pull it completely once it became clear that there wasn't sufficient support to pass it even with McCain's vote, and then see their repeal-only plan die in less than eighteen hours. Despite all of this, and notwithstanding today's news about Senator McCain that seemingly guarantees that his vote won't be available for an unknown period of time, Senate Republicans still seem intent on moving forward:
WASHINGTON — The Republican health care push was declared dead Wednesday morning. By afternoon it had a breath of life. Legislation in Washington can assume Frankenstein-like qualities.

On the cusp of a humiliating and politically disastrous defeat, President Trump and the Senate majority leader, Mitch McConnell, took extraordinary resuscitative measures on Wednesday to pump oxygen back into their badly fading effort to overturn the Affordable Care Act. They somehow managed to stave off its imminent demise.

It may be only a temporary reprieve, but a fight that seemed finished just hours earlier was renewed and headed for a pivotal vote next week.

With his reputation for being a master of the Senate at grave risk, Mr. McConnell, a Kentucky Republican, extended a new offer to wavering Senate colleagues leery of scrapping the health care law. He backed away from his earlier insistence that the Senate focus on a plan to repeal much of the existing Obama-era law and allow a two-year window for its replacement — an iffy proposition given the difficulties that Republicans are currently having coming up with a consensus health care policy.

Instead, his new selling point was that senators should simply vote next week on a motion to open a rollicking health care floor debate and then let the amendment chips fall where they may — a case of creating national health care policy, which makes up about 20 percent of the United States economy, on the fly.

"What I'm telling you is no harm is done by getting on the bill," Mr. McConnell told reporters outside the White House after a lunch where Mr. Trump hosted most Senate Republicans. "Wide open for amendment."

"There's no way that I, or anybody else, could prevent members from having amendments that any 51 of us can pass and change the bill," he said by way of encouragement. "But we cannot have a debate until we get on the bill."

Whether that will be enough to entice Republicans who feared that health insurance proposals crafted by the leadership would do damage to states like Ohio, West Virginia, Maine and Alaska remained to be seen. But there was no rush of outright rejections, and lawmakers planned to assemble with White House staff members to explore options that could win them over.

At the lunch, Mr. Trump mixed threats of political retaliation against Republicans who crossed him with pleas to move ahead with a long-promised repeal-and-replace legislation, urging senators to remain through their August recess if necessary. It was a stark change from his earlier promise to let the health care law collapse and let its beneficiaries face the consequences.

"My message today is really simple," Mr. Trump told them. "We have to stay here; we shouldn't leave town, and we should hammer this out and get it done. And not just a repeal," he said, conceding he had backed that idea before. "I think the people of this country need more than a repeal. They need a repeal and a replace."

That was good news to Senator Shelley Moore Capito of West Virginia, who had been one of the first Republican senators to balk at moving ahead on an outright repeal plan, along with Senators Susan Collins of Maine and Lisa Murkowski of Alaska.

"I'm glad @POTUS agrees that we cannot move to repeal Obamacare without a replacement plan that addresses the needs of West Virginians," Ms. Capito said on Twitter.

It is difficult to say how much she and other Republicans — whom Mr. McConnell described as having "some difficulty in getting to yes" — were persuaded by the president's appeal. But with several days remaining before a vote, Republicans were finding it hard to resist the call to at least make the effort to find some resolution, though many were very skeptical of the chances for success.

The window remaining before the vote also allows both opponents and proponents of the Republican health proposals to step up their pressure on key lawmakers, and they will face an assault.

A coalition of conservative advocacy groups took a harsh line against Republicans who were threatening to derail the health care effort, promising to initiate primary campaigns against them. They noted that all Republican senators who were then in office, except for Ms. Collins, had voted for a vetoed 2015 repeal plan that would be on the floor next week and that the party had campaigned endlessly on its promises to kill the Obama health care law.

Jason Pye of the group FreedomWorks put Ms. Capito and Senator Rob Portman, the Ohio Republican who had expressed reservations about earlier Republican plans, in the "Senate traitor caucus."

"Our activist community in Ohio and West Virginia are not going to take this laying down," he said.
This news comes at the same time that the Congressional Budget Office has released scores for both the Repeal-only plan and the revised version of the 'repeal and replace' plan. In the first case, the CBO estimates that the Obamacare Repeal Reconciliation Act, the repeal-only bill, would result in 32 million people losing coverage over ten years and premium increases of at least 100% over the same period. Meanwhile, the office estimates that Better Care Reconciliation Act would result in 22 million people losing insurance and premium increases roughly the same as those projected for the original version of the BCRA, which the CBO scored late last month.  It also comes on the heels of multiple polls showing that the Senate plan is exceedingly unpopular with the American public and that even self-identified Republicans aren't exactly enthusiastic about either the Senate or the House replacement bills.
Given these scores, it's hard to see how Mitch McConnell and the rest of the Senate leadership is going to be able to pull together a coalition of fifty votes before the vote that they intend to take next week. As it stands, there is already a sufficient number of Senators opposing both the BCRA and the ORRA to prevent either one from passing even the fifty vote threshold that they would need with Vice-President Pence's vote. Added into this is the fact that Senator McCain will obviously not be present to participate in any vote that would take place between now and the start of the summer recess, meaning that the GOP leadership can really only afford to lose one of the remaining 51 Senators that it has in the caucus right now. Given that, it's hard to see this latest effort as anything more than a symbolic effort on Senator McConnell's part to show that the Senate tried to do its part on 'repeal and replace' but came up short. Whether that will be enough for the so-called "grassroots" organizations that are attacking the Senators who are leaning against one or both of the Senate bills remains to be seen, but it's at least worthwhile to note that two of the Senators who would be targetted by these organizations — Senators Capito and Collins — aren't up for re-election until 2020, and that Lisa Murkowski and Rob Portman aren't up for re-election until 2022. It seems unlikely that something that happens in the summer of 2017 is going to have much of an impact on those races.