Senate Votes To Approve Agreement To Reopen Government, House Expected To Go Along
While final votes remain to be taken, the Federal Government shutdown effectively ended this afternoon with an overwhelming bipartisan vote to reopen the government, combined with a commitment from Republicans to consider a DACA bill over the next three weeks. What happens next, though, is entirely uncertain.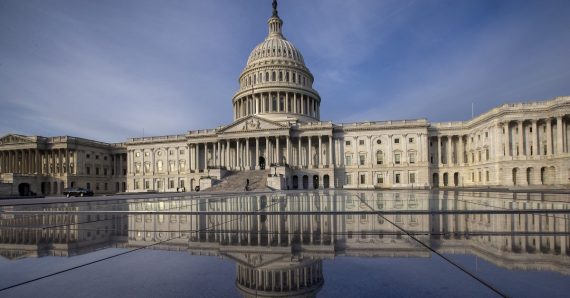 it'sThe Senate has effectively voted to approve a Continuing Resolution that funds the Federal Government through February 8th in a deal that includes a commitment by Senate Majority Leader Mitch McConnell to bring a bill that would extend the Deferred Action For Childhood Arrivals (DACA) to the floor for consideration and a vote, and it's expected that the House of Representatives will support the measure when the Senate sends it over to them:
The Senate voted 81-18 on Monday to end the three-day old government shutdown, with Democrats joining Republicans to clear the way for the passage of a short-term spending package that would fund the government through February 8 in exchange for a promise from Republican leaders to address the fate of young, undocumented immigrants known as Dreamers.

"In a few hours, the government will reopen," said Senator Chuck Schumer of New York, the Democratic leader. "We have a lot to do."

The procedural vote does not immediately end the shutdown. The Senate must still grant final approval of the bill, and it must then be approved by the House.

But final passage is a formality, and after a weekend of partisan finger-pointing — in which Democrats branded the shutdown the "Trump Shutdown," after President Trump, and Republicans branded it the "Schumer shutdown" — the vote offered both parties a way out of an ugly impasse that threatened to cause political harm to both parties.

Mr. Schumer, speaking on the Senate floor, announced that he and Senator Mitch McConnell of Kentucky, the Republican leader, had "come to an arrangement" to adopt the three-week spending measure while continuing to negotiate a "global agreement" that would include the fate of the dreamers, undocumented immigrants brought to the country as children.

Monday's vote came after a frantic weekend of work by a bipartisan group of more than 20 senators, who on Sunday night were discussing a plan in which the government would stay open through early February, coupled with a promise from Mr. McConnell to allow a vote on a measure to protect the Dreamers from deportation.

Mr. McConnell pledged Monday morning that he would permit a "free and open debate" on immigration next month if the issue had not been resolved by then. But his promise was not enough for many Democrats, and on Monday morning, moderate Senate Democrats were still pressing for more in exchange for their votes to end the shutdown.

By the time of the vote just after noon on Monday, the moderate Democrats were predicting the vote would pass.

"We're going to vote to reopen the government," Senator Mark Warner of Virginia, a Democrat whose state is home to thousands of federal workers, told reporters. Mr. Warner said there was now a "path clear on how we're going to get a full-year budget and we got a path clear on how we're going to start an immigration debate."
More from The Washington Post:
Senate Democrats bowed to pressure to reopen the government Monday, joining Republicans in backing an immigration and spending compromise that was quickly denounced by liberals and immigration activists.

Roughly 60 hours after the federal government first shut down, a bipartisan group of negotiators in the Senate prevailed with leadership, trading Democratic support for reopening the government for a commitment by Republicans to hold a vote resolving the status of young undocumented immigrants by mid-February.

The Senate voted 81-18 to end a filibuster of a spending bill that would fund the government through Feb. 8 and reauthorize the Children's Health Insurance Program for six years. The upper chamber was expected to pass the measure Monday afternoon, then send it to the House for quick approval.

The government can reopen once President Trump signs the funding into law.

The resolution of the three-day shutdown exposed a growing rift between two groups of Democratic senators: those facing tough reelection campaigns in states Trump won, and those courting progressive voters ahead of possible 2020 presidential bids.

Channeling rage from immigration activists, the possible 2020 candidates were highly critical of their leaders' willingness to trust that Senate Majority Leader Mitch McConnell (R-Ky.) will allow an immigration vote after Feb. 8 if senators cannot strike a deal before then.

"I believe it's been a false choice that's been presented" between keeping the government open and resolving the DACA issue, said Sen. Kamala D. Harris (D-Calif.), who voted no. "I believe we can do both."

A majority of Democrats had forced the shutdown with demands for a vote on legislation to protect Deferred Action for Childhood Arrivals recipients from deportation after Trump canceled the program. The final agreement did not include these protections, nor any specific guarantee of a vote.

Other possible White House contenders who voted against the bill included Sens. Bernie Sanders (I-Vt.), Kirsten Gillibrand (D-N.Y.) and Elizabeth Warren (D-Mass.).

Democratic and independent senators who relented in the standoff said they did not necessarily trust McConnell, but had faith that the bipartisan negotiators, including Sens. Susan Collins (R-Maine) and Joe Manchin III (D-W.Va.), would force him to abide by his commitments.

"I think frankly our trust is more with our colleagues, that they will hold him accountable," said Sen. Claire McCaskill (D-Mo.), who is up for reelection this year in a state Trump won.

"If there's any silver lining to this dark cloud, it is this is the first time I've seen such a large group in the middle come together," she said.

McConnell had said Sunday night and Monday morning that it was his "intention" to take up legislation addressing DACA, border security and other issues if Democrats agreed to fund the government until Feb. 8.

"This immigration debate will have a level playing field at the outset and an amendment process that is fair to all sides," he said Monday.
As a technical matter, at the time that this post is being written the Senate still needs to take a final vote on the Continuing Resolution. That is scheduled to take place around 2:30 pm this afternoon. Given the fact that the cloture vote passed with what essentially amounts to a supermajority, though, it's obvious that the bill will get well above the 51 votes it will need for final passage.  From there, the vote will head over to the House of Representatives, which is expected to take up the matter as soon as possible, meaning that we can probably expect a final vote there sometime later this afternoon. Following that, the bill will head to the White House where all indications are that President Trump will sign it into law as soon as it is received. At that point, the government will officially be able to reopen for business and Federal workers who were told to stay home, or sent home, this morning will be reporting back to work tomorrow morning and operations will get back to normal for at least the next three weeks. What happens after February 8th depends on how things go with respect to the DACA vote and other issues.
The measure agreed to today is pretty much identical to what Majority Leader McConnell outlined last night, and which the Senate was originally supposed to vote on late last night, and includes funding through February 8th and the commitment to bring a DACA bill forward for considering in the intervening period. What form that bill will take and whether it can actually pass the Senate on either a cloture vote or a final vote is something that remains to be seen and which obviously cannot be guaranteed beforehand. Additionally, while it's expected that the House of Representatives will easily pass the Continuing Resolution later today, it's unclear how they will proceed with respect to DACA or indeed any other immigration-related bill that may come before it.
The House could end up accepting a Senate DACA bill as-is and sending it to the Senate, or it could end up passing its own version of a DACA bill in which event the two chambers will have to enter conference negotiations to attempt to hammer out an agreement that could pass both the House and the Senate. Also unanswered is the question of what the White House will support by way of a DACA bill, including whether the President will insist that any such bill address other issues such as funding for his border wall and his call for an end to so-called "chain migration" that allows people here legally to sponsor family members for immigration, sometimes on an expedited basis. How that all plays out will go a long way toward determining whether or not Congress can actually solve this issue and whether they'll be able to do so before the February 8th deadline that is part of the Continuing Resolution before Congress today. Finally, it's worth noting that President Trump will be somewhat detached from DACA discussions in the immediate future since he is expected to leave town tomorrow for a summit meeting in Switzerland that will last for several days this week. This could make it difficult for the parties to negotiate on a DACA bill since there will be significant attention paid to exactly what the President supports prior to any vote in either the House or the Senate.
For the time being, though, this means that the government shutdown will end and that we're likely to see at least some action on DACA and related issues in the Senate, and hopefully in the House as well. Additionally, while both parties will no doubt continue to play the blame game regarding responsibility for the shutdown, the fact that this one was relatively short-lived likely means that the political impact for all parties involved is likely to be minimal. This could change depending on how things proceed with regard to the DACA issue, which is likely to be the center of attention in Washington for the next three weeks although that will likely be put on hold briefly at the end of the month since the President is set to give his first State of the Union on January 30th. In the short term, though, the focus going forward will be on the debate in both houses over immigration and DACA, and the fact that polling indicates that a vast majority of Americans supports a bill that would grant some kind of legal status to DACA beneficiaries is likely to place pressure on Democrats and Republicans alike to get something done as quickly as possible
Update: Shortly before 4:30 this afternoon, the Senate held its final vote to approve the Continuing Resolution to keep the government open through February 8th. It now heads to the House of Representatives, which is expected to hold its final vote between 5:15 pm and 6:15 pm EST. This means the bill will be signed into law by President Trump sometime early this evening and the shutdown will officially be over.
Update #2: The House passed the Senate Continuing Resolution shortly before 6:30 pm, at which point it adjourned for the rest of the week for scheduled time for members to go back to their districts. The House will be back in session on January 29th. On January 30th, we have the State of the Union Address.