Senator Tim Scott Makes History In South Carolina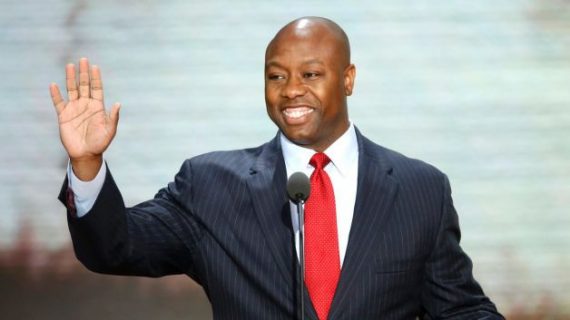 Among the victories last night that wasn't a surprise was one that is historically significant, in that Senator Tim Scott became the first African-American elected to the Senate from one of the states of the Confederacy since Reconstruction ended some 138 years ago:
Washington (CNN) — South Carolina's Tim Scott on Tuesday became the first African-American senator to win election in the South since Reconstruction.

The Palmetto State Republican was appointed by Gov. Nikki Haley to the office after former Sen. Jim DeMint resigned in November 2012.

In this year's midterms, he outlasted Democratic challenger Joyce Dickerson.

The election was only to fill the last two years of DeMint's term. Scott will have to run again in 2016 in order to earn a full six-year term.

Scott's win also made him the first African-American in U.S. history to be elected to both the House and the Senate.
In total, there have been nine African-Americans who were either elected or appointed, either by a Governor to fill a vacancy or by a state legislature using the method Senators were named prior to the adoption of the 17th Amendment who have actually served in the body. A tenth, P.B.S. Pinchback, was appointed to the Senate by the Louisiana legislature in 1875 but never served because the Senate refused to seat him in what ended up being one of the first efforts to pushback against Reconstruction itself. The first African-American who was actually elected to the Senate in the post 17th Amendment world was Republican Edward Brooke of Massachusetts, who served from 1967 to 1979.  Of the six African-Americans who have served in the Senate after Brooke, three of them were popularly elected, Carol Mosley Braun and Barack Obama, and Cory Booker, who won a Special Election in New Jersey last year, and a second election to a full six year term yesterday. Scott, however, stands alone as, so far, the only African-American elected to the Senate from a state south of the Mason-Dixon Line and, indeed, the state that was in many ways the birthplace of the Confederacy itself.