Rick Scott Enters Florida Senate Race, Setting Up 2018's Biggest Battle
Governor Rick Scott has entered the race to challenge Bill Nelson in Florida, creating what is likely to be one of the most closely watched races of the year.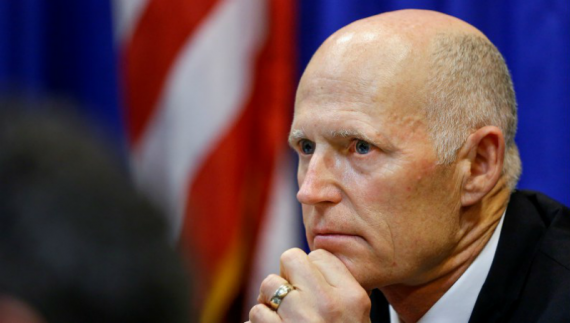 As has been suspected for some time now, Florida Governor Rick Scott has announced that he is entering the race to challenge Democratic Senator Bill Nelson in November:
MIAMI — Gov. Rick Scott made official on Monday what Floridians have suspected for months: He is running for the United States Senate against Bill Nelson, the incumbent Democrat, in a premier race that will return the nation's largest swing state to its familiar role as the political vortex of a tumultuous election year.

"This is going to be a lot of fun," Mr. Scott, wearing his usual Navy baseball cap, said in an announcement on Facebook Live from Orlando before embarking on a statewide tour, the type that has become his signature over eight years as governor. "We're going to make sure that Washington works for us."

With his formal entry into the campaign, Mr. Scott, 65, made Florida the centerpiece of the midterm elections, featuring one of the most expensive Senate races in the country as well as an open governor's race and up to a half-dozen competitive House races. The contest between Mr. Nelson and Mr. Scott alone is expected to cost more than $100 million and perhaps as much as $150 million, chiefly to buy television advertising across Florida's 10 broadcast media markets. Mr. Scott, a multimillionaire former health care executive, invested millions of his own money into his successful campaigns for governor in 2010 and 2014.

The Florida Senate battle will be a microcosm of national Republicans' fight to keep control of Congress under President Trump, whose policies and demeanor have invigorated Democratic voters. Mr. Nelson is one of 10 Democratic senators seeking re-election in states Mr. Trump won in 2016, and Republicans have repeatedly bested Democrats in most statewide Florida midterm races since 2006 — though one of two Democratic victories that year was Mr. Nelson's.

In Mr. Scott, Mr. Nelson, 75, faces the toughest challenger of his Senate career, which began in 2001 after stints in the House and as the state's appointed treasurer in Tallahassee. Despite his many years of political experience, Mr. Nelson remains unknown to some voters; a February poll conducted by the Jacksonville-based Mason-Dixon Polling & Strategy found that 12 percent of respondents did not know the senator's name, compared with 3 percent who did not recognize Mr. Scott's.

A Quinnipiac University poll of Florida voters found in February that Mr. Scott's approval rating was at 49 percent, higher than ever in the survey, with 40 percent of respondents disapproving of his job performance. In a matchup with Mr. Nelson, the senator led by 46-42 percent, essentially a statistical tie given the poll's error margin.
Nelson, who served in the Florida legislature before being elected to Congress in 1979, was first elected to the Senate in 2000, and easily won re-election in 2006, and then again in 2012. Scott, on the other hand, came to the Governor's Mansion after a narrow win over Democratic nominee Alex Sink in 2010 and was re-elected, again narrowly, in a race against former Governor Charlie Crist in 2014. Two years later, President Trump managed to pull off a win in the Sunshine State with a majority of over 100,000 votes in a state that Barack Obama had won in both 2008 and 2012. All of this makes the upcoming expected match-up between Scott and Nelson in the fall likely to be one of the most expensive and most closely watched races in the country throughout this year's midterm cycle.
Throughout his time in office, Scott has often been a controversial leader, and as his narrow re-election win in 2014 showed, not exactly an overly popular political figure in Florida. Nonetheless, he has benefited from the strong economy in the state and has proven to be quite politically adept in adjusting to changing political winds. The most recent example of that can be seen in his response to the February 14th shooting at Marjory Stoneman Douglas High School and the strong push for some form of gun control legislation that many of the student survivors of that tragedy came to Tallahassee to champion. That effort resulted in the passage of significant gun control legislation that included provisions such as raising the minimum age to purchase any weapon from 18 to 21, the banning of bump stocks that allow semi-automatic weapons to mimic the behavior of fully-automatic weapons, and provisions that make it somewhat easier to get guns away from people with diagnosed mental illnesses. Scott has also broken with many of his fellow Republicans in opposing efforts by the Federal Government to authorize off-shore drilling along Florida's Atlantic and Gulf of Mexico coasts. Due to that, what has otherwise been a successful eight years in office for the term-limited Governor, access to a wide-ranging fundraising network, and a personal fortune that helped him in both 2010 and 2014 seem to guarantee that Scott will be the most formidable of all the candidates that Nelson has faced in his Senate career.
Since Scott's entry into the race was hardly a surprise, there has already been some limited polling of a potential Nelson vs. Scott matchup, and it seems to confirm that this race will bear watching from now through November. RealClearPolitics, for example, shows Nelson leading Scott but only by an average of 3.8 points. Additionally, it's worth noting that the most recent poll in that average was taken nearly a month ago now and that circumstances in the race are likely to change as the two candidates engage in each other even as Scott works to win a primary battle that will most  likely prove to be rather easy for him.
NBC's political team at First Read notes that Scott's entry into the race is good news for Republicans, and not only because of the possibility that it creates the possibility of flipping a blue seat red:
[T]oday, the GOP is getting some good news with NBC News confirming the Politico report that Republican Florida Gov. Sen. Rick Scott will challenge vulnerable Sen. Bill Nelson, D-Fla. Scott is hosting an official announcement on Facebook Live today at 10:00 am ET, per NBC's Ali Vitali.

Scott's entry into Florida's Senate contest:

gives the GOP another pick-up opportunity;
diverts precious Democratic resources, because Dems will have spend lots of money to keep Nelson competitive with the personally wealthy Scott;
means less money for other Democratic incumbents and challengers.

Make no mistake: 2018 is shaping up to be a rough year for the GOP, and Scott's previous statewide wins (in 2010 and 2014) all came in good Republican years. But today's news is a helpful shot in the arm for the GOP.
CNN, meanwhile, has officially moved the Florida race into the "toss-up" category, as has the Cook Political Report:
Very few candidates could wait until 211 days before an election to announce a statewide campaign.  Scott is one of them.  With 10 media markets and 27 congressional districts, any candidate with statewide aspirations needs two things to be competitive: name identification and money.  Scott has both and thus could afford to wait as long as he has.  The late announcement also allowed him to work through the last regular legislative session of his administration.

Nelson is the only statewide elected Democrat left in Florida.  As politicians go, he is fairly low key.  He isn't likely to race his colleagues to a bank of television cameras and focuses most of his legislative attention on issues important to Florida.  He is known as a kind and affable Member who gets along well with his Senate colleagues to the point that his colleague, GOP U.S. Sen. Marco Rubio, has said that he will not campaign against Nelson.  This low-key style is part of the challenge he faces in November.  The other part is that Democrats haven't had much luck in statewide races in the last few cycles.  In fact, Nelson was the last Democrat elected statewide when he was re-elected in 2012.  It doesn't help that Nelson hasn't had a competitive race since 2000.  He won this open seat in 2000 with 51 percent; he was re-elected in 2006 with 60 percent and in 2012 with 55 percent.

For his part, Scott has never had an easy race.  He won the 2010 Republican primary with 46 percent, while then-U.S. Rep. Bill McCollum got 44 percent and Mike McCallister took 10 percent.  He won the general election with 49 percent to 48 percent for Democrat Alex Sink.  Scott was re-elected in 2014 with 48 percent to 47 percent for Democrat Charlie Crist. In both cases, the political environment favored Republicans.  This will be Scott's first race in which the wind will be in his face rather than at his back.

Scott does have a number of strengths, not the least of which is his personal money and his willingness to spend it.  He spent roughly $75 million on his first race and an estimated $22 million on his re-election bid.  There is little doubt that he will spend heavily on the Senate race.  Scott's other asset is his discipline.  He stays relentlessly on message.
The Washington Post's Amber Phillips, meanwhile, argues that this race could turn into the year's biggest referendum of President Trump:
Gov. Rick Scott (R) announced Monday that he'll be challenging Sen. Bill Nelson (D) in what will be a titanic battle to try to make Florida's two U.S. Senate seats both Republican. Scott is well-funded and well known in Florida, making him a serious challenger in one of the nation's most competitive and expensive states to campaign in.

Gov. Rick Scott (R) announced Monday that he'll be challenging Sen. Bill Nelson (D) in what will be a titanic battle to try to make Florida's two U.S. Senate seats both Republican. Scott is well-funded and well known in Florida, making him a serious challenger in one of the nation's most competitive and expensive states to campaign in.

After Trump won, he returned the favor by publicly urging Scott to jump into the race for Senate — making clear that he would help the Florida Republican every step of the way.

Except, being buddy-buddy with Trump could be the last thing Scott wants in this electoral environment. Trump won Florida by a little more than a percentage point in 2016, and if the election were held today, he might not be so lucky. Slightly more Florida voters disapprove of Trump's job so far as president (44 percent) than approve (41 percent), according to a Florida Atlantic University Poll in February.

Democrats have won a handful of local and state House elections in Florida in the era of Trump. And Democratic candidates to replace Scott as governor are already trying to outdo each other on who can be the most anti-Trump, banking that's a winning argument for both the Democratic primary and the general election.

Democrats are also spending significant time and resources to register displaced Puerto Ricans to vote in November, reminding them that the Trump administration decided to end humanitarian emergency aid to the island after a devastating hurricane when many Puerto Ricans felt recovery still had a long way to go.

Trump, in other words, could be a liability in Florida more than in other states — and perhaps for no candidate as much as Scott. "Donald Trump's numbers in the state of Florida are abysmal and not improving," Florida-based GOP strategist Rick Wilson told The Fix in March, adding that slumps in the stock market and in real estate often whack Florida's economy first and last the longest there.
As Phillips goes on to note, Scott has not run for statewide office before in a year when the political winds were pushing against the Republican Party. When he was elected in 2010 and again in 2014. Scott benefited from the fact that he was running in years when the national mood was heavily favoring the Republican Party. In addition to all the on-the-ground factors unique to Florida such as the President's approval rating in the Sunshine State and the potential impact of newly arrived Puerto Ricans who are immediately eligible to vote in the state provided they are establishing residence rather than just staying in the state until conditions at home improve, Scott will have to deal this time with the fact this is likely going to be a hard year for the GOP all across the country. That being said, Scott has proven to be a strong candidate in the past and he's likely to be a strong challenger to Nelson in November. Whether that will be enough to overcome the headwinds remains to be seen.