Short-sightedness Isn't Hypocrisy
MSNBC's Krystal Ball isn't being hypocritical in trusting Obama to decide which Americans to kill even though she wouldn't have trusted Bush. But she's being short-sighted.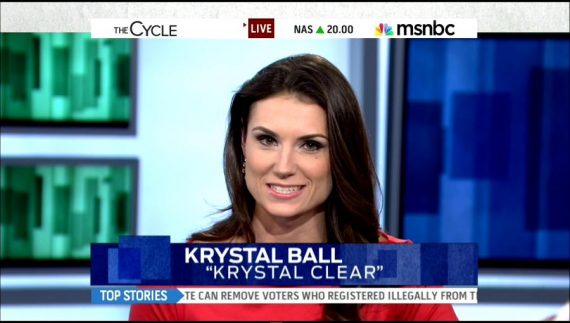 The gang at Weasel Zippers blast the headline, "MSNBC Host Admits She's A Hypocrite: Trusts Obama To Assassinate Americans With No Due Process, Wouldn't Support Bush If He Did It." Not seeing any obvious hypocrisy in trusting one president and not another, I was intrigued.
MSNBC's co-host of The Cycle, Krystal Ball, took on the notion circulating in the media that liberal supporters of President Barack Obama are engaging in hypocrisy when they defend the executive's authority to execute drone strikes on Americans overseas. Some claim that they would never support this power if the president were a Republican. Ball agreed with this point, conceding that she would not support President George W. Bush having this authority. However, she said that Obama is a "fundamentally responsible actor" while Bush regularly "displayed extraordinarily lapses in judgment."

Ball said that she did harbor some reservations about the way in which the drone program has been administered by the Obama administration. Overall, however, she said that she is comfortable with Obama having the authority to execute American citizens overseas extra-judicially.
Hmm. Still no hypocrisy. She thinks Bush made decisions that "displayed extraordinary lapses in judgment" but thinks Obama a "fundamentally responsible actor." One is free to agree or disagree with her on that assessment but, if that's what she believes, then it's a perfectly rational basis for thinking that Obama, not Bush, can be trusted to make the right call on something as sensitive as killing Americans believed to be terrorists.
The problem with Ball's approach, however, is that we'll eventually have a president that she won't trust again. Maybe–and I know nothing about Ms. Ball other than that her name is somewhat amusing and that she apparently has a show on MSNBC–that's simply the next Republican president. Maybe she'll make a non-partisan evaluation of trustworthiness. Regardless, that president will operate under the same rules as the man she believes "fundamentally responsible." That's why it's far better to put one's faith in institutions, not men.