Should UN Ambassador Have Cabinet Rank?
David Bosco wonders, "Why is the United Nations Ambassador in the Cabinet?"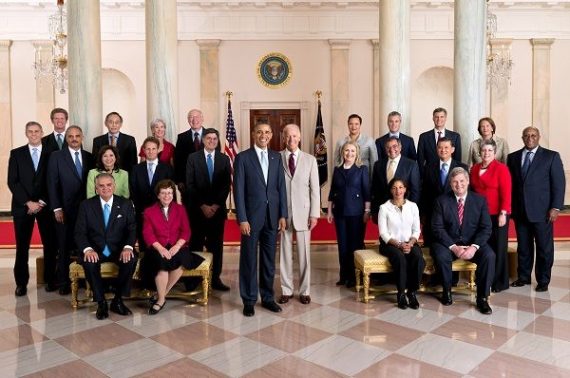 David Bosco wonders, "Why is the United Nations Ambassador in the Cabinet?"
It's a practice that very few other countries follow (an astute observer pointed out that Rwanda's UN ambassador is in that country's cabinet). Nor has U.S. practice been consistent. Ronald Reagan included Jean Kirkpatrick in the cabinet, but George H.W. Bush (himself a former UN ambassador) discontinued the practice. That meant that one of the country's most effective recent ambassadors, Thomas Pickering, wasn't a member of the cabinet. (His diminished status didn't prevent him from skillfully managing UN diplomacy in the run-up to the 1991 Gulf War.) The Clinton administration restored the ambassadorship to cabinet rank, and Madeleine Albright moved from that post to become secretary of state.  George W. Bush shifted course again, however, deciding to keep his UN ambassadors up in New York.

Does it matter whether the point person for UN diplomacy also has a seat at the inner table in Washington? I think it does, and I'd argue that the consequences are mostly negative.
He argues that cabinet status means the UN ambassador is in Washington too often when they should instead be in New York and that it violates the chain of command, since the UN ambassador should take orders from the Secretary of State. The former argument strikes me as reasonable whereas the second begs the question. (That is, if the UN ambassador should be a cabinet officer, then ipso facto they should answer directly to the president and if they should report through a cabinet secretary they shouldn't hold cabinet rank.)
I tend, however, to side with Bosco on this one. First, as a general principle, there are already far too many cabinet officials. Second, I'm not sure why the UN ambassador should outrank, say, our permanent representative to NATO or our ambassador to the UK or China.
Further, the argument that a UN ambassador with cabinet rank will tend to have the president's ear and thus more sway is itself circular. That is, presidents tend to give cabinet rank to UN ambassadors that they're already particularly close to (Kirkpatrick, Albright, Susan Rice, and Power).
The fact that former UN ambassador Bush decided not to assign the position cabinet status as President Bush is also a rather powerful indicator.