Shutdown Shuts Off Military Death Benefit Payments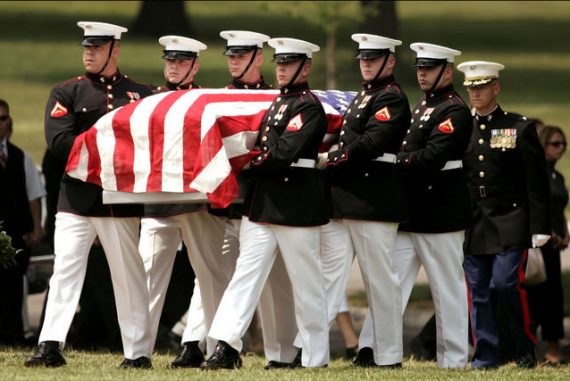 Yes, there are tons of stories about hardships created by the Federal Government shutdown, but this one strikes me as particularly egregious:
The families of more than a dozen service members who died during the ongoing government shutdown have not yet received a $100,000 in promised pay. The families, including those of five American service members killed in Afghanistan last weekend, did not receive the "death gratuity" given to families of the fallen even after Congress passed a law last week to pay military members during the shutdown.

The payment, which is wired to families of active duty and some reserve troops no later than three days after the service member's death, covers the costs of immediate expenses, like funeral services and flights to meet the coffins, as well as immediate financial assistance until life insurance policies take effect.

Republican aides told NBC that they were drafting a resolution to restore the gratuity that could be introduced as early as Wednesday.

"We are going to work through this week [on] a mini CR that would help with this funding," said Congressman Sean Duffy, R-Wisc., said on Andrea Mitchell Reports Tuesday.

Congressman Joe Wilson, chair of the Military Personnel Subcommittee of the Armed Service Committee, asked Defense Secretary Chuck Hagel in a letter why death benefits were not paid as part of the Pay Our Military Act and requested an itemized explanation of the suspended payments. And lawmakers took to the floor Tuesday to denounce an effect of the shutdown that has also angered the public. Rep. Renee Ellmers, R-N.C., called the benefits delay "a great injustice."

"Despite the government shutdown, our service members are still expected to go to war knowing full well that they may pay the ultimate sacrifice for this great nation. And we should be expected to keep our promises to their family members," Ellmers said.
Seventeen American service members have died since the shutdown went into effect, and all of their families are being impacted by this. In some cases, according to media reports, it's made it financially impossible for families to travel to Dover Air Force Base to receive the remains of their loved one and make funeral arrangements. Yes, there are plenty of emotional stories tied to the shutdown that one could find, but it strikes me that this is one that ought to be alleviated post haste rather than holding these families hostage to partisan nonsense. Speaker Boehner said this afternoon that specific legislation to address this issue would be introduced in the House tomorrow. In a just world, it ought to be immediately passed, sent to the Senate, passed there, and signed into law by the President before Sunset on Wednesday.
Yes, one can make the "the House should pass a clean CR argument" here, but this strikes me as a situation where politics ought to be put aside.