Sinatra At 100: An Appreciation
Remembering a legend on the 100th anniversary of his birth.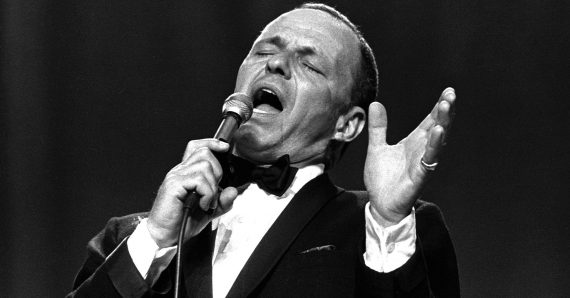 A century ago today, a son was born to two Italian immigrants, and that son would go on to become a legend that has outlasted even his own life:
Frank Sinatra gave pop music a beating heart.

Before Michael Jackson, before Bob Dylan, before Elvis Presley, there was Sinatra, the first modern pop superstar. In the floodtide of centennial tributes (he was born on Dec. 12, 1915), we celebrate the cool, ring-a-ding-ding Sinatra, a man with the world on a string — but his most far-reaching accomplishment was infusing popular song with intimate personal emotion.

His union of the singer and the song was fortified by his protohipster image: a film-noir loner in a fedora with a cigarette and a drink; the flip side was the swinger bedding countless beautiful women and partying with his pals till dawn. To borrow a title from Tom Wolfe, he was "a man in full." In Sinatra's intensely emotional interpretations, popular standards took on a new life by becoming quasiautobiographical confessions. The lyrics mattered as never before, foreshadowing the singer-songwriters of the next generation. Men didn't simply admire him; they wanted to be him, partly because he revised the definition of masculinity. He made self-pity a virtue.

Beginning with his somber 1955 album of torch songs, "In the Wee Small Hours," which some believe to be the greatest pop album ever made, Sinatra gave men license to cry without shame. Sanctioned by a tough guy who consorted with mobsters, behavior once synonymous with cowardice and weakness became noble suffering.

Before 1955, most popular music was dismissed as kitsch by the reigning culturati, and distinctions between "high" and popular art were rigidly demarcated. By treating popular standards as secular art songs dressed up in ele

gant semiclassical and pop-jazz trappings by his most brilliant arranger, Nelson Riddle, Sinatra began blurring the distinctions.

Almost single-handedly, he canonized the American songbook, a body of work created mostly for Broadway and the movies that looms much larger than it might have had he not given it his passionate, sustained attention. It became a platform for philosophical ruminations on the meaning of it all.

Ella Fitzgerald also contributed to that preservation with her monumental "songbook" albums, but with a couple of exceptions, they pale beside the power and authority of Sinatra's best work. Fitzgerald, with her phenomenal gifts, was not emotionally invested in song lyrics. Everything Sinatra recorded he made sound intensely, sometimes agonizingly, personal. Songs like "Night and Day," "I've Got You Under My Skin," "One for My Baby" and "Laura" became his and no one else's. He recorded these and others more than once over a period of years. When you think of them, it is likely Sinatra's voice you hear in your head.

No matter what he's singing, you listen to the words and how he phrases them and often have the sense that they're coming spontaneously out of his mind and not from the pen of the song's lyricist, although in his concerts he was scrupulous to give writing and arranging credits.

With each re-recording they expressed Sinatra's changing point of view over time and became the story of his life. Other singers followed his lead, and the interpretation of popular songs took on an entirely new significance.

(…)

The best of his '40s recordings, made mostly with the arranger Axel Stordahl, are delicate musical valentines gently murmured by an ardent young suitor to his dream girl. The tinkly hearts-and-flowers arrangements for a chamber orchestra conjure an innocent paradise of lingering kisses and endearments shared by sweethearts floating in a rapturous shared fantasy. Listen to his Columbia recordings of "My Melancholy Baby," "Dream," "I Don't Know Why," "Oh! What It Seemed to Be," "Laura," "The Things We Did Last Summer," "You're My Girl" and "If I Forget You" and be transported. These performances have the devotional fervency of whispered prayers.

In the early '50s, the skinny, blue-eyed boy from Hoboken re-invented himself as a cosmopolitan performer with a purpose: to enshrine the songs of Berlin, Gershwin, Porter, Rodgers and Hart, Arlen and others once and for all.

At a time when novelties dominated mainstream pop, the rise of the long-playing record enabled Sinatra to create the first "concept" albums years before the term was coined around the time of the Beatles' "Sgt. Pepper's Lonely Hearts Club Band." The output of Sinatra, Fitzgerald, Peggy Lee, Sarah Vaughan, Billie Holiday, Lena Horne, Tony Bennett, Rosemary Clooney and others is synonymous with what many believe to be the golden age of the LP. On their albums, romantic love — the subject of a majority of popular standards — was explored from an adult perspective.

In the '50s, his once celestial baritone acquired a slightly rougher grain, and he became the voice of experience. The bobby-soxers' idol had evolved into a sexually sophisticated swinger. His increasingly emphatic, upbeat syncopation spurred a full-scale swing revival — newly focused on the singer instead of a bandleader — and heralded an age of individual self-expression that has only expanded and continued into the hip-hop era.

"Come Fly With Me," the title song from his 1958 album, was an invitation to pleasure delivered in a rough, joyful voice that promised good times ahead if you followed Sinatra, now the ultimate American playboy. In the '40s, he had played the role of an imaginary boyfriend to women on the home front while their husbands were fighting overseas. The swinging Sinatra announced himself in 1953 with a joyful, confident "I've Got the World on a String." At his peak in the next decade, the world revolving around Sinatra was a hedonistic playground, with the singer the master of revels.

But it was a bipolar world that had a shadow side: The pied piper of good times endured bouts of melancholia that defined his increasingly tragic vision of life. "In the Wee Small Hours," "Frank Sinatra Sings for Only the Lonely" and "Where Are You?" with their quasi-Wagnerian orchestrations were eloquent, even desperate cries in the night.
These words, written by New York Times music critic Stephen Holden, and much more that he says at the link, capture much of the critical acclaim that Frank Sinatra earned over the years. For most people, though, music is an intensely personal experience and every time I've run into someone who appreciates Sinatra on some level, and there are few people I've met who don't like something about what he did, what they like is as personal as the way anyone ever approaches music. In the music he interpreted, Sinatra captured both the joys of new-found love and the pathos of the gal who got away. Many people will remember the bombast and the personality, but whatever it was it seems that there has always been something in Sinatra's extensive catalog that stretches back to the 1930s and his first recordings with Harry James to appreciate, whether because of the memories it brings back or the losses it comforts.
For me, growing up in the New York City area meant that one was exposed to Sinatra on some level on an almost regular basis. Local pizza places played his music all the time. Radio stations in Philadelphia and New York City featured programs that played nothing but Sinatra for several hours a week. Yankee Stadium began playing "New York, New York" at the end of every game the Yankees won, a tradition that continues until this day. It wasn't really until I moved away from New Jersey, though, that I really started listening to Sinatra, though. It was in 1990 that Sinatra was marking his 75th birthday, and the fact that this coincided with the height of the time when record companies were re-releasing old material on compact disc meant that all of Sinatra's old albums, and more, was being introduced to a new audience. On an admittedly limited budget I began buying what I could and it's not unfair to say that listening to Sinatra helped get me through  my first semester of law school, and especially the first round of exams, which I was in the middle of exactly twenty-five years ago this month. In any event, as time went on, and I started listening to more and more of not only Sinatra but also Ella Fitzgerald, Nat King Cole and the world of jazz that this inevitably led to, my appreciation for the way Sinatra, who never actually learned to read or write music, could bend and turn a phrase in ways that trained musicians could. The fact that he became the favorite singer of musicians ranging from Louis Armstrong to Miles Davis is, by itself, testament to the skills he seemingly learned by osmosis.
In any case, as time went on, Sinatra's ability to convey emotion seemingly effortlessly became more impressive. Torch song albums such as In The Wee Small Hours Of The Morning and Frank Sinatra Sings Songs For Only The Lonely, for example, speak to anyone who has gone through the pain of a lost love, which isn't surprising considering the fact that both albums were recorded in the middle of a torrid romance, marriage, and ultimate break-up with Ava Gardner. In the 1960s, Sinatra made some odd attempts to remain relevant as the popular music scene changed, and there were many examples both from this era and during the 70s and 80s that are best forgotten, but this is also the era that brought a memorable collaboration with Brazilian bossa nova innovator Antonio Carlos Jobim, and three albums with jazz legend Count Basie that were produced by a then young guy named Quincy Jones, including an album recording live in Las Vegas that remains a classic to this day. Even in his later years, Sinatra managed to earn the respect of a new generation with two albums of Duets with contemporary artists that ended up becoming two of the best selling albums of his entire career.
Finally, any discussion of Frank Sinatra without incomplete without mentioning his acting career. Initially, of course, he was brought to Hollywood because producers knew they could bank off his stardom in music, and his first movies were musicals such as Anchors Aweigh, where he was joined by Gene Kelly. In 1953, though, when Sinatra had seemingly hit rock bottom after losing his voice and his record contract, he was cast in From Here To Eternity where he turned in a performance that won him an Academy Award for Best Supporting Actor. The 1950s also saw him on screen in a number of musicals, including Young At Heart with Doris Day, Guys And Dolls with, oddly enough, Marlon Brando, and High Society with Grace Kelly and Sinatra's great idol Bing Crosby. Some of Sinatra's most powerful on-screen performances, though, can be seen in The Man With The Golden Arm, in which he plays a heroin-addicted jazz drummer, Suddenly, in which he plays a would-be Presidential assassin, and The Manchurian Candidate, a film that took on a legendary status of its own in the wake of the Kennedy assassination. There were, of course, also the Rat Pack movies and all that came from those years as well, but that just added to the mythos that continued to build around Sinatra.
Anyway, there's much, much more I could say about Frank Sinatra, but so much has already been written that I feel like I'd just be restating the obvious. Perhaps the best piece that has ever been written about him, though, was published in April 1966 in Esquire, "Frank Sinatra Has A Cold" by the great writer Gay Talese, a longish article that is definitely worth reading if only because Talese himself is such as great writer. More than words, though, it's Sinatra's music that speaks for him, so I'll just share some examples of that.
First up, from the early 60s, Sinatra and the Count Basie Orchestra and one of the defining songs of Sinatra's career:
Second, from a television special in the 1960s, Sinatra with Antonia Carlos Jobim and some bossa nova:
And, finally, from later in Sinatra's career, an ode to the city that he looked to from the docks of Hoboken as a boy:
More than once, Sinatra left his audiences with the toast "May you live 100 years, and the last voice you hear by mine," on the occasion of the 100th anniversary of his birth that seems doubly appropriate.