So-Called "Ground Zero Mosque" Opens, World Doesn't End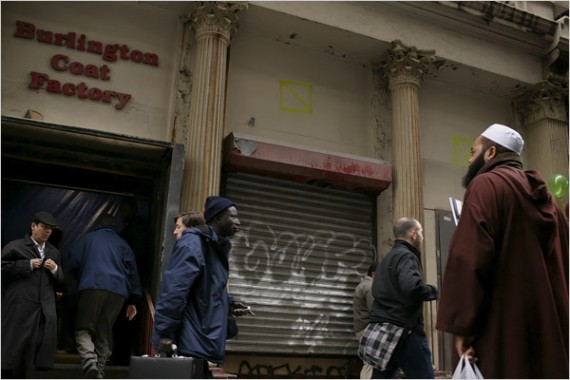 The Islamic Cultural Center at the site of a former Burlington Coat Factory located two blocks from the site of the World Trade Center attacks, which caused so much controversy last summer, opened today to minimal notice or protest:
The so-called Ground Zero mosque, where proponents of religious freedom clashed with conservative pols and the families of 9/11 victims for nearly two years, opened Wednesday without controversy.

Instead of protesters, who tried to shut down the Park51 center several times, spectators milled about the center before entering to view a photographic exhibition.

NYChildren, as the exhibit was titled, was as much a tribute to New York City's diversity as a display of mere photographs. It includes snapshots of a city children representative of 160 ethnicities from around the world.

The photographs were compiled by a 44-year-old Jewish shutterbug from Brooklyn, Danny Goldfield.
Interestingly the developer of the project did admit that they'd made some mistakes in the initial roll-out of the project:
"We made incredible mistakes," Sharif El-Gamal told The Associated Press in an interview in his Manhattan office. "The biggest mistake we made was not to include 9/11 families."

At first, "We didn't understand that we had a responsibility to discuss our private project with family members that lost loved ones," he said.

He added that he did not "really connect" with community leaders and activists while planning the project.

El-Gamal added that the center's advisory board now includes at least one relative of a 9/11 victim.
I would say that the real mistake was failing to recognize the virulent anti-Muslim hatred of some on the right and the manner in which that would be exploited by those with a political agenda. For months, the projects leaders let those people have the public relations field rather than responding directly at the beginning. In any event, the Cultural Center is open, construction on the renovation of the facility is apparently beginning, and ten years from now everyone is going to wonder what the heck the big deal was all about.