Social Conservatives Freak Out Over J. Crew Ad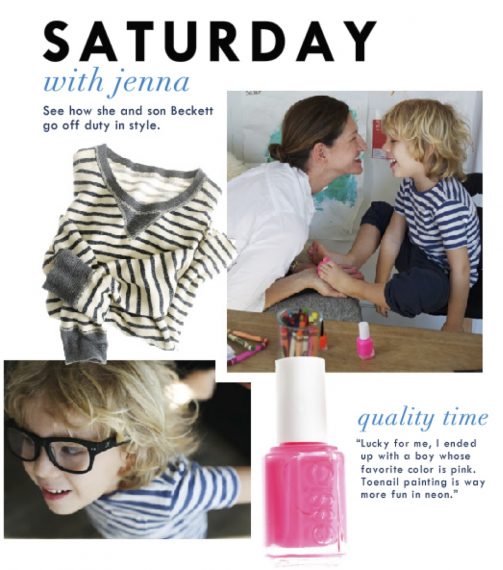 Your silly media controversy of the day involves the public response to a J. Crew ad featuring a toddler boy with pink toenail polish:
A mother paints her son's toenails hot pink because it's his favorite color. Does that mean he'll become gay or transgender? That is the controversy surrounding a J. Crew ad that is swirling around the Internet.

It began when a photo of J. Crew's president and creative director Jenna Lyons painting the toenails of her son Beckett in an ad was sent to customers last week in a feature, "Saturday with Jenna."

"Lucky for me I ended up with a boy whose favorite color is pink," says the caption. "Toenail painting is way more fun in neon."

Social conservatives reacted with outrage. Fox News' Dr. Keith Ablow ran an opinion piece on the issue and Erin Brown of the right-leaning Media Research Center called the ad "blatant propaganda celebrating transgendered children."

"Not only is Beckett likely to change his favorite color as early as tomorrow, Jenna's indulgence (or encouragement) could make life hard for the boy in the future," Brown wrote. J. Crew, known for its tasteful and modest clothing, apparently does not mind exploiting Beckett behind the facade of liberal, transgendered identity politics."
Some of the reaction by members of the public to Brown's comments in particular have been fairly inappropriate and I won't reproduce them here, but I really have to wonder what the big deal here is. What does the color pink have to do with "celebrating transgendered children," even assuming that would be a bad thing? To me it just seems like a way that Lyons has fun with her son. So he likes the color pink, so what?
Moreover, its worth noting that the association of pink and blue with gender is a very recent cultural development:
The march toward gender-specific clothes was neither linear nor rapid. Pink and blue arrived, along with other pastels, as colors for babies in the mid-19th century, yet the two colors were not promoted as gender signifiers until just before World War I—and even then, it took time for popular culture to sort things out.

For example, a Ladies' Home Journal article in June 1918 said, "The generally accepted rule is pink for the boys, and blue for the girls. The reason is that pink, being a more decided and stronger color, is more suitable for the boy, while blue, which is more delicate and dainty, is prettier for the girl." Other sources said blue was flattering for blonds, pink for brunettes; or blue was for blue-eyed babies, pink for brown-eyed babies, according to Paoletti.

In 1927, Time magazine printed a chart showing sex-appropriate colors for girls and boys according to leading U.S. stores. In Boston, Filene's told parents to dress boys in pink. So did Best & Co. in New York City, Halle's in Cleveland and Marshall Field in Chicago.

Today's color dictate wasn't established until the 1940s, as a result of Americans' preferences as interpreted by manufacturers and retailers. "It could have gone the other way," Paoletti says
So, there's nothing feminine about the color pink, and nothing masculine about the color blue, it's all a result of a habit that's developed over time.
I honestly can't see what Lyons, or J. Crew, is doing wrong here, or why how Lyons raises her child is anyone's business but her own.
Here's a piece from the Today show about this:
Visit msnbc.com for breaking news, world news, and news about the economy