Some Funerals Are More Equal than Others
The rules are different if you're famous.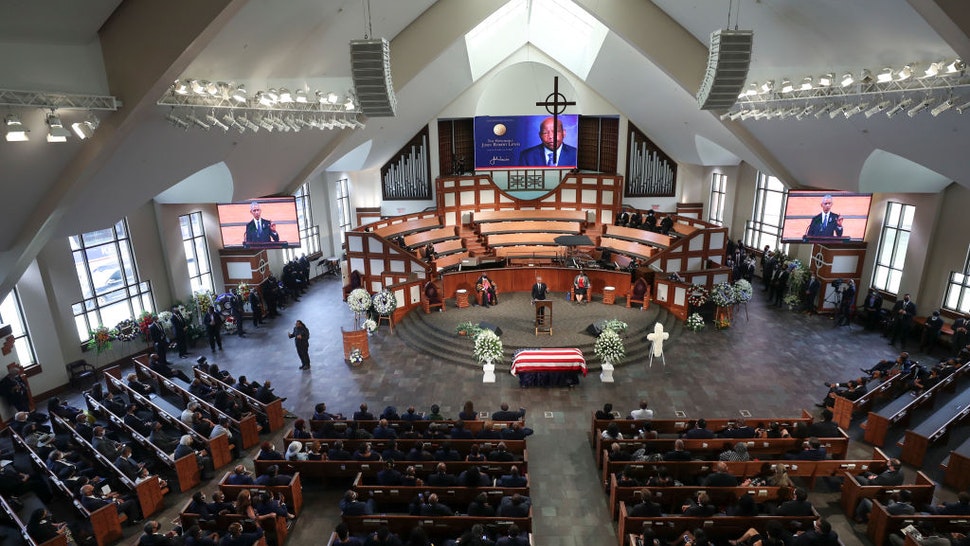 It's not often I favorably cite The Daily Wire here; indeed, I'm not sure I've ever done so. But this story, which surfaced via memeorandum, touches on a reasonable complaint I've seen on my Facebook feed that deserves some discussion.
The headline: "DC Mayor Exempts John Lewis Funeral Attendees From City's Quarantine Restrictions."
The basic facts:
Lawmakers who attended the funeral of late Rep. John Lewis (D-GA) in Atlanta earlier this week are exempt from Washington, D.C.'s, self-quarantine restrictions, according to District Mayor Muriel Bowser's office.

According to the mayor's July 24 order, titled "Requirement to Self-Quarantine After Non-Essential Travel During the COVID-19 Public Health Emergency," any residents who travel to "high-risk" areas for "non-essential" reasons must self-quarantine for 14 days and monitor themselves for symptoms of the virus.

[…]

The order, which remains in effect at least until Oct. 9, goes on to define "high-risk areas" as "locations where the seven (7)-day moving average daily new COVID-19 case rate is ten (10) or more per one hundred thousand (100,000) persons." By such a metric, the entire state of Georgia is considered "high-risk," and a recent federal report listed it in the "red zone" because of its skyrocketing cases of the virus. Atlanta's Fulton County averaged 228 cases per 100,000 people in the past seven days, according to most recent statistics from The New York Times.

Regarding why attendees at Lewis' funeral escaped the strictures of self-quarantine, Bowser Press Secretary Susana Castillo characterized the ceremony as an essential government activity, telling Just the News on Friday, "Government activity is essential, and the Capitol of the United States is exempt from the Mayor's Order."

The mayor's office still deems the funerals of regular people non-essential activity, however. When asked whether attendees of non-government funerals in high-risk areas are still required to self-quarantine under the mayor's order, Castillo responded simply, "Yes."

Members of Congress are also exempt from Bowser's recent edict mandating D.C. residents wear masks both in public indoor spaces and even outside if they "are likely to come into contact with another person, such as being within six feet of another person for more than a fleeting time[.]" Those who neglect to cover up expose themselves to the possibility of fines up to $1,000 per violation.
Now, this is a rather weak form of the complaint. The obvious parry is that the DC government exists at the forbearance of Congress and Members of Congress would simply not consent to be told what to do by the mayor of DC.
But the broader form of the complaint has merit. In response to the COVID-19 pandemic, state and local governments around the country have ordered major curtailments of our ordinary liberties. Large gatherings, including funerals, have been forbidden. Even members of the household are forbidden from entering hospitals to comfort loved ones on their deathbeds. All around the country, then, tens of thousands, if not hundreds of thousands, have died alone and their friends and families were forbidden to engage in the traditional mourning rituals.
That's incredibly hurtful. And, yet, most of us agree that it was the right thing to do. Extraordinary circumstances require extraordinary measures.
Yet, during all this, we've had massive public funerals for George Floyd and John Lewis. And, of course, weeks of massive crowds gathering to protest in our major cities.
There's an obvious disconnect.
Why can't we go say goodbye to Grandma, who was a key part of our daily lives, but people who never met John Lewis or George Floyd are permitted mass gatherings to show their respect?
I'm not sure there's a great answer to that in a democracy founded on the credo All Men are Created Equal.
Yet, on balance, this also seems the right thing to do.
Floyd was transformed into a public figure in the most awful way imaginable, slowly choked to death by a police officer while his colleagues stood by and did nothing. Because it was captured on video, happened after so many other similar incidents—and quite probably also because it happened during the aforementioned lockdown—his death became the spark that ignited the powder keg.
There was no viable alternative but to allow protests after that. Having police forcibly put down protests against police violence would have been insanity.
And, presumably, giving Floyd what amounted to a state funeral was intended as a healing gesture.
Lewis was an icon of the civil rights movement who would be lionized as the Conscience of the Congress. His funeral may well have been granted an exception to the rules under normal circumstances. In the midst of the Floyd protests and the broader Black Lives Matter movement, it was necessary.
Ultimately, then, these two funerals and the protests are being treated as civic events in contrast to the private events that are being forbidden. Again, that's arguably undemocratic. But the public good often trumps private needs.