Some Senators Are Trying To Force A Deal On DACA
A small group of Senators is engaged in a seemingly quixotic effort to save DACA before the election.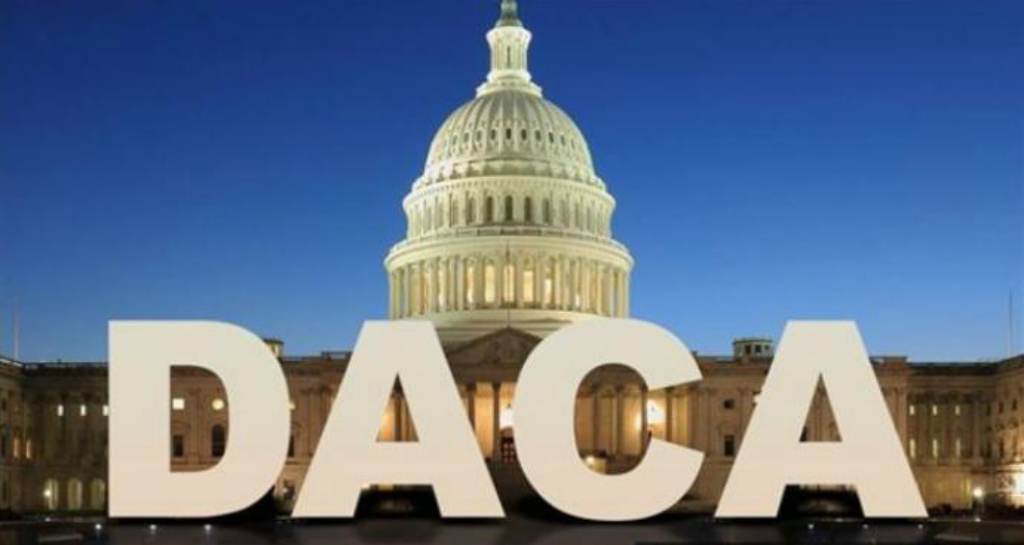 A small bipartisan group of Senators is trying to force action on the Deferred Action For Childhood Arrivals (DACA) program, but the odds of them succeeding are fairly low:
Cory Gardner, the leader of the Senate GOP's campaign arm, delivered an urgent message to President Donald Trump in a telephone conversation earlier this month: Congress and the White House need to act pronto on immigration reform.

"The sweet spot for getting an immigration deal remains now. The closer we get to the election and certainly post-election, the more difficult it will be," the Colorado Republican recounted telling the president. "If we wait longer, the more difficult it becomes. They'll blame it on both parties at that point."

A group of senators in both parties is beginning to restart back-channel talks across the aisle and with the White House in hopes that the chamber will be ready to act if the House or the courts throw the issue back to the Senate this summer. But the Senate isn't ready to take up the issue after a thoroughly unproductive immigration debate in February, followed by months of radio silence.

And lawmakers are growing more and more worried the upper chamber could be blindsided by a call to action later this year.

The House, meanwhile, has become a hotbed of immigration debate — and it's preparing to take up one or several Republican bills in June. But even if the GOP is able to resolve its intense disagreements and pass something, the Senate is very unlikely to accept it, according to interviews with nearly a dozen senators of both parties. Their opposition extends from a conservative bill written by House Judiciary Chairman Bob Goodlatte (R-Va.). to a more moderate one pushed by centrist House Republicans.

And urgency is cranking up from the outside as well. Republican donors are putting increasing pressure on the party to follow through on immigration reform, and the Koch brothers' political network is calling for the GOP to take the Democrats' trade of protections for Dreamers in exchange for border security.

Yet the Senate does not have its own proposal that can get 60 votes right now. The possibility that the chamber will be caught flat-footed — after leading the debate for years — is starting to alarm senators from both parties.

"Either the House sends us something or the court sends us something and suddenly we have to do something," said Sen. James Lankford (R-Okla.). "I don't want to be standing there saying we've been doing nothing for months."

"That pressure could ramp back up tomorrow if we're in a position where we see active deportations of Dreamers on a large scale," said Sen. Martin Heinrich (D-N.M.). "There are many Republican senators who realize that that is not a place they should ever want us to be."

The conservative Lankford and liberal Heinrich both voted against the Senate's bipartisan efforts in February. The bill would have provided 1.8 million young immigrants with a pathway to citizenship and delivered $25 billion for Trump's border wall. Both are involved in nascent bipartisan talks that have restarted recently. And they're precisely the type of lawmakers who will have to be on board for the chamber to pass anything.

In recent weeks, Sen. Chris Coons (D-Del.) has been taking the lead on talking to Lankford and Sen. Thom Tillis (R-N.C.), two more junior GOP senators who are widely viewed as bellwethers of Republican support for immigration reform. While senators say that the staples of any immigration deal are protections for Dreamers and money for border security, negotiations have broadened to include the expiring protected status for hundreds of thousands of Central American immigrants.

Coons, one of Lankford's Democratic partners in recent informal immigration discussions, described the talks as "a cautious exploration of ways to broaden" the debate.
This movement, such as it is, in the Senate is happening at the same time that there is at least some movement in the House trying to force action on a bill that would assist DACA beneficiaries and other so-called "Dreamers." As I noted earlier this month, a small group of Republican members of that body is attempting to force a vote via a procedure known as a Discharge Petition which would force a vote on proposed legislation provided they can get at least 218 signatures from Congressmen. As of the last report roughly three weeks ago, it was being reported that the Republican rebels were close to getting the number of signatures they needed. However, with Congress in recess for now due to the Memorial Day weekend it's unclear if they've managed to gain more support or if the effort has stalled. In that respect perhaps, the effort in the House could gain some momentum if this group of Senators is successful in forcing action of its own.
Even if the Discharge Petition and the effort in the Senate succeed, of course, that doesn't mean that Congress has found a solution to the DACA problem. First of all, it's not at all clear which version of DACA relief either the House or the Senate would be voting on. There are several versions of proposed bills pending in both chambers, but none of them appear to have the majority support needed to succeed. For example, on the House side, there is a bill put forward by hardliners that would provide protection to a limited number of Dreamers and would permanently block them from ever applying to become American citizens. It would also require funding for the President's border wall, place limitations on so-called "chain migration," and make other changes to existing immigration law that would have the impact of severely limiting legal immigration. Other bills are more moderate but unlikely to get significant enough Republican and Democratic support to pass the House. On the Senate side, there have been a variety of DACA bills proposed but none of them have managed to get majority support when test votes were held, and there's no indication that this has changed. One of the major stumbling blocks in that regard would be over the issue of the eventual eligibility of DACA beneficiaries to apply for citizenship, of course, but it's also likely that Senate Democrats would object to significant funding for Trump's silly border wall or to measures that would significantly reduce legal immigration as provided for under current immigration laws. Additionally, the reality is that both Democrats and Republicans are likely looking at the DACA issue specifically, and immigration more generally, as an issue they can use in the General Election in November.
Finally, of course, even if a DACA bill somehow made it through the House and Senate intact it's not at all clear that it would have the President's support. The last time this issue was before Congress, the White House was threatening to veto any proposal that didn't match the outline of what had been proposed by the President in January. So far the White House has not commented on the ongoing discharge petition battle but it has also not indicated that it is willing to stand down from the previou veto threat. So, in the end, all of these efforts may be for naught.