Republican Rebels Trying To Force House Vote On DACA Bill
A small group of Republican rebels in the House are attempting to push legislation protecting DACA beneficiaries to a floor vote. Unfortunately, they're not likely to succeed.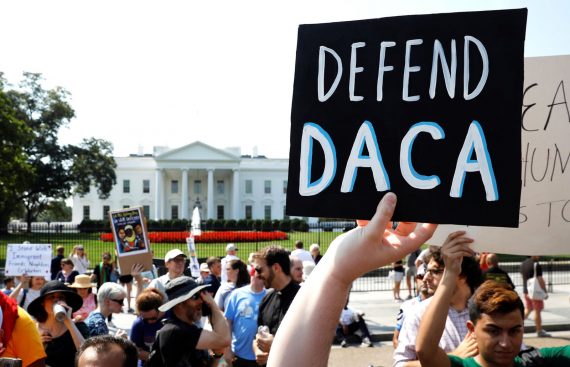 For months after announcing the end of the DACA program back in September, President Trump said that he wanted Congress to come up with a solution to the problem, and at least for awhile it seemed as though that might actually be possible. Once Congress actually tried to tackle the issue, though, it quickly became apparent that Congress was not going to act and the President Trump's alleged commitment to fixing DACA was a whole lot of words that amounted to absolutely nothing.
Back in January, for example, the President told a bipartisan group of Senators that he would sign into law virtually anything that Congress could pass to provide protection to DACA beneficiaries. Based on that commitment, Senators Lindsey Graham and Dick Durbin came up with a deal that extended DACA protections, provided funding for border security, ended the visa lottery, and introduced some limitations on what Trump and many Republicans call "chain migration," a euphemism used to refer to laws which allow people in the country legally to sponsor family members for legal entry to the United States. When that deal was presented to the President, though, he dismissed it in an Oval Office tirade that included his infamous reference to so-called "shithole countries" as a source for immigrants. Shortly before the government shutdown in January, Senate Minority Leader Chuck Schumer met with Trump and believed he had reached a deal with the President that would have extended DACA in exchange for partial funding for the President's beloved border wall. When Trump pulled the rug out from under Schumer, Democrats blocked passage of a budget bill in the Senate and forced the short shutdown that lasted about two and a half days.
After that shutdown, there was at least some hope that a DACA deal could be reached, but again, it was Trump and Republicans in the House and Senate who torpedoed any prospect of a deal, not Democrats. While a bipartisan group of Senators did come up with a proposal that seemed like it at least had a chance of passing the Senate, the White House took a hardline position by threatening to veto any proposal that didn't match the outline of what had been proposed by the President in January. Over in the House, hardliners were basically saying that nothing that the Senate was considering, including the President's own proposal, would get through that body, principally over the issue of allowing people who benefited from protection under those proposals a path to eventual citizenship. In the end, and in no small part because of the opposition from the White House and the position being taken by House Republicans, that proposal and three other proposals put forward in the Senate were rejected and, ever since then, there's been no real progress at all toward a resolution of the DACA issue. Most recently, the President ranted on Twitter that he considered the effort to find a legislative fix for DACA to be dead, and tried to put the blame on Democrats even though it was clear that it was Republicans who were and are primarily responsible for the failure to extend DACA benefits legislatively.
Now, a small grou of Republican members of the House of Representatives are using a rarely used procedural move to attempt to force a vote on passing legislation designed to provide protection to the beneficiaries of the Deferred Action For Childhood Arrivals (DACA) program:
A small group of Republicans has launched an effort to sidestep House Speaker Paul D. Ryan and put immigration legislation on the House floor this year in a bid to secure protections for young undocumented immigrants.

Rep. Carlos Curbelo (R-Fla.) filed a discharge petition Wednesday morning that, if signed by a majority of House members, would force votes on a series of immigration bills under a so-called queen of the hill rule. Whichever of those bills receives the most votes, exceeding a majority, would pass the House — a setup that is calibrated to secure passage of a bipartisan compromise.

Six other Republicans — Reps. Jeff Denham (Calif.), David G. Valadao (Calif.), Will Hurd (Tex.), Mario Diaz-Balart (Fla.), Mia B. Love (Utah) and Ileana Ros-Lehtinen (Fla.) — also signed the discharge petition Wednesday alongside Curbelo. Most represent swing districts with significant Latino constituencies.

Mindful of the treacherous politics surrounding the issue in the Republican Party, Ryan has declined to move forward with any significant immigration legislation since becoming speaker in 2015 despite personally supporting bills that would give some illegal immigrants a pathway to stay legally in the United States. Conservatives have strongly opposed any "amnesty" for adults who have come to the U.S. illegally — and, for many, that also extends to "dreamers," children brought illegally to the U.S. through no fault of their own.

(…)

The Republicans backing the discharge petition have other ideas. But to succeed, even if they persuade all 193 Democrats to sign, the backers of the discharge petition would still need to find 18 more Republicans beyond the seven current signers to reach the required 218 signatures.

That could be a tall order, because lawmakers in the majority party are typically reluctant to undermine their leadership's control of the floor by supporting a discharge. Election-year politics, however, could come into play as vulnerable incumbents are challenged on the campaign trail to support immigration reform legislation.

The "queen of the hill" resolution would allow votes on a variety of bills, ranging from Goodlatte and McCaul's conservative Securing America's Future Act to a version of the Dream Act, which would grant a path to citizenship for dreamers without concessions to hard-liners, as well as a bipartisan bill that would give dreamers a path to permanent legal status alongside border security measures. The resolution also allow Ryan (R-Wis.) to bring up a bill of his own choosing.
Ordinarily, of course, legislation rarely makes it to the House floor for a vote without the support of the majority leadership, and Republican leaders have made it clear in the past that they wouldn't put any legislation on the floor unless it was clear that it would garner the support of a majority of the House GOP Caucus. As noted above, though, House Rules do permit members backing a bill that is being blocked by leadership or in committee to force a vote on a measure they via a so-called "Discharge Petition." In order for the vote to take place, though, it must be signed by a majority of House members. At this point, even if the six Republicans sponsoring this move would be able to get all 193 Democrats to support their petition they'd still need nearly twenty other Republicans to join them. Given the fact that a Discharge Petition is effectively an end run around party leadership and a rebuke of the Speaker and Majority Leader, that's far easier said than done. It has been three years since the last successful Discharge Petition, and that measure never became law anyway. Given that, the odds that this effort will succeed are somewhere between slim and none.
Further complicating the matter is that it's unclear exactly what kind of bill the Discharge Petition would bring to the floor. As I noted above, the bill being put forward by hardliners in the House is tougher than anything that has been considered by the Senate or even the President's own proposal. The principal difference between those proposals and the currently existing House plan lies in the fact that the House bill would bar DACA beneficiaries from ever being eligible to seek citizenship even after a delayed period longer than other legal residents. By contrast, a bill being advanced by Democrats would allow for such a path as would a bill that some moderate Republicans have put forward does allow for a path to citizenship. It's unclear which of these bills would get a vote if the Discharge Petition did succeed and it's equally unclear if any of them could actually get a majority of votes on the House floor. Finally, of course, it's unclear if any of these measures would have a chance in the Senate, which hasn't taken any action related to DACA since February and seems unlikely to act before the elections in November.
All of this Congressional inaction has occurred, of course, at the same time that the Federal Courts have been relatively active on the DACA front. In January, a District Court Judge in San Francisco ruled that the Administration's efforts to repeal the program violated the law and issued an injunction that blocked the Administration's efforts to shut the DACA program down. That ruling was followed roughly a month later by a ruling from a second Federal Judge in Maryland who issued a similar ruling on much the same grounds as his colleague in San Francisco. In March, a Federal Judge in New York City denied a motion seeking to dismiss a similar lawsuit against the Trump Administration order in a ruling that cited many of the same grounds as the previous two orders and which also cited in support of its conclusions rhetoric from the President both in his speeches and in his Tweets. Finally, at the end of April a Federal District Court Judge in Washington, D.C. issued an injunction similar to those issued by his fellow Judges in California and New York, and also ordered that the Administration must accept new applications from people eligible under the DACA rules that President Obama established when the program was first established six years ago. While these injunctions have been pending the Supreme Court declined to disturb the injunction in the San Francisco case, meaning that the government will be forced to go through the Ninth Circuit to appeal that case. On the opposite side of the issue, Texas and six other states have filed a lawsuit seeking to have the entire DACA program declared unconstitutional.
As things stand, it would appear that the courts, not Congress, will be the venue where the fate of DACA will be decided. This latest effort in the House is a noble one, but it's as likely to fail as all the previous efforts have. Meanwhile, the fate of nearly a million DACA beneficiaries is one Court ruling away from being undone. The failure of Congress to act here is unconscionable.