Sony Is Finally Killing Off Betamax. Wait, Betamax Was Still Alive?
You thought Betamax died three decades ago didn't you?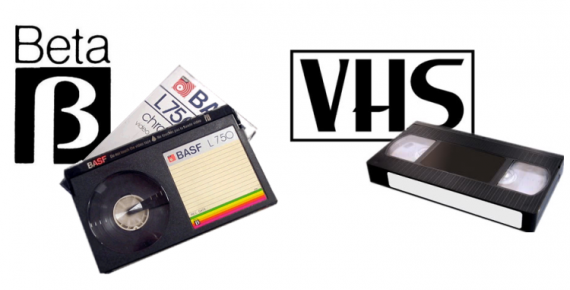 Sony announced last week that Betamax, the videotape format that long ago lost a format war to VHS that itself was swept aside by DVD, Blu-Ray, and now online streaming, would officially die early next year:
Sony has announced that in March next year it will stop producing Betamax video cassette tapes, forty years after its introduction and 28 years after losing the war to VHS.

Assumed already dead by many, the final Betamax cassette will roll off the production line in March 2016 as its maker concedes defeat to the march of time, 20 ,maybe 30, years late.

The video cassette format was pioneered by Sony in the early 1970s and first released into homes embedded in a 19in TV in 1975. It was embroiled in a format war with rival video cassette VHS, produced by Japanese firm JVC.

Betamax came first and initially offered superior video quality, but when offered a license to use Betamax by Sony, rival JVC decided to develop its own open format to avoid Sony's domination of the market with a format it would control.

(…)

VHS became a more open and widely adopted format for the video cassette, which resulted in a larger economy of scale, allowing VHS to beat Betamax on price.

That greater adoption and lower cost saw the pornography industry pick VHS as the format of choice for its home videos, which is largely considered the turning point that propelled VHS to victory.

In 1988, Sony conceded victory to the rival format producing its first VHS video cassette recorder. Sony's last Betamax recorder was produced in 2002, but the company will continue to produce tapes until March 2016.

Both video cassette tape formats were superseded by the video CD in 1993 – a standard defined by JVC, Matsushita, Philips and Sony, the successor to the 1979 LaserDisc.

Video cassettes lingered until the introduction of the DVD in 1995 by Philips, Sony, Toshiba, and Panasonic. Movie studios adopted the format for its superior video quality and durability, initially leading to DVD players only, not recorders.

Only later in the mid-2000s did affordable home DVD video recorders arrive pushing out VCRs, which were shortly followed by hard drive-based personal video recorders.
The biggest surprise from this announcement for most people, of course, is the news that Betamax tapes were still being produced and that, according the linked reports and others discussing the Sony announcement, the VHS format continues to be produced. It's not entirely clear what exactly these tapes are being used for, although one presumes that they still may be widely used in the the third world, where adoption of more advanced digital video recording for industries such as news media may still be well behind the West. Indeed, The Verge reports that it has been some time since Sony was actually selling or manufacturing machines capable of using the Betamax format, so the most likely explanation for this seemingly unlikely survival for a media format that had lost the first format war to VHS long before Sony officially conceded defeat in 1988 is that the machines themselves survived and were still being used somewhere in the world. If nothing else, I suppose that's testimony to the resilience of the machines, or perhaps the ability of technicians to keep those machines running for so long after they seemingly became obsolete and even their victorious VHS cousins were anachronistic. In that sense, the story of the unknown survival of Betamax is not dissimilar to what happened to Sony's far more popular Walkman, which survived until 2010 despite the rise of iPods and other portable music players, which themselves are now being replaced by music streaming services that allow people to store their music in the cloud. In that case, the ease with which cassettes can be copied and transported made them popular in the third world long after they had died off to such an extent in the West that modern children barely even recognize them.
In any case, the news comes as a reminder of just how quickly technology has changed, especially for those of us who still remember the VHS-Betamax format war. So farewell Betamax, and congratulations on surviving longer than any of us thought you had.