South Carolina Sheriff Refuses To Lower Flag For Nelson Mandela
Following the death of Nelson Mandela on Thursday, President Obama ordered flags at the White House and other Federal offices to be lowered to half staff in his honor until December 9th. Typically when this happens, governments at all levels follow suit even though the President technically doesn't have authority over them. That won't be happening in Pickens County, South Carolina:
Rick Clark, the sheriff of Pickens County, S.C., vowed on Friday to defy President Obama's order that U.S. flags be lowered to half staff in honor of deceased South African leader Nelson Mandela.

Clark made his promise in a Facebook post to keep flying the flag at the Pickens County Sheriff's Office at full height.

"I usually don't post political items, but today is different. I received this notification today, 'As a mark of respect for the memory of Nelson Mandela, the President orders that the flag of the United States be flown at half-staff effective immediately until sunset, December 9, 2013,'" Clark wrote. "Nelson Mandela did great things for his country and was a brave man but he was not an AMERICAN!!! The flag should be lowered at our Embassy in
S. Africa, but not here."
President Obama's mark of respect for Mandela on his passing is admittedly unusual in that it is only the third time in recent history that such an act has been done for a non-American, the other two being when Winston Churchill passed away during Lyndon Johnson's Presidency in 1965 and when Pope John Paul II died during President George W. Bush's time in office. I have no idea what Clark did in 2005 assuming he was in office at that time and he obviously wasn't in office in 1965, but I do have to wonder if he'd be doing this if the foreign leader were anyone other than a guy from Africa. If you get my meaning.
In any case, here's a screenshot of Clark's Facebook post: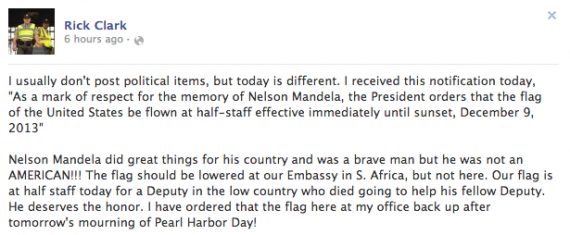 Judge for yourself.
Update: NPR reports that the honor has also been used to mark the death of other leaders besides Churchill, John Paul II, and Mandela.