On Mandela, Some Conservatives Get It And Others Quite Obviously Don't
Some on the American right have a very odd view of both Nelson Mandela and the Apartheid regime he fought against.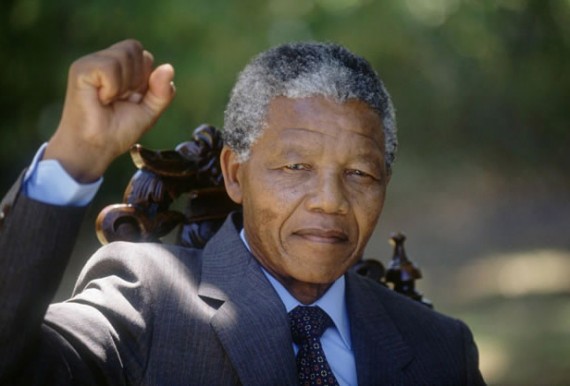 In the days since Nelson Mandela died, the vast majority of the media coverage in the United States has been positive and focused primarily on the manner in which the former revolutionary turned first black President of South Africa pursued a path of reconciliation between the nations black and white populations in the years after he was released from prison, to the point where seats of honor at his Inauguration were reserved for the men who ran and operated the prison he had been detained in for nearly three decades before being released in 1990. In most cases, the praise for Mandela crossed party boundaries here in the United States, with people like both President Bush's, Colin Powell, and Speaker John Boehner praising Mandela as a man of peace. In some of the reactions, though, there was an echo of the old sentiments that existed toward Mandela and his group the African National Congress that existed during the debate over sanctions and divestment during the Reagan era, when a bipartisan majority in Congress that included men like Mitch McConnell, Richard Lugar, and Orrin Hatch overrode President Reagan's veto of a sanctions bill against South Africa by an overwhelming margin. Juan Cole has perhaps the best summary I've seen of some of that anti-Mandela commentary:
Rick Santorum* slammed Mandela for supporting big government and then compared Apartheid to Obamacare. It is bizarre to compare an oppressive system of racial discrimination and denial of the franchise to an attempt to insure the 40 million uninsured Americans, almost all of them workers.

Mandela would have been a big supporter of Obamacare. In fact, Nelson Mandela put in place a government program to spread health care to the working poor across South Africa, using a special train that provides whistlestop medical services.

Dick Cheney, keeping his head down as his gay and straight daughters duke it out, appears to stand by his insistence that Mandela was nothing more than a terrorist and his vote against sanctions on the Apartheid government.

Rush Limbaugh churlishly complained about the media attention to Mandela, occasioned by his death this week: "the attention the that media is giving and the time that they're spending on the death of Mandela . . . It's way, way out of proportion to what really going on in people's lives and what they're scared about and what matters to them."Limbaugh, perhaps having embarrassed himself, later praised Mandela for forgiving his racist white enemies but used his example to slam American civil rights leaders, who, he said, nurse their resentments. This use of Mandela to condemn uppity African-Americans who continue to guard against the reintroduction of Jim Crow is about the most racist thing you can imagine.
Conservatives who did issue statements praising Mandela on his death, meanwhile, found themselves targeted by online commenters claiming to be conservatives criticizing them in often vitriolic language:
Sen. Ted Cruz (R-TX) wrote that Mandela "will live in history as an inspiration for defenders of liberty around the globe." One commenter took a different view of the anti-apartheid leader's legacy, urging "all you Mandela lovers head on over to South Africa and see what's going on now that 'Mandela's people' have control of the nation."

As Sen. Marco Rubio (R-FL) sees it, Mandela "showed South Africans and the entire world what the power of forgiveness truly means and can accomplish." It's unclear if some of Rubio's disappointed supporters will be similarly forgiving of the senator.

One woman found it "sad" that Rubio, a son of Cuban immigrants, showed such reverence given that the GOP senator's family "fled the very things that mandela (sic) stood for." After seeing the tribute, another woman said Rubio had lost her vote.

(…)

House Majority Leader Eric Cantor (R-VA) wrote that the "world has lost an exceptional leader who made the world a better place." But some commenters cried foul at the "revisionist history" of Mandela. Another expressed relief that "Mass Murderer Mandela is finally dead."

A commenter on the Facebook page of House Speaker John Boehner (R-OH), whocommemorated Mandela's "perseverance in fighting the apartheid system," likewise said that the death made him "glad." Another wondered if Boehner was implying support for "communism and the killing of white people."
Similar comments could be found in the comment threads of Mandela-related posts on several high-traffic conservative blogs. Judging an entire political movement by what people post in Internet comment threads is generally a mistake, of course, but given the prevalence of such comments, and their consistency with the reaction one sees online from this segment of the right generally, it seems hard to deny that they represent at least some portion of the conservative movement and that the attitudes that existed in the 1980s on the right regarding Mandela, South Africa, and whether the fight against Apartheid was something the U.S. should have been pursuing still exists notwithstanding the fact that, for the most part, history has proven the fears of those who believed that releasing Mandela and letting the white minority government fall would lead to disaster in South Africa to have been completely wrong.
Some people still appear hung up on the fact that, before he entered prison, Mandela did in fact have alliances with Communists and others on the left in South Africa and that he also advocated the use of violence against a government that was, accurately, perceived as oppressing a black majority that under the law had no rights and no ability to peacefully demand its rights in the manner that African-Americans in the American South were in the 1950s and 1960s.  It's also true that, while Mandela was in prison, the ANC and its allied groups became even more violent and radical in the face of increased government crackdowns, including the murder of fellow activists such as Steven Biko. Finally, it's also true that in the final years before Mandela was released, the ANC turned increasingly toward enacting terrorist-like tactics against blacks deemed to be insufficiently committed to "the cause," including most prominently the nations large population of Zulus. Mandela, of course, isn't responsible for all of this, most certainly not what occurred while he was in prison, and it's worth noting that he was very quick to disassociate himself from many of the ANC's actions, and even his own wife Winnie, in the years after he was released from prison. However, it is true that he wasn't the "peacemaker" all of his life, and that he was not a Saint either, although I don't recall him ever making that claim and doubt that he ever would have. Nonetheless, it is this side of Mandela's legacy that many American conservatives are choosing to focus on in the wake of his death.
What's been interesting to see over the past few days, though, has been the push back against some of that commentary from prominent conservatives unwilling to cede the ground unwilling to let the effort of some of their fellow conservatives to paint Mandela as some kind of life long Communist radical.
Among the most vocal in that regard has been Newt Gingrich, who released this statement as a featured article on the website of his company Gingrich Productions:
Some of the people who are most opposed to oppression from Washington attack Mandela when he was opposed to oppression in his own country.
After years of preaching non-violence, using the political system, making his case as a defendant in court, Mandela resorted to violence against a government that was ruthless and violent in its suppression of free speech.

As Americans we celebrate the farmers at Lexington and Concord who used force to oppose British tyranny. We praise George Washington for spending eight years in the field fighting the British Army's dictatorial assault on our freedom.

Patrick Henry said, "Give me liberty or give me death."

Thomas Jefferson wrote and the Continental Congress adopted that "all men are created equal, and they are endowed by their Creator with certain unalienable rights, among which are life, liberty, and the pursuit of happiness."

Doesn't this apply to Nelson Mandela and his people?

Some conservatives say, ah, but he was a communist.

Actually Mandela was raised in a Methodist school, was a devout Christian, turned to communism in desperation only after South Africa was taken over by an extraordinarily racist government determined to eliminate all rights for blacks.

I would ask of his critics: where were some of these conservatives as allies against tyranny? Where were the masses of conservatives opposing Apartheid? In a desperate struggle against an overpowering government, you accept the allies you have just as Washington was grateful for a French monarchy helping him defeat the British.
Gingrich continued pushing back during an appearance on State of the Union:
Newt Gingrich on Sunday addressed the backlash over comments he made on Facebook praising former South African President Nelson Mandela.

CNN "State of the Union" host Candy Crowley read some of the Facebook responses criticizing Gingrich's statement.

"Such an amazing rewrite of history since 1962 and 1990. Newt, I thought you, of all people, a historian, would be true to who this guy really was," one said. And another wrote: "This clenched-fist, murdering guerilla warrior does not deserve respect from informed Americans.

Gingrich said he was "very surprised" by reactions. And in response to the uproar, he wrote his Friday newsletter asking his followers what they would have done about Mandela's views and apartheid in South Africa.

Sen. Ted Cruz (R-Texas) faced similar backlash on comments he made lauding Mandela's life and career. When Crowley asked if the criticism of their comments comes from fellow conservatives, Gingrich said they are people who "bought a rationale that defined everybody who was in anyway in rebellion against the established system in the third world as anti-American."
Gingrich also released this video:
Lest you think that Gingrich is engaging in some historical revisionism here, Ta-Nehisi Coates points out that this is entirely consistent with Gingrich's position in the 1980s:
I think it's important to note that Gingrich's position here is not particularly new. This is not an attempt to rewrite history, or claim someone in death whom Gingrich opposed in life. Newt Gingrich was among a cadre of conservatives who opposed the mainstream conservative stance on apartheid and ultimately helped override Reagan's unconscionable veto of sanctions. At the time, Gingrich was allied with a group of young conservatives including Vin Weber looking to challenge Republican orthodoxy on South Africa. "South Africa has been able to depend on conservatives to treat them with benign neglect," said Weber. "We served notice that, with the emerging generation of conservative leadership, that is not going to be the case."
I've been fairly critical of Gingrich in the past, but he's absolutely right here in both calling out fellow conservatives who, both back in the 1980s and through to this day, refuse to see the Apartheid regime in South Africa for the tyrannical regime that it actually was, and for placing Mandela's turn toward radicalism in the 1960s in its proper context. At the time that he was becoming political aware, revolutionaries around the world perceived that it was the political left that was their ally against colonialism and other forces keeping them from political power. Utilizing its access to sympathizers on the ground, the Soviet Union was often able to exploit this fact to turn these revolutionaries into allies of theirs and adversaries of the United States, but that was often helped along the way by the fact that the United States and the West spent much of the Cold War often reflexively backing repressive regimes that ended up giving birth to leftist insurgencies. Indeed, even late into his life, Mandela continued to speak critically of American foreign policy, something which is completely understandable given his experiences and the position that the United States Government took until things started to change under the Presidency of George H.W. Bush. When Gingrich asks his fellow conservatives "What would you have done?," he's really asking them to put themselves in Mandela's shoes and wonder how they would have reacted as a member of an oppressed majority (or minority as the case may be) that is denied even the most basic political and human rights. Indeed, it's worth noting that America's Founding Fathers turned to war over transgressions that, put into perspective were far less severe than what the black population of South Africa had to deal with until Apartheid finally ended. If it was morally acceptable for them to take up arms to protect their rights, then why wouldn't Mandela and the blacks of South Africa have the same rights?
Gingrich isn't the only conservative to speak in this manner. Over the weekend, my attention was drawn to this passage from John Judas's biography of William F. Buckley Jr., William F. Buckley Jr., Patron Saint Of Conservatives:  (excerpt obtained via Google Books)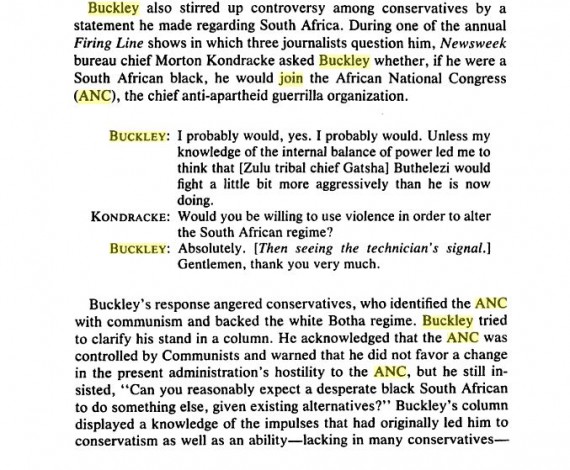 In the end, it strikes me that this is the proper context in which to place all of Mandela's legacy. Even if you disagree with his political leftism, his friendships with leaders such as Gaddaffi and Fidel Castro, or his criticisms of the United States, it's hard to find much to disagree with in the choices that he and other black South Africans made given the options that they had. There was plenty of reason for him to both hate and resent the white minority that had oppressed his people and held him in prison for nearly three decades, at one point even denying him a temporary release to attend the funeral of his oldest son. As I noted on Thursday night after we learned of his death, though, what is truly remarkable about the man is that he was able to find a way to put those political and personal resentments aside for the good of his country. Granted, things have not been perfect in South Africa over the past two decades, but they could have been far, far worse and the reason that they aren't is largely thanks to one man.