SpaceX Now One Of The World's Most Valuable Privately-Held Companies
In a short period of time, SpaceX has become a huge success, as has the commercial space launch industry.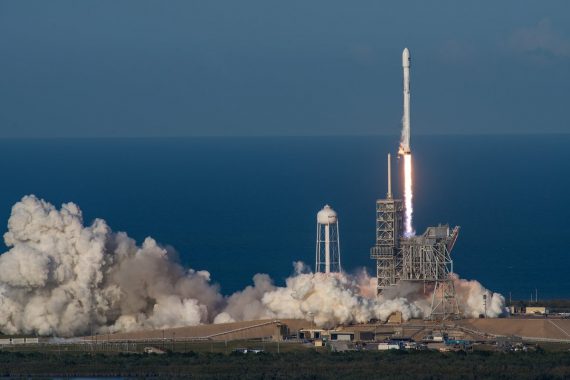 SpaceX, the company owned by Elon Musk that has been at the forefront of a growing private space launch industry, is now one of the most valuable privately-held companies in the world:
SAN FRANCISCO — SpaceX, the rocket maker founded by billionaire Elon Musk, has raised up to $350 million in new financing and is now valued at around $21 billion, making it one of the most valuable privately held companies in the world.

SpaceX's new financing was disclosed in public filings that were obtained by Equidate, a marketplace for private company stock. SpaceX declined to comment.

With the latest funding round, SpaceX joins an elite club of seven venture-backed companies valued at $20 billion or more around the world, according to research firm CB Insights. Investors have poured money into the companies, many of which operate capital intensive businesses such as Uber and Airbnb, even as smaller start-ups have gone public and have seen their valuations waver.

Snap, the messaging and entertainment company, went public in March at a market capitalization of $24 billion, which has since fallen to about $16.5 billion. Meal delivery company Blue Apron went public last month at a market capitalization of $1.9 billion, which was less than its private market valuation; that has since dropped to around $1.3 billion.

Still, investors have long believed that a handful of companies have the potential to become globally dominant businesses. Five companies based in the United States that are valued at more than $20 billion — including Uber, Airbnb and WeWork — have upended established industries like transportation and real estate. Palantir, the analytics company that is in the $20 billion-plus valuation club, is vying to become a major government contractor, as is SpaceX.

The two other closely held companies valued at more than $20 billion are in China — ride-hailing company Didi Chuxing and consumer electronics maker Xiaomi.

SpaceX's latest funding nearly doubles the valuation of the company, which was pegged at around $11 billion when it raised $1 billion from Fidelity and Google in 2015. Previous investors in SpaceX include venture capital firms Founders Fund and DFJ.

SpaceX is best known for Mr. Musk's goal of colonizing Mars, but it is also a key player in the business of sending commercial satellites into space.

In September, the company suffered a major setback when one of its Falcon 9 rockets caught fire on the launchpad and exploded, destroying a $200 million satellite. SpaceX resumed launching in January, and, after years of failing to meet its promises, the company has finally achieved a steady cadence, with 10 launches already this year. By the end of the year, SpaceX hopes to finally get its bigger, years-delayed Falcon Heavy rocket off the ground.

In March, the company launched a partly used, less expensive rocket, with the aim of bringing down the cost of sending supplies into space. Replicating such flights with reusable rockets is key for Mr. Musk's vision of sending people to Mars.

"It means you can fly and refly an orbital class booster, which is the most expensive part of the rocket," Mr. Musk said at the time.
Notwithstanding last September's setback, SpaceX has been the most prominent and most successful of all the companies seeking to gain ground in the private space launch business. For example, it has become the near-exclusive source of launch vehicles for cargo runs to the International Space Station from the United States and is currently working with NASA on a version of its Dragon delivery vehicle that can take astronauts to and from the ISS on a reliable basis. If that's successful, then the United States will no longer have to rely on the Russian space program and its decades-old Soyuz spacecraft to get astronauts to the station, and will be able to concentrate NASA's manned efforts on more ambitious projects such as a return to the Moon that is currently planned for some time in the 2020s. Eventually, of course, there is the goal of getting a manned mission to Mars, and Elon Musk, the founder and principal owner of SpaceX who also owns and operates electric car pioneer Tesla Motors, has his own goal of getting there before any conceivable or proposed government-led effort. Much of that depends on the success of the upcoming Falcon Heavy rocket, which would both allow SpaceX to propel satellites into higher orbits, an advance that would be of great help in giving it expanded access to launching satellites for the Federal Government or foreign nations, although it would be presumably limited in its ability to enter into those contracts by the need to get clearance from Washington, D.C.
SpaceX isn't alone in the private space launch business, of course, General Dynamics, a long-standing contractor that has been involved in developing elements of various NASA launch vehicles as well as military equipment, has its own private launch endeavor. Boeing, meanwhile, is the primary contractor for the newest NASA launch vehicle, the Space Launch System, which NASA plans to use for the Orion program and other missions designed to send unmanned, and eventually manned, missions into deep space beyond the Earth-Moon system. Also competing with SpaceX is a company called Blue Origin, owned primarily by Amazon founder Jeff Bezos who for a few days last week at least qualified as the richest man in the world, displacing Microsoft founder Bill Gates when Amazon's stock high a high before retreating somewhat by the end of the week.  So far at least, though, none of SpaceX's direct competitors have managed to equal its success.
As I noted more than five years ago after the SpaceX's Dragon's first successful delivery to the International Space Station, we're still just at the beginning of a new and exciting era in the history of man's space exploration.