Star Trek Goes Woke!
Has a franchise that's always been political gone too far?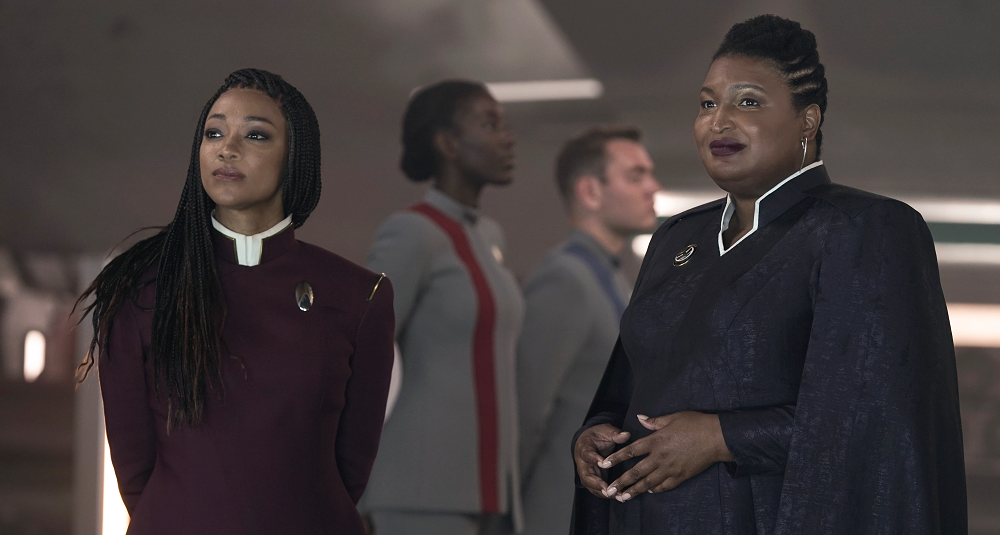 Writing at Fox News, David Marcus warns, "Star Trek writers take Starship Enterprise where it's never gone before—woke politics." I guffawed at the headline but, alas, Marcus (with whom I was not previously familiar) is not as big a dolt as the headline had set me up to believe.
There is no more quintessential American story universe than Star Trek.

Since its creation in 1966 the franchise has had myriad iterations on big screen and small, basically invented the sci-fi convention, and has charmed audiences across every generation. But in two recent episodes, writers crossed a line where no Star Trek has gone before. That is to say, they got directly involved in partisan politics.

The first blatant example of electioneering, on Star Trek Discovery, was a cameo by current and former Georgia gubernatorial candidate Stacey Abrams as none other than the President of Federation of Planets. The second was a weird plot twist in the pilot of new show, Strange New Worlds in which the 2020 capitol riot is depicted and blamed for starting a Second American Civil War and the destruction of the planet. To put it more succinctly, Orange man bad.
So . . . this isn't about going "woke"—which Gene Roddenberry's creation has been since literally its first episode—but rather directly engaging specific partisan controversies. While I'm most familiar with The Original Series, The Next Generation, and the motion pictures, I can't think of an instance where they were quite this on the nose in the past.
But Marcus acknowledges the point I had originally intended to make with the post:
To be fair, since the original 1960s series Star Trek has always delved into cultural and societal issues. It has always been credited with diverse casts, with tackling issues like saving the whales (remember that?) and with reflecting American and global foreign policy.

All of that should live long and prosper, but these two recent incidents go a good deal farther. This isn't issue advocacy, it's pure partisan politics.
The Abrams thing is just weird (although she's a self-described "superfan" of the show) and I certainly can't recall anything that overt previously. I lost the bead somewhere along with way on Deep Space Nine, never really got into Voyager, and liked Enterprise more than most, but haven't seen any of the more recent series, so it's entirely possible that I'm missing something obvious.
The Capitol riots, though, are rather sui generis. Supporters of one political party tried to overturn a presidential election, egged on by the sitting President and aided and abetted by the party's congressional leadership—which is still trying to stonewall investigations into the matter 16 months later.
There's really no event in modern American history—which I date, for the purpose of this post, as starting in 1966, the year TOS debuted—that compares. There were various riots associated with the Vietnam War and the last stages of the civil rights movement but the partisan divide was not nearly what it is today. And, yes, there was a whole movie about saving the whales but, as Marcus notes, that's more niche issue advocacy than party politics.
This is part of a broader galaxy of problems as we saw recently with Disney, which owns Star Wars, going to battle with Florida Governor Rod DeSantis. The central confusion here is the difference between showing broad support for things like basic civil rights and openly advocating for one political party's answers for securing them.

So, for example, almost everyone supports "voting rights" but that isn't the same as supporting Stacey Abrams. Almost everyone condemns the Capitol riot and political violence, but that's not the same and placing unique blame on one single event from one side of the spectrum.
I'd argue that the move for Black civil rights was more controversial than even Stop the Steal and the Capitol riot. It's largely background noise for the average American already, whereas the effort to end Jim Crow was bitterly fought, with constant eruptions of violence, for more than a decade. But, again, it wasn't a partisan political issue per se because the parties weren't sorted in the way they are today. Lyndon Johnson, Martin Luther King, Jr., George Wallace, "Bull" Connor, and Lester Maddox were all Democrats.
Still, Trek was always "woke." Putting a Black woman, a Russian, a Japanese-American, and an alien on the bridge of the ship in command of white men was a radical statement in 1966. And, strange as it seems now, putting a woman in command of the Voyager in 1995—at a time when fuller gender integration of the US armed forces was being bitterly fought—was deliberate. And, certainly, conservatives felt that these statements were aimed at them.
Ultimately, the problem here is that this kind of political signaling is alienating for those fans who are not part of the Democrat Party political tribe. As a fan myself, it hasn't made me turn off the shows, but it's jarring and also breaks the narrative spell of fantasy and science fiction which is why people tune-in in the first place.
This is, to be sure, a tricky balance. Going back to at least Shakespeare, artists have used their work to convey political ideas. But it's best done with a light enough touch that avoids insulting those you're trying to persuade. Done right, a LT Uhura as the communications officer or CAPT Janeway commanding the Voyager will overcome the viewer's initial objection that "there's no way that could happen" and eventually have them thinking "well, why not?"
The Abrams thing, at least as described, is a little weird. I was going to say that it lacks the subtlety of the earlier shows but then I remembered this, from TOS season 3 (January 10, 1969):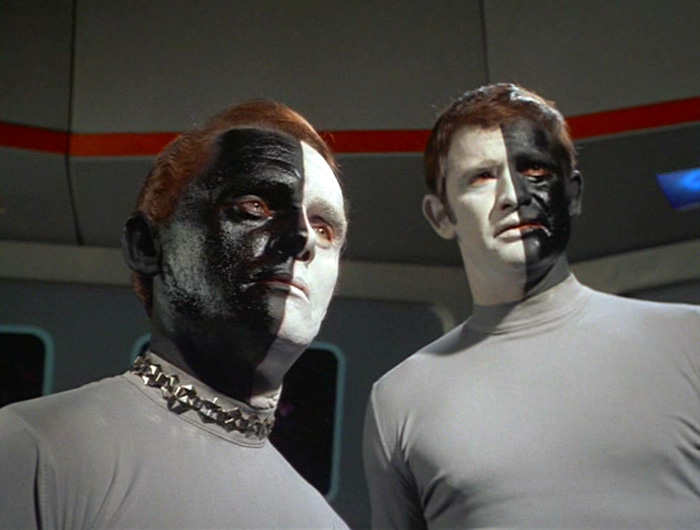 The show's writers have often been, shall we say, less than subtle in their political messaging. In the case of "Let That Be Your Last Battlefield," the absurdity of people whose faces were black on the left side and white on the right side hating those whose colors were reversed was almost comedic.
The irony is that all three new Star Trek live action shows are quite progressive in the diversity of their casting. And despite hysterical concerns about a backlash that never actually happens, everyone is on board as long as the story and the acting are good.

Artists can, always have, and should use their work to hold a mirror up to their culture and society, even to advocate for broad agenda items. What they shouldn't do is beam the equivalent of a 30-second Democrat Party political ad into the middle of a space adventure.

Perhaps what America lacks more than anything today is a shared set of strong stories that help explain our world. Even our entertainment is awash in bitter partisanship. It leaves Americans too few places to ponder their lives and communities outside the context of red versus blue.

Star Trek is one of a small handful of entertainment brands with the popularity, scope and reach to be that shared story. But to do so, its creators must choose that universality over scoring cheap, predictable, and partisan political points.
I agree with Marcus on the broader point. Indeed, the fact that he's fully aware of the shows' progressive messaging and doesn't mind that one bit so long as they don't smack him in the face with it demonstrates the power of art to broaden perspectives. His argument would be stronger, though, if he focused on the Abrams example (which happened two months ago) and didn't expand it to the Capitol riots. Or use the tired "Democrat Party" label.
While there's plenty of room for debate on what nomenclature to use to describe the event or what level of punishment any given participant should receive, there's simply no argument that using violence in an attempt to overturn a democratic election is justified. I'm old enough to remember Gerald Ford, Jimmy Carter, and George H.W. Bush losing re-election bids and delivering truly eloquent concession speeches that were odes to our shared values. If we can't agree on something as fundamental as the peaceful transition of power, no television show is going to save us.