Star Trek: The Next Generation Turns 25
So, it's been a quarter of a century since "Star Trek: The Next Generation" made its debut. As if I didn't feel old already.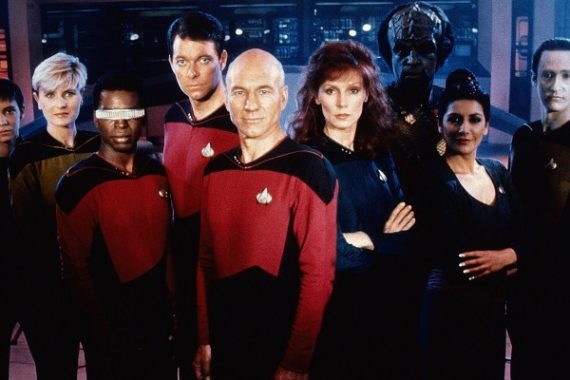 So, it's been a quarter of a century since "Star Trek: The Next Generation" made its debut. As if I didn't feel old already.
Graeme McMillan argues that the show "changed pop culture forever."
This Friday marks the 25th anniversary of the debut of Star Trek: The Next Generation, the first of many extensions of Gene Roddenberry's "Wagon Train To The Stars" concept for a television series. Although it's easy to make fun of the series for its many quirks — it was, after all, a show where everyone wore space-age onesies for the first three years — what's often overlooked is that, in many ways,Star Trek: The Next Generation turned out to be an eerie predictor of the world we live in today.

I don't mean that in the traditional sense, where people point out the way in which the show's futuristic technology — The Holodeck! Geordi's visor! Warp drive! — has started to work its way into our reality. (And, yes, I know; Star Trek: The Next Generation invented the iPad more than two decades before Steve Jobs. They even called it the PADD, somewhat presciently.) I'd rather focus on the fact that Star Trek: The Next Generation, seemingly by accident, managed to create a model of what pop culture would be like a quarter of a century later — and no one really noticed.

[…]

These days, of course, we're used to the idea of rebooting series and franchises and getting new takes on what had come before, keeping the best bits and discarding what doesn't fit for something that everyone hopes is better. That wasn't the case back in 1987. Back then, translations between media tried their best to faithfully replicate previous iterations, and even oddities like the Dan Aykroyd and Tom Hanks Dragnet movie that predated The Next Generation by a matter of months tried their hardest to offer affectionate homage to their predecessors, even as they pretended to parody them. Star Trek: The Next Generation may not be a reboot in the common usage of the term today: It takes place in the same continuity as the earlier series, and doesn't seek to replace it or undo anything that came before, but for all intents and purposes it was a reboot for the concept and a chance for Roddenberry and staff to correct whatever mistakes or bad decisions had been forced on the original.

[…]

Not only does modern-day reboot culture have its first blossoming here, but so does procedural culture. Whether intentionally or otherwise, the team behind all things Star Trek successfully managed to turn story into commodity — and, more importantly, have everyone from the creators to the fans, accept this as a really good thing. CSI and Law & Order? You're welcome.

But modern-day pop culture owes more to Star Trek: The Next Generation than just making the world a safer place for NCIS: Los Angeles. TNG was a massively successful show; when the show finished in 1994, it had become the highest-rated drama in syndicated television, boasting 15 to 20 million viewers a week. This was far beyond anything managed by the original Star Trek — a show that had, after all, been canceled twice in its three-year run. This kind of success took the show far beyond any expectation of "cult" and transcended what was expected of genre television in general. Star Trek: The Next Generation, somehow, made nerd culture mainstream for the first time.

[…]

This may seem less impressive in today's world filled with Avengers, Dark Knights who Rise and Spider-Men, Amazing or otherwise. Nowadays, nerd culture is pop culture, in many ways. But before Star Trek: The Next Generation, that wasn't the case. Genre programming had been on the decline since the 1960s, replaced by more action-oriented series for men and soap operas like Dallas andDynasty for women. Even though the fervor for Star Trek faded when that show finished (Deep Space Nine and Voyager both performed well in terms of ratings, but nowhere near the level of The Next Generation, and the less said about Enterprise, the better), nerd culture had broken through and refused to disappear entirely. The X-Files, Buffy, Lost… There's always been at least one successful, zeitgeist-defining genre show on American television since The Next Generation (today's, I'd argue, is Doctor Who. An import, sure, but it sets the tone in a way that nothing else really matches on the small screen these days) — something that would have seemed unimaginable before Captain Picard stood up on a weekly basis, tugged on his jersey and told his faithful audience to make it so.
I'd argue that TNG was also a trendsetter in another regard: a precursor to the best written, smartest shows being somewhere other than the Big 3 networks. These days, I watch more shows on AMC than ABC, NBC, and CBS combined. That was unimaginable in 1987.