State Senate Resignation Sends Virginia Budget Negotiations Into Twilight Zone
Some old fashioned political arm twisting has up-ended the apple cart in Richmond.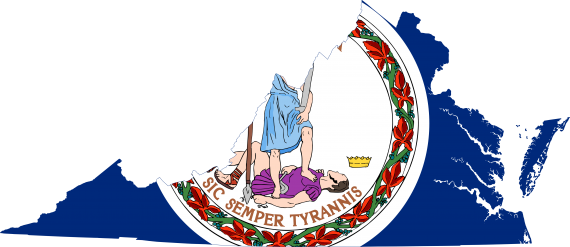 Although it's largely gone unnoticed, Virginia has been careening down the path to a budget showdown, and possible shutdown of state government, at the end of this month. At issue are the efforts of Governor Terry McAuliffe to take advantage of the provisions of the Affordable Care Act that allow states to expand Medicaid coverage, with the Federal Government picking up most of the bill. Republicans in the state legislature have been generally opposed to the idea, with their primary objection being the fact that the PPACA subsidies are going to run out in a few years, leaving the state with a brand new entitlement costing hundreds of millions of dollars and not enough revenue to pay for it. For some time, it's seemed as though McAuliffe has had something of an upper hand thanks to the small, single seat, Democratic advantage in the State Senate.
That advantage is about to go away, though, and the debate over Virginia's budget is shifting to the GOP's advantage:
RICHMOND — Republicans appear to have outmaneuvered Gov. Terry McAuliffe in a state budget standoff by persuading a Democratic senator to resign his seat, at least temporarily giving the GOP control of the chamber and possibly dooming the governor's push to expand Medicaid under the Affordable Care Act.

Sen. Phillip P. Puckett (D-Russell) will announce his resignation Monday, effective immediately, paving the way to appoint his daughter to a judgeship and Puckett to the job of deputy director of the state tobacco commission, three people familiar with the plan said Sunday. They spoke on the condition of anonymity because they were not authorized to discuss the matter.

The news prompted outrage among Democrats — and accusations that Republicans were trying to buy the Senate with job offers in order to thwart McAuliffe's proposal to expand health coverage to 400,000 low-income Virginians.

Del. Scott A. Surovell (D-Fairfax) said Republicans were unable to win the policy argument about Medicaid expansion, so they have resorted to other means.

"It's astounding to me. The House Republican caucus will do anything and everything to prevent low-income Virginians from getting health care. . . . They figure the only way they could win was to give a job to a state senator," Surovell said. "At least they can't offer Terry McAuliffe a job. I hope Terry continues to stand up to these bullies."

Puckett, a senator since 1998, did not respond to calls seeking comment. Other Republicans denied that Puckett was offered the jobs in exchange for his resignation.

In a statement, McAuliffe (D) acknowledged that Puckett's resignation had created "uncertainty" for his plan to expand the federal-state health program for the poor to 400,000 uninsured Virginians. But he contended that he still had a majority of the Senate on his side.

"I am deeply disappointed by this news and the uncertainty it creates at a time when 400,000 Virginians are waiting for access to quality health care, especially those in Southwest Virginia," McAuliffe said. "This situation is unacceptable, but the bipartisan majority in the Senate and I will continue to work hard to put Virginians first and find compromise on a budget that closes the coverage gap."

Senate Republicans, meanwhile, issued a statement praising Puckett. "Although Senator Puckett has decided to end his tenure in the Senate of Virginia, his legacy there will endure," said Senate Minority Leader Thomas K. Norment Jr. (James City). "And, his commitment and service to the people of Southwest, who honored him with their votes in five successive elections, will continue."

Senate Majority Leader Richard L. Saslaw (D-Fairfax) confirmed in a brief telephone interview that Puckett would resign Monday. Del. Terry G. Kilgore (R-Scott), chairman of the commission, confirmed that its executive committee is expected to meet and consider appointing him, perhaps this week.

Kilgore disputed the notion that Puckett was resigning in exchange for the tobacco commission job, but he said the resignation made Puckett available to take the position, which involves awarding economic development grants funded by the national tobacco litigation settlement. Puckett's salary would be determined by the commission, Kilgore said.

"If he's available, we would like to have him because of his knowledge of the area, and he formerly was on the tobacco commission for years, and he knew what we're about," Kilgore said.

Puckett's unexpected departure will give the GOP a 20-to-19 majority in the Senate at a time when McAuliffe was counting on Senate support for his Medicaid plan. The GOP-dominated House is firmly opposed, and the disagreement has led to a budget standoff that could trigger a government shutdown if it is not resolved before the start of the new fiscal year, July 1. In addition, Puckett's district is heavily Republican, and it will be difficult for Democrats to retain the seat in a special election and hang on to control of the Senate overall.

Puckett's exit does not immediately sink McAuliffe's chances in the Senate because three moderate Republicans in that chamber support expansion. But some of McAuliffe's Senate allies have recently signaled their discomfort with the idea of letting the Medicaid push trigger a government shutdown.

And the resignation will come as two prominent Democrats are out of Virginia. Saslaw is in California visiting his newborn grandchild. Sen. Janet D. Howell (D-Fairfax) is leaving on Thursday on a trip to South Africa that is expected to last through June 24. But she said she will return earlier if she is needed.

Once Puckett resigns, Senate Republicans are expected to take advantage of their newfound majority by calling members back to Richmond — something that nine members of the Senate can make happen. The legislature has been in a special session for months but has not been meeting regularly. With the Senate back in Richmond, the chamber's new Republican majority could pass a budget without Medicaid expansion.
The reaction to this news is about what you'd expect. Virginia's Republicans are ecstatic, while Democrats are referring to Puckett as a traitor. Nationally, those on the left are calling the apparent deal that led to Puckett's resignation as bribery,  while John Cole wonders how something like this can be legal.
The truth, of course, is that while there is something unseemly about this whole arrangement where Puckett resigns, apparently gets a seat on the Tobacco Commission while his daughter gets confirmed to her Judgeship, and the GOP gets a majority in the State Senate that is likely to last until at least the 2015 midterm elections, it's also a maneuver that is as old as politics itself. The practice of offering appointments, or patronage, or whatever it might be in exchange for a political favor of some kind is how political machines maintained themselves throughout the 19th and most of the 20th Centuries. There's not really anything illegal about it, and I'm not sure that there is any solution to the "problem" outside of reducing the power of politicians to hand out this kind of patronage by reducing the power and scope of government itself.
As for what this means going forward in Virginia, that's hard to say. For the moment at least, it will obviously embolden Republicans in Richmond to dig in their heels on the Medicaid expansion issue, which would seem to make the prospect of a shutdown on July 1st more likely. As noted, though, there are several Democrats in the State Senate who have expressed discomfort at the idea of shutting down the government over the Medicaid expansion issue, and if they start defecting then McAuliffe's bargaining position will be even more weakened than it has been by Senator Puckett's resignation. If I had to guess now, I'd say that the GOP ends up winning this round and the issue of Medicaid expansion gets punted until after the 2015 midterms.