Steve Coburn is (Mostly) Right
Leaving aside his emotionalism and frustration, his core argument has merit.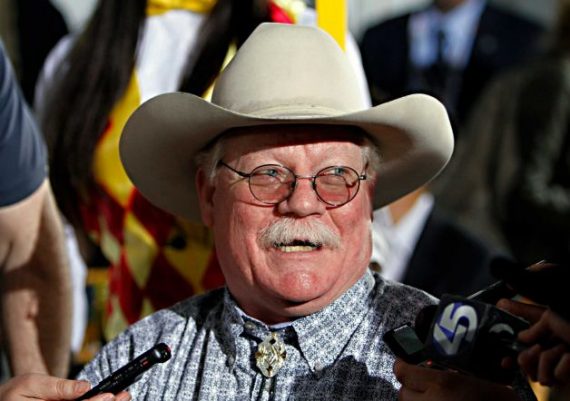 I had intended to tune in to watch California Chrome make an attempt to win horse racing's Triple Crown for the first time in a generation. Alas, I lost track of time and was out on a run when the race started. I returned home just as the race ended and saw from my Twitter feed that the horse came in a disappointing fourth and that his owner, who consensus had appearing a striking resemblence to Wilford Brimley, went on an epic rant about the injustice of it all.
He hasn't let up.
ESPN ("Steve Coburn continues rant"):
[I]n an interview with Yahoo! Sports Saturday, Coburn called the horses that skipped the first two races of the Triple Crown and just raced in the Belmont Stakes "cheaters" who took the "coward's way out."

On Sunday, the 61-year-old Coburn said he had no regrets about his comments Saturday and continued to rail against the Triple Crown system, which allowed Tonalist to race Saturday even though the horse didn't compete in either the Kentucky Derby or Preakness Stakes.

"It says Triple Crown. You nominate your horse for the Triple Crown. That means three," Coburn said in the track-side interview with ESPN on Sunday. "Even the Triple Crown trophy has three points on it. So when you earn enough points to run in the Kentucky Derby, those 20 horses that start in the Kentucky Derby should be the only 20 allowed to run in the Preakness and the Belmont for the Triple Crown."

He also made a questionable analogy of why Tonalist's participation Saturday was unfair.

"These people nominate their horses for the Triple Crown and then they hold out two [races] and then come back and run one," Coburn told ESPN. "That would be like me at 6-2 playing basketball with a kid in a wheelchair. They haven't done anything with their horses in the Triple Crown. There were three horses in this race that ran in the first two — California Chrome, Ride on Curlin and General A Rod — none of the other horses did.  You figure out. You ask yourself, 'Would it be fair if I played basketball with a child in a wheel chair?"

Coburn made the analogy in both interviews Sunday morning. He was asked in the "Good Morning America interview" if he considered the comparison offensive.

"No, I'm just trying to compare the two," he said. "Is it fair for me to play with this child in a wheelchair? Is it fair for them to hold their horses back?"

Coburn said he has no problems if people label him a "sore loser" and even proceeded to give out his phone number so people can call him with their complaints.
Let's stipulate from the outset that comparisons to a kid in a wheelchair are both cringeworthy and illogical. Further, given the extant rules, neither the owners of Tonalist nor the other horses who skipped previous legs are "cheaters." And, it should go without saying, neither are the horses.
Leaving the emotionalism and frustration of Coburn's word choice, aside, however, his core argument strikes me as perfectly legitimate. That is: If horse racing is going to have a Triple Crown, then owners should be obligated to run their horses in all three races, barring injury, and horses who don't compete in a given race should be ineligible to compete in later Triple Crown races.
Not only is picking and choosing among the events a competitive advantage but, more importantly, it's bad for horse racing. When I was a kid, the sport, along with boxing, was a much bigger deal than it is now. Events were routinely shown on the over-the-air channels, so people were more familiar with the participants, anyway. And, for whatever reason, the 1970s were the last golden age of the sport, with Secretariat, Seattle Slew, and Affirmed all winning the Triple Crown.
Nowadays, only the Kentucky Derby retains independent cultural significance. Not only is it an unofficial kickoff to summer but the pageantry surrounding the race generates national interest. And, of course, the winner of that event becomes a potential Triple Crown winner, generating interest in the Preakness and, if s/he wins there, too, makes the Belmont a big deal.  Once the Derby winner loses, all but hard core horse racing enthusiasts tune out until the Derby rolls around again.
The Triple Crown is something of an odd event, in that the three races are considerably different. The Belmont, in particular, is vastly longer than the other races, making it unlikely that a horse who won the two shorter races will prevail. But it's much harder, still, if long distance specialists are allowed to enter the Belmont after having skipped the other two legs. Not only are they more suited for that race to begin with, but they're fresher. Given that the Triple Crown, not the individual races, is what draws casual fans, it's really bizarre to me that the governing authorities allow it.