I'll Have Another Scratched From Belmont Stakes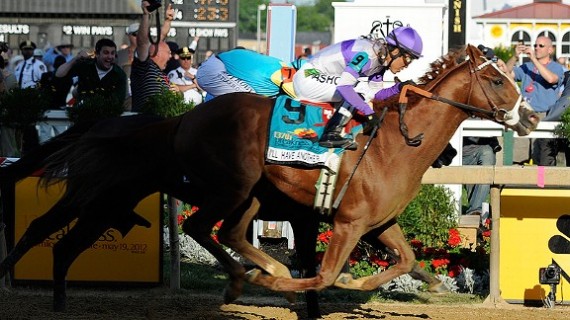 The horse that many believed would break a three decade drought without a Triple Crown winner has been scratched from the final leg by an injury:
I'll Have Another, the Kentucky Derby and Preakness Stakes winner who was aiming to become the 12th horse to win the Triple Crown, was scratched Friday from Saturday's Belmont Stakes because of a leg injury.

The promising 3-year-old colt, who had been a long-shot winner of the Derby and an impressive winner three weeks ago in the Preakness, might have tendinitis in his left front leg, his trainer, Doug O'Neill, said.

O'Neill and the horse's owner, J. Paul Reddam, scheduled a news conference at Belmont Racetrack for 1 p.m. Friday.

A crowd of more than 100,000 people was expected to watch I'll Have Another try to end the 34-year Triple Crown drought. Affirmed, in 1978, was the last to accomplish the feat. Nineteen horses have won the first two legs and lost the mile-and-a-half Belmont Stakes.

O'Neill had not trained I'll Have Another in a customary fashion. He eschewed formal timed workouts in favor of near daily gallops. As of Thursday, O'Neill had declared himself thrilled by how his horse had worked and looked.

But it was on Thursday hat O'Neill first detected a potential problem, according to people associated with the trainer. He felt a little heat in I'll Have Another's left front leg, which can often be a sign of a physical ailment.

Then on Friday, O'Neill changed routines, perhaps because of his concern. I'll Have Another was on the track at 5:30 a.m., three or so hours earlier than usual.

At 7:30 a.m., the horse underwent an ultrasound examination, which confirmed a problem.

Still, people in and around the horse's barn at Belmont seemed upbeat as late as 9 a.m.

But by 11 a.m., things had changed. At least one person who had expected to fly from California for Saturday's race was called by O'Neill and told not to bother.

I'll Have Another's scratch is one of the most momentous in racing history. Only two horses who won the Derby and Preakness — Burgoo King in 1932 and Bold Venture in 1936 — did not contest the Belmont, and that was well before the Triple Crown had achieved mainstream prominence.
I'm not really a big horse racing fan, but this is unfortunate if only because of the excitement that has been built up by the possibility of a long-standing drought, that started when yours truly wasn't even ten years old yet, finally coming to an end. Hopefully, the horse's injury isn't too severe and he'll be racing again. If not, he'll most assuredly be put out to stud and, hey, that can't be all that bad either, can it?