American Pharoah Wins First Triple Crown In 37 Years
A thirty-seven year long drought is over.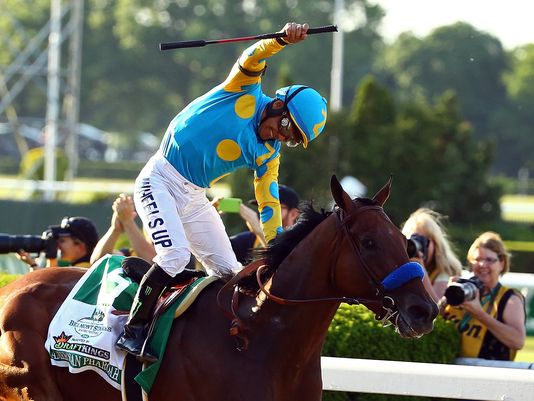 For thirty-seven years, the Triple Crown of Thoroughbred Racing in the United States has been a goal that horses, jockeys, trainers, and owners have failed to achieve, but that drought ended today when American Pharoah won the Belmont Stakes:
American Pharoah, the flashy colt with the smooth stride, won the Belmont Stakes on Saturday, becoming the first Triple Crown winner in a generation and etching himself in the history books.

Since 1978, when Affirmed swept the three races, 13 horses had won the Kentucky Derby and Preakness. But none of them won the Belmont.

On Saturday, American Pharoah broke that 37-year jinx. He now enters the pantheon as the 12th Triple Crown winner, joining Sir Barton (1919), Gallant Fox (1930), Omaha (1935), War Admiral (1937), Whirlaway (1941), Count Fleet (1943), Assault (1946), Citation (1948), Secretariat (1973), Seattle Slew (1977) and Affirmed (1978).

American Pharoah broke from the No. 5 gate, went right to the lead and led the whole way, pulling away in the stretch for the victory. He finished the mile and a half in 2:26.65. Frosted was second, five and a half lengths back, and Keen Ice third.

American Pharoah paid $3.50 for a $2 bet as the favorite.

"The way he hit the ground, you couldn't even feel how fast he was moving," jockey Victor Espinoza told NBC.

"I'm very emotional," said the trainer Bob Baffert. "I'm thinking about my parents. I wish they were alive to see this."

"New Yorkers, all racing fans, this is for you," said owner Ahmed Zayat as he hoisted the Belmont trophy.

The field of eight on Saturday was the smallest since 2007, when the filly Rags to Riches prevailed in a seven-horse field. But American Pharoah did defeat 31 challengers in his Triple Crown sweep, second only to War Admiral, who outran 32 in 1937.

Baffert, 62, secured his second Belmont victory; when he won in 2001 with Point Given, Bill and Hillary Clinton joined him in the winner's circle. (Bill Clinton was on hand again Saturday.) American Pharoah was able to give him what his three previous Derby and Preakness winners — Silver Charm (1997), Real Quiet (1998) and War Emblem (2002) — could not.

"I just know, we're up against it, but we're hoping it happens, but I really don't try to think, because the letdown, I know what it's like," Baffert said last week. "Those other races, we were right there, it was so close, they ran their races, they just got beat. It all ends, the phone quits ringing, it all ends. It's like life ends. So we're just going to enjoy it and keep the horse happy and healthy. That's all we can do."

Espinoza, 43, secured his first Belmont victory, having come up short with the Derby and Preakness winners War Emblem and California Chrome.

American Pharoah was among the most-buzzed-about horses on the Triple Crown trail after securing the title of top 2-year-old male last year. Under blue skies and before a record crowd of 170,513 at the Kentucky Derby on May 2, he charged past Firing Line and stablemate Dortmund to begin his quest. He completed the mile and a quarter in a pedestrian 2:03.02.

As a record Preakness crowd of 131,680 braved a torrential downpour just as the starting gate was being loaded on May 16, American Pharoah stayed focused on the task at hand. He skipped over the sloppy racetrack and left everyone in his wake, winning by seven lengths. He completed the mile and three-sixteenths in a slow 1:58.46.
Horse racing is obviously not usually one of the most popular sports, but the month that starts on the first Saturday of May and ends on the first Saturday of June has always been one that people keep paying attention to. This has been especially true during the many times that a horse has won the Kentucky Derby and the Preakness Stakes and made a bid to win the Belmont Stakes, something that has happened 23 times since the Triple Crown was established and 13 times in the 37 years since Affirmed won the title in 1978. The longer the drought went on, it seemed that the interest in the title increased every Spring. Whether that will continue now that the streak has been broken only time will tell, but in any case, congratulations are in order to jockey Victor Espinoza, the trainers, the owner and, of course most of all to American Pharoah who did the real work here.
On a side note, the last time a horse won the Triple Crown, Jimmy Carter was President, the Shah of Iran was still in power, the Soviet Union still existed and it still had not invaded Afghanistan, Grease had not been released in theaters yet since that didn't happen until June 16th of that year, and there had only been one Star Wars move in which Han shot first. Of course, it's been longer in the United Kingdom, where there hasn't been a Triple Crown Winner since 1970, and in Ireland, where there hasn't been a winner since 1942.
And in case you're wondering "American Pharoah" is what the horse was named. It's a misspelling, it should be "American Pharaoh," but it stuck.
Anyway, it was nice to end the week with some good news.
Here's the video of the race: