Strongest Western Hemisphere Hurricane Ever Headed For Western Mexico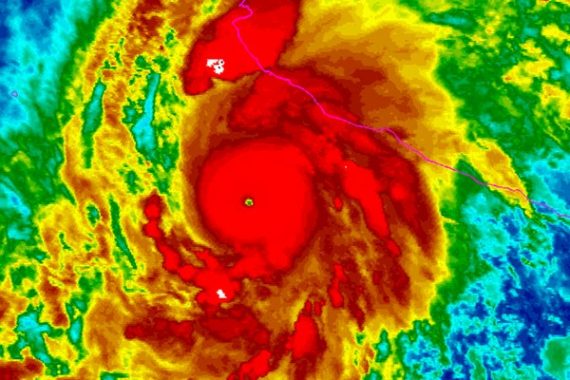 The strongest hurricane ever recorded in the Western Hemisphere is headed for the western coast of Mexico, and the prospects for a true disaster seem to be quite high:
Hurricane Patricia, which meteorologists say is the strongest hurricane ever recorded in the Western Hemisphere, was expected to make landfall in southern Mexico on Friday afternoon.

Dennis Feltgen, a meteorologist and spokesman for the National Hurricane Center, said that it was a Category 5 storm, which means it is likely to inflict catastrophic damage and leave the areas it hits uninhabitable for weeks or months.

The World Meteorological Organization warned that the hurricane's strength is comparable to that of Typhoon Haiyan, which caused devastation in the Philippines in 2013.

The city of Puerto Vallarta and some of Mexico's most popular resorts are in the path of the storm, which, on Friday, had maximum sustained winds of 200 miles per hour. Flooding and landslides are expected near coastal areas, and officials are warning that storm surges could cause waves of up to 39 feet, according to The Weather Channel.

Tourists and residents in Puerto Vallarta awoke to a light drizzle on Friday morning. By midmorning, there was an eerie calm.

Airports in Manzanillo and Puerto Vallarta were closed, and buses roared out of stations bound for Guadalajara jammed with people racing ahead of the storm. But with no way out, many tourists prepared to hunker down and wait out the storm in hotel shelters. At the Grand Mayan Hotel, staff members prepared the service area farthest from the sea and told guests to report at 1 p.m.

Mr. Feltgen said that the storm had grown in the ideal environment: low wind shear, which essentially means that winds did not push the storm apart, and warm water. The Weather Channel said there had been a record number of Category 4 and 5 hurricanes this year, with 22 in the Northern Hemisphere alone.

Mexican officials have declared a state of emergency in dozens of municipalities in Colima, Nayarit and Jalisco States, The Associated Press reported.

In the United States, only three Category 5 storms that made landfall have been recorded, Mr. Feltgen said: a 1935 hurricane that killed more than 400 people; Hurricane Camille, which hit Mississippi and killed 244 people in 1969; and Hurricane Andrew, which hit Florida in 1992, killing at least 10 people there and three others in the Bahamas.

But Hurricane Patricia is "uncharted territory," Jim Cantore, a meteorologist with The Weather Channel, said on Twitter.

"All the precautions to protect life and property should be completed now," Mr. Feltgen said, adding, "People need to be in a safe place and stay hunkered down until this storm is over."
The hurricane season has been relatively quiet in the Atlantic and the Gulf of Mexico again this year, so there hasn't been nearly as much coverage of these storms as there ordinarily would be. That hasn't been true of the Pacific Hurricane season, though, or the Typhoons out in the western Pacific. This year, the big story in the Pacific has been the formation of what seems to be the strongest el Nino in years and it likely isn't a coincidence that this has also been a big year for Pacific hurricanes.
In any event, western Mexico seems to be right in the path of this storm over the coming hours, and one would imagine that the infrastructure there, and in Central Mexico where the storm would likely head after making landfall, isn't all that great either. Hopefully, Mexican and international authorities will be able to limit the loss of life and property damage. This one seems like it's going to be pretty bad, though.