Supercommittee Failure and 'Both Sides'
Are Republicans mostly to blame for the supercommittee failure?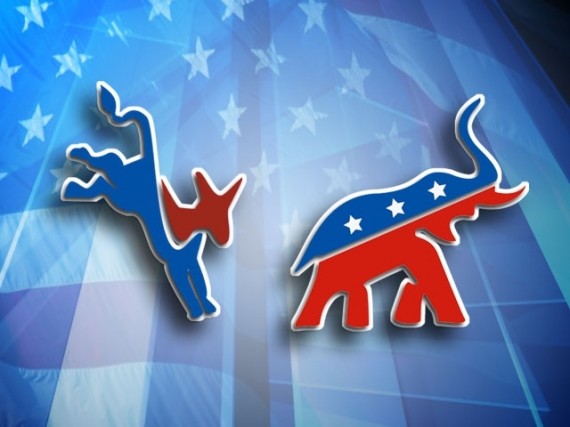 Greg Sargent declares, "No, `both sides' aren't equally to blame for supercommittee failure."
Here's why the supercommittee is failing, in one sentence: Democrats wanted the rich to pay more in taxes towards deficit reduction, and Republicans wanted the rich to pay less in taxes towards deficit reduction.

Any news outlet that doesn't convey this basic fact to readers and viewers with total clarity is obscuring, rather than illuminating, what actually happened here.

I agree with those who have argued that supercommittee failure doesn't really matter all that much, and that the obsession with the deficit is itself misguided and makes solutions to the actual crisis at hand — unemployment — far less likely to happen.

But since the press is going to be obsessing over the supercommittee's failure for days to come, and since we will be inundated with reams of bogus false equivalence reporting about it, it's worth stating as clearly as possible what really transpired.

And so: Any news outlet that doesn't leave readers and viewers with an absolutely clear sense that the primary sticking point was over whether the rich should see their contribution to deficit reduction increase or decrease is letting down its customers.
The problem with this is that we could just as easily frame it this way:
Here's why the supercommittee is failing, in one sentence: Republicans wanted to accomplish deficit reduction solely through cuts in spending, and Democrats wanted to accomplish deficit reduction through a combination of tax hikes and spending cuts. Neither side would budge, for reasons of ideology and electoral politics.
By and large, that's how media outlets are reporting the failure to reach a settlement. And, considering that this has been the standoff during the entire budget battle that led to the creation of the supercommittee to begin with, that's perfectly reasonable.
Now, I happen to think that letting the Bush tax cuts on the top bracket expire probably makes sense. Raising the tax rates on earnings about $379,151 a year by a couple percentage points would still have the rates at near-historic lows and is likely to raise much needed revenue for the treasury with minimum negative effect on the economy. But the notion that cutting rates is always good and raising them is always bad is an orthodoxy with some and the incentive to hew to that line is quite powerful.
It's not clear that assigning blame here is a worthwhile exercise. There is legitimate disagreement on what public policies should be enacted here–along with a large dollop of political calculation. But that, too, is on both sides. Democratic leaders are trying to force Republicans to renege on their "no tax" pledge precisely because they understand that doing so is political suicide.
Further, as Sargent acknowledges, the Republicans, via the so-called Toomey Plan, offered serious concessions on the revenue side. But they wanted to do so via the closing of loopholes while ending the sunset on the Bush tax cuts. That was, understandably, a non-starter for Democrats for whom highly progressive rates as a touchstone.
Where I do think Republicans deserve the lion's share of the blame is for getting is in this position to begin with. Specifically, in forcing a showdown over the mythical "debt ceiling" in order to blackmail the Democrats into going along with austerity measures that they don't want. Sequestration, ostensibly, was President Obama's trump card, designed to force Republicans to give in on taxes or else gut their beloved Defense Department. But that was always an empty threat, in that the cuts will almost surely never come.