Supreme Court Limits Ability Of Police To Use Routine Traffic Stops To Search For Drugs
In a 6-3 vote that defied traditional expectations, the Justices have limited the ability of police to detain people on the side of the road for long periods of time.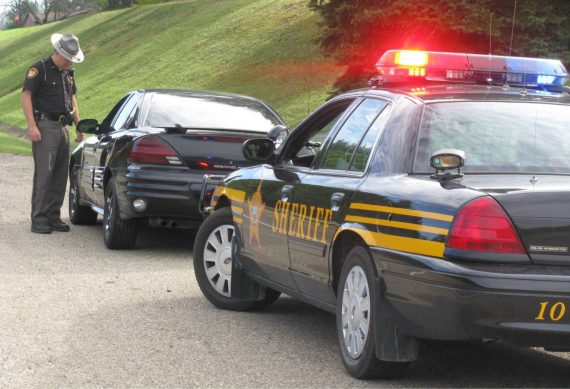 The Supreme Court ruled today that police may not seek to extend the length of an otherwise routine traffic stop in order to bring in a drug-sniffing dog:
WASHINGTON — The Supreme Court on Tuesday ruled that the police may not prolong traffic stops to wait for drug sniffing dogs to inspect vehicles.

"A police stop exceeding the time needed to handle the matter for which the stop was made violates the Constitution's shield against unreasonable seizures," Justice Ruth Bader Ginsburg wrote for the majority. The vote was 6 to 3.

The case, Rodriguez v. United States No. 13-9972, started when a Nebraska police officer saw a Mercury Mountaineer driven by Dennys Rodriguez veer onto the shoulder of a state highway just after midnight. The officer, Morgan Struble performed a routine traffic stop, questioning Mr. Rodriguez and his passenger and running a records check. He then issued Mr. Rodriguez a written warning.

That completed the stop, Justice Ginsburg wrote. But Officer Struble then had his drug-sniffing dog, Floyd, circle the vehicle. Floyd smelled drugs and led his officer to a large bag of methamphetamine. About eight minutes elapsed between the written warning and Floyd's alert.

Mr. Rodriguez moved to suppress the evidence. Lower courts, relying on a 2005 Supreme Court decision that allowed drug-sniffing dog use during traffic stops, said brief prolongations of those stops to allow for such inspections did not violate the Fourth Amendment.

Justice Ginsburg, who dissented in the 2005 case, Illinois v. Caballes, said that decision had merely "tolerated certain unrelated investigations that did not lengthen the roadside detention."

"An officer, in other words, may conduct certain unrelated checks during an otherwise lawful traffic stop," she wrote. But, she added, "he may not do so in a way that prolongs the stop, absent the reasonable suspicion ordinarily demanded to justify detaining an individual."

The majority sent the case back to a lower court for a determination of whether that reasonable suspicion existed.

Chief Justice John G. Roberts Jr. and Justices Antonin Scalia, Stephen G. Breyer, Sonia Sotomayor and Elena Kagan joined Justice Ginsburg's majority opinion.

Justice Clarence Thomas dissented, saying the majority had drawn artificial and unworkable distinctions. He was joined by Justice Samuel A. Alito Jr. and, for the most part, by Justice Anthony M. Kennedy.

"If a driver is stopped by a particularly efficient officer," Justice Thomas wrote, "then he will be entitled to be released from the traffic stop after a shorter period of time than a driver stopped by a less efficient officer. Similarly, if a driver is stopped by an officer with access to technology that can shorten a records check, then he will be entitled to be released from the stop after a shorter period of time than an individual stopped by an officer without access to such technology."

In a separate dissent, Justice Alito added that much will now turn on the order in which police officers complete their tasks during traffic stops. Issuing a ticket or warning, he said, will now become the last step.

"Most officers will learn the prescribed sequence of events even if they cannot fathom the reason for that requirement," he wrote. He added, "I would love to be the proverbial fly on the wall when police instructors teach this rule to officers who make traffic stops."
One of the more interesting aspects of this decision is the fact that, in addition to Justice Ginsburg and the more liberal members of the Court, the majority also included Chief Justice Roberts and Justice Scalia, both of whom have sometimes been more deferential to police authority in Fourth Amendment cases. Since neither Justice filed a concurring opinion, we can only speculate about what may have motivated them to split with Justices Thomas, Alito, and Kennedy. However, when one looks at the facts of the case involved here it seems probable that the expansion of police authority that was being asserted here was a step too far.
Speaking generally, it seems fairly clear that the Justices got the matter right here. If a police over pulls someone over for speeding or a broken taillight, or any of the other number of reasons that would justify a stop, the procedure is fairly routine to the point where delaying it beyond a reasonable amount of time would clearly seem to be a violation of the driver's (and passenger's) Constitutional rights. It doesn't take much time, after all, for an officer to request a driver's license and registration, take that information back to their car, and then write up a ticket for whatever offense may have justified the stop. Unless there's probable cause to believe that some other offense has been committed, a detention beyond that reasonable amoung of time would seem to clearly be the kind of detention that violates the Constitution. In some sense, the Court's ruling today is not unlike its landmark ruling in Terry v. Ohio, in which the Court held that the Fourth Amendment does not bar an officer from stopping a pedestrian on the street for a "stop and frisk" as long as their is some degree of reasonable suspicion that the person has committed, is committing, or is about to commit a crime and a reasonable belief that the suspect is armed and dangerous. In this case, the Court has essentially said that without reasonable suspicion an officer may not detain a motorist longer than is necessary to process a traffic stop. Underlying both rulings, I'd suggest, is the idea that the police may not detain people on a public street or highway for unreasonable periods of time unless they have a reasonable basis for doing so.
Ian Millhiser comments on the Court's ruling and notes that it's unclear what impact it will have on police conduct going forward, or even on this particular Defendant:
Though the dog sniff only extended the length of the stop for "seven to eight minutes,"Rodriguez holds that even this brief extension is not allowed. "The tolerable duration of police inquiries in the traffic-stop context is determined by the seizure's 'mission'—to address the traffic violation that warranted the stop, and attend to related safety concerns," Justice Ginsburg explained in a majority decision joined by five other justices. "Because addressing the infraction is the purpose of the stop, it may 'last no longer than is necessary to effectuate th[at] purpose.' Authority for the seizure thus ends when tasks tied to the traffic infraction are—or reasonably should have been—completed."

Yet, while the holding of Ginsburg's opinion is categorical — no extensions except for limited purposes such as safety concerns related to the original purpose of the stop — it is unclear whether the Court's decision will meaningfully impact the scope of officers' authority. Though officers may not prolong a stop beyond the amount of time needed to address a stop's "mission," the Court's description of how much time is needed for such a stop is necessarily quite vague — "If an officer can complete traffic-based inquiries expeditiously, then that is the amount of 'time reasonably required to complete [the stop's] mission.'" Different traffic stops will require different amounts of time for entirely legitimate reasons, and it would be impossible for courts to determine in advance how much time is permissible under the unique circumstance of each police encounter with a driver.

It will no doubt be almost as challenging for judges to distinguish in many cases between an officer who expeditiously processed an ordinary traffic ticket — only to find that the amount of time necessary to complete this task gave another officer enough time to conduct a dog sniff — and an officer who intentionally drags his or her feet in order to buy time for their fellow officer.

Moreover, it is not even clear whether the Court's decision in Rodriguez will help Mr. Rodriguez himself. The ordinary rule in a police stop is that, while an officer may not have sufficient reason to suspect that a vehicle is carrying drug when the stop begins, the cop may extend the stop if such a reason manifests before the stop is completed. Thus, for example, a cop in a jurisdiction where marijuana is illegal may extend a stop if they smell pot smoke while speaking to a vehicle's passengers.
As is usually the case with rulings like this, it will now be up to lower court Judges to apply the Court's ruling here to particular cases, and to law enforcement itself to modify its policies to adhere to the Court's rulings. As a practical matter, though, it's hard to say how this will actually impact police behavior. As Millhiser notes, the "reasonable suspicion" standard is a relatively low bar to begin with, and an officer who testifies that the detected the odor of marijuana or alcohol would likely be able to justify an extended stop to most judges. Other factors regarding the stop, such as whether or not the driver or one of the passengers behaves in a "furtive" manner that would allegedly indicate that they were trying to hide something from the officer's attention, could also be used to justify extending the stop. And, of course, if there is some other indication of potential criminal activity, such as the fact that the car matches the description of a vehicle involved in another incident, then that would also obviously justify the stop. Generally, though, the Court seems to have hit the right tone here in trying to find the right balance between the ability of police officers to enforce the law and the rights of citizens. How it works out on the street is, of course, another questions.
Here's the opinion: