Supreme Court Rejects Lawsuit Against Legal Pot In Colorado
The Supreme Court rejected a lawsuit filed by Nebraska and Oklahoma against Colorado's decision to legalize marijuana.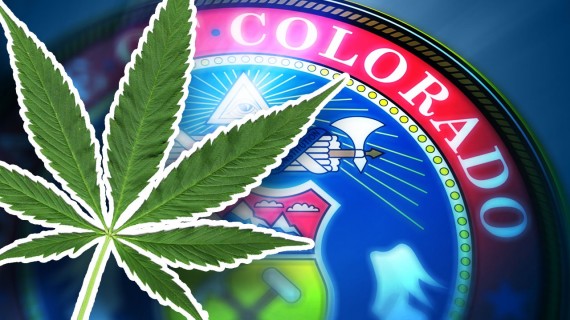 The Supreme Court today declined to hear a case filed by the states of Oklahoma and Nebraska against their neighbor Colorado alleging that the legalization of marijuana in the Centennial State was causing legal harm to its neighbors:
In the marijuana case, two states sought to use a rare procedure to attack the Colorado law, asking the justices to allow them to file a lawsuit directly in the Supreme Court. The Constitution gives the court such "original jurisdiction" to hear disputes between states, but the court uses it sparingly, most often to adjudicate boundary disputes or water rights.

"The State of Colorado authorizes, oversees, protects and profits from a sprawling $100-million-per-month marijuana growing, processing and retailing organization that exported thousands of pounds of marijuana to some 36 states in 2014," two neighboring states, Nebraska and Oklahoma, told the court. "If this entity were based south of our border, the federal government would prosecute it as a drug cartel."

In 2012, Colorado voters amended the state's Constitution to allow recreational use of marijuana and to regulate its sale and distribution. Nebraska and Oklahoma did not challenge the law's decriminalization of the drug's possession and use, but said other parts of the law were at odds with federal law and had vast spillover effects, taxing neighboring states' criminal justice systems and hurting the health of their residents.

Colorado told the justices that its neighbors were pursuing a curious and counterproductive strategy in the case, Nebraska v. Colorado, No. 144.

"Nebraska and Oklahoma concede that Colorado has power to legalize the cultivation and use of marijuana — a substance that for decades has seen enormous demand and has, until recently, been supplied exclusively through a multi-billion-dollar black market," Colorado's brief said. "Yet the plaintiff states seek to strike down the laws and regulations that are designed to channel demand away from this black market and into a licensed and closely monitored retail system."

Solicitor General Donald B. Verrilli Jr., the federal government's top appellate lawyer, urged the justices to refuse to hear the case.

"Nebraska and Oklahoma essentially contend," he wrote, "that Colorado's authorization of licensed intrastate marijuana production and distribution increases the likelihood that third parties will commit criminal offenses in Nebraska and Oklahoma by bringing marijuana purchased from licensed entities in Colorado into those states. But they do not allege that Colorado has directed or authorized any individual to transport marijuana into their territories in violation of their laws."

Both Mr. Verrilli and Colorado officials added that Nebraska and Oklahoma could pursue their objections in a more conventional suit, filed in a federal trial court.

The Supreme Court did not explain why it declined to hear the case. Justice Clarence Thomas, joined by Justice Samuel A. Alito Jr., dissented, saying the case presented a substantial question and that the court was required to hear it. "The plaintiff states have alleged significant harms to their sovereign interests caused by another state," Justice Thomas wrote.
This lawsuit was somewhat unusual in that it was filed directly in the Supreme Court because Oklahoma and Nebraska were contending that it fell under those limited number of cases over which the Supreme Court has original jurisdiction. As with the Court's appellate jurisdiction, though, invoking this original jurisdiction does not automatically mean that the case is accepted. Instead, Court rules require the filing party or parties to seek permission to invoke original jurisdiction by making at least some basic showing of how the nature of the case requires the Supreme Court to accept it under original jurisdiction. The number of these cases that the Court actually accepts is relatively small as you might imagine and typically involve issues such as border disputes and disputes over the the use of waterways that lie along the borders of two or more states. For that reason alone, this lawsuit was unusual in the manner in which it purported to claim that original jurisdiction should be applied, and it isn't entirely surprising that the Justices ended up rejecting without comment the argument that that the decision of the people of Colorado to legalize marijuana somehow harmed the interests of Colorado's neighbors sufficiently to warrant the exercise of the Supreme Court's original jurisdiction.
In their lawsuit, Oklahoma and Nebraska made essentially two arguments. First, they argued that Colorado's decision to legalize marijuana was in and of itself a violation of Federal laws against cultivation, sale, and use of marijuana. Second, they argued that Colorado's decision to legalize marijuana unduly harmed its neighbors due to the fact that residents of neighboring states now have easier access to marijuana and this had made it harder for the Plaintiff states to enforce their laws. As I noted when this lawsuit was filed more than a year ago, though, neither one of these arguments seemed to withstand much scrutiny. Regarding the first half of the argument, it is clear that the Tenth Amendment permits Colorado or any other state to pass laws regarding the legal status of marijuana or any other state to pass laws regarding the legal status of marijuana within its borders. As it is, Colorado law specifically states that people who purchase marijuana within the state are not authorized to transport it outside state borders and, if they do so, they are potentially subjecting themselves to potential prosecution under the laws of those neighboring states, and under Federal Law, which has jurisdiction once the marijuana is moved across state borders. Technically, of course, this wouldn't stop the Federal Government from cracking down on legal marijuana in a state like Colorado, but the Federal Government has made the policy decision that it will not prosecute cases involving marijuana use and sale that don't involve the crossing of state boundaries and there's not really much of anything that a neighboring state such as Nebraska or Oklahoma can do about that. Finally, the fact that the Plaintiff states have allegedly suffered increased costs due to residents who have brought marijuana within their borders strikes me as far too tenuous a ground on which to allow a lawsuit like this to go forward, and certainly not grounds for the Court to say that Colorado's legalization law is somehow unconstitutional. While the Court did not provide the legal reasoning for its decision declining to accept the case, the tenor of Justice Thomas's dissent makes it clear that the majority of Justices rejected the argument that the Court's original jurisdiction was properly invoked in this case, and it would appear that this decision was correct.
In any case, as Christopher Ingraham notes, this case could have implications for the efforts of other states considering the legalization of marijuana:
Legalization advocates say that while the decision likely won't have any big practical effects in the near-term, it does send a signal to other states mulling their own marijuana policy in the coming years. "The Supreme Court's rejection of this misguided effort to undo cautious and effective state-level regulation of marijuana is excellent news for the many other states looking to adopt similar reforms in 2016 and beyond," said Tamar Todd, director of the office of legal affairs at the Drug Policy Alliance, in a statement.

Observers on both sides of the issue point out that the court's majority did not issue any explanation of their dismissal, which is standard practice in cases like this. The justices may have objected to the lawsuit on its merits, or they may have simply felt that it wasn't proper for them to take up the case at this time, preferring instead to let the state-level legalization experiments play out.

"Of course, everything may change with a new administration in 2017," law professor Sam Kamin said in an email. "But with marijuana on the ballot in another big handful of states this fall, the genie may be out of the bottle by the time the next president is sworn into office."
Indeed, between this decision by the Court and polls showing increased support for marijuana legalization year after year, it's probable that the impetus toward legalization will become unstoppable at some point in the near future.
Here's Justice Thomas's Dissent: