Suspect In New York City, New Jersey Bombings Captured By Police
Just about two days after setting off bombs in New Jersey and New York City, a suspect is in custody.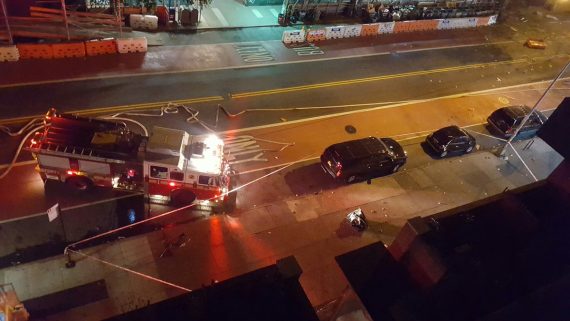 Less than forty-eight hours after an explosion rocked the New York City neighborhood of Chelsea, police have a suspect in custody who is believed to be responsible for making and planting the bombs:
The man believed to be responsible for the explosion in Manhattan on Saturday night and an earlier bombing in New Jersey, Ahmad Khan Rahami, was taken into custody on Monday after he was wounded by gunfire in an encounter with the police, according to law enforcement officials.

The dramatic episode on a rain-soaked street in Linden, N.J., came after the police issued a cellphone alert to millions of residents in the area telling them to be on the lookout for the suspect, who was described as "armed and dangerous."

Photos from the scene showed a man believed to be Mr. Rahami lying on the sidewalk, hands cuffed behind his back and his shirt pulled up exposing his stomach and chest, with a police officer standing over him.

Witnesses said they saw police shoot at a man who was running away. One person who was too rattled to give his name said the victim appeared to have been shot more than once and was "still twitching."

He also said it appeared a police officer was shot.

"Lotta' lotta' gunfire," said Derek Pelligra, manager of Linden Auto Body.

Mr. Rahami, 28, was identified on surveillance video planting the bombs in Chelsea, both the device that exploded and another that did not detonate a few blocks away. He was described as a naturalized citizen of Afghan descent who had been living with his family in Elizabeth, N.J.

It remained unclear there were other suspects who the police were searching for in the connection with the bombing.

Gov. Andrew M. Cuomo, who said on Sunday that the attack did not appear to have a link to international terrorism, said new evidence might change that thinking.

"I would not be surprised if we did have a foreign connection to the act," he said on CNN on Monday morning.

Mr. Rahami was born on Jan. 23, 1988, in Afghanistan. His last known address was in Elizabeth, N.J. He is described as about 5 feet 6 inches tall and about 200 pounds. Mr. Rahami has brown hair, brown eyes and brown facial hair.

A law enforcement official, who agreed to speak about the investigation only on the condition of anonymity, said they had conclusive evidence that Mr. Rahami was connected not just to the Manhattan explosion in the Chelsea neighborhood, but also to a bombing that took place earlier on Saturday on the Jersey Shore.

The city's police commissioner, James P. O'Neill, directed the entire patrol force of the New York Police Department — 36,000 officers — to step up their vigilance and be on the alert for Mr. Rahami.

Dozens of officers and federal agents were zeroing in on locations in New Jersey. At the same time, more than 1,000 officers from the city police force's Critical Response Command and Emergency Service Unit were working to secure New York City landmarks, commuter hubs and other sensitive sites.
Prior to the shootout that led to his capture, Rahmani was identified off of video that showed him near the scene of the bombing in New York City and New Jersey prior to the time that they happened. Additionally, officers were apparently able to tie the Chelsea bombings to the device that had exploded much earlier in the day in Seaside Park, New Jersey  based on similar components used in constructing the various devices as well as fingerprints reportedly found on at least one of the devices. What's unknown at this point is whether Rahami had any communications with terrorist elements outside the country, whether he had any accomplices in carrying out his attacks,  or why he chose the targets he did. The Seaside Park device was placed near the start of a 5K race designed to benefit members of the military and their families so perhaps that target is easy to understand. The remaining devices, though, were placed in seemingly random locations in New York City and Elizabeth, New Jersey and several of them didn't even detonate, which suggests that Rahami was acting alone. Also tending to undercut the idea that this guy was highly trained was the fact that he was caught one town over from where he lived and that police were alerted to his location by a business owner who saw someone sleeping in the doorway of a local business who turned out to be Rahami. After a shootout, Rahmi was injured and taken into custody.
There's still much to learn about this case, most specifically Rahmi's motivation, but it isn't much of a stretch of the imagination to say that this guy was influenced in some way by radical Islamic jihadists such as al Qaeda or ISIS. There's already some indication that the guy had built up years of resentment against people in general due to issues he was having in operating the fried chicken restaurant he helped run for his family, to the point where he sued the city for alleged civil rights violations due to the fact that it sought to enforce anti-nuisance laws against the business when its policy of being open around the clock caused disturbances in the neighborhood it's located in to the point where the family filed a civil rights lawsuit at one point. Eventually, I'm sure we'll hear about whether or not all of this led him to become radicalized somehow.
On a final note, it's worth noting just how quickly this investigation moved to a successful conclusion. Rahami was taken into custody just a little more than 48 hours after the explosion in Seaside Park and 36 hours after the explosion in New York City. In that short period of time, authorities had been able to identify a suspect, track down his family, send out a bulletin to the entire tri-state area, and capture him when he was found mere miles from the house where he lived with his family. That's some mighty good police work, and the NYPD, as well as the other law enforcement agencies in the area, deserve credit in pursuing the case and capturing him before he was able to cause any more harm.