Chelsea Clinton And Privilege
When you're being paid $65,000 to speak for less than an hour, you're pretty much the poster child for privilege.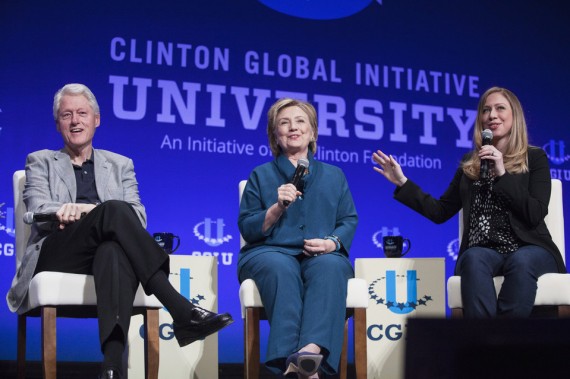 The political blogosphere is buzzing a bit today over a story about a university that balked at paying Hillary Clinton's $275,000 speaking fee, so they invited her daughter to come speak for $65,000 instead:
When the University of Missouri at Kansas City was looking for a celebrity speaker to headline its gala luncheon marking the opening of a women's hall of fame, one of the names that came to mind was Hillary Rodham Clinton.

But when the former secretary of state's representatives quoted a fee of $275,000, officials at the public university balked. "Yikes!" one e-mailed another.

So the school booked the next best option: her daughter, Chelsea.

The university paid $65,000 for Chelsea Clinton's brief appearance Feb. 24, 2014, a demonstration of the celebrity appeal and marketability that the former and possibly second-time first daughter employs on behalf of her mother's presidential campaign and family's global charitable empire.

More than 500 pages of e-mails, contracts and other internal documents obtained by The Washington Post from the university under Missouri public record laws detail the school's long courtship of the Clintons.

They also show the meticulous efforts by Chelsea Clinton's image-makers to exert tight control over the visit, ranging from close editing of marketing materials and the introductory remarks of a high school student to limits on the amount of time she spent on campus.

The schedule she negotiated called for her to speak for 10 minutes, participate in a 20-minute, moderated question-and-answer session and spend a half-hour posing for pictures with VIPs offstage.

The e-mails show that the university initially inquired about Chelsea Clinton but her speaking agency indicated she was unlikely to do the speech. At that point, a university vice chancellor urged organizers to "shoot for the moon" and pursue the former secretary of state, who proved too expensive.

So the university turned back to others, eventually choosing Chelsea Clinton when the agency indicated she was willing. Just shy of her 34th birthday, Clinton commanded a higher fee than other prominent women speakers who were considered, including feminist icon Gloria Steinem ($30,000) and journalists Cokie Roberts ($40,000), Tina Brown ($50,000) and Lesley Stahl ($50,000), the records show.

Officials with the school appeared to believe Clinton was worth her fee, which university spokesman John Martellaro said was paid using private donations. They exulted to Clinton's representatives that the luncheon sold out quickly, with 1,100 tickets selling for $35 each — which would equal $38,500. University officials say the event was intended to boost attention for the new hall of fame, not raise money.

"Chelsea was the perfect fit," Amy Loughman, an alumni relations official who managed the event, wrote in an e-mail a few days later. "It created fantastic buzz in the community."
In his own post about this story, Jazz Shaw makes a point that had also occurred to me:
[T]he children and other relatives of elected officials and candidates are not very compelling subjects unless they are actively inserting themselves into our game. (Alright… Billy Carter was an exception, but the guy was hilarious.) That rule of thumb includes Chelsea Clinton. As a child she was kept pretty much out of the media eye and even as an adult her activities haven't beenall that overtly political except when she hits the trail occasionally in support of her mom. So unless and until she either runs for office or is definitively indicated as being directly and personally involved in some corruption on the part of the family foundation, she's just not that interesting to me.
As general rule, stories about political spouses and wives don't interest me. They're not running for office, they're not the ones who are going to be making the decisions if the candidate wins, so what's going on with them just doesn't seem relevant. When the make mistakes, such as when the Bush twins were caught using Fake ID at a bar when they were still in college, it seems to me it's really only relevant if there's a serious crime involved, or if political influence was used to avert responsibility for wrongdoing. Chelsea, though, is an adult and she is becoming an increasingly visible part of both her mother's campaign and her father's foundation. There have been suggestions that, if her mother wins, the younger Clinton could end up heading the Foundation in place of her father, or that she could end up assuming the vast majority of the social duties normally performed by a First Lady. At some point, she crossed the line from being a politician's child and into the territory of being something of a public figure on her own. The fact that someone is willing to pay more than many Americans make in a year to hear her speak is probably the best evidence of that.
It's worth noting at the start that, as her parents have with some of their speeches, Chelsea Clinton donated the fee she was paid for this appearance to the Clinton Foundation rather than pocketing as income. Nonetheless, the anecdote raises many of the same issues that came to light over the past several months as we've learned more about how much former President and Mrs. Clinton have earned from public speaking, often before trade groups and corporations that had business dealings with the Clinton Foundation and business with the State Department while Hillary was Secretary of State. On some level, perhaps, I can understand why people would want to spend hundreds of thousands of dollars to hear Bill or Hillary Clinton speak. Former President Clinton especially is still an engaging, entertaining public speaker no matter what the topic might be, something that was demonstrated quite well by his speech at the 2012 Democratic Convention, which was arguably the best speech of the entire event. That understanding doesn't flow to their daughter, though. Much like the $600,000 she was paid to do essentially meaningless puff pieces for an NBC News show that has since been canceled and we saw the political media fawn over the news she was pregnant last year, it seems rather obvious that the youngest Clinton is basically making a living at this point riding the family coattails. I don't necessarily begrudge that, but given the fact that her mother so frequently speaks about income inequality and other issues it's somewhat odd that Chelsea is getting paid more than people with long, accomplished careers like Cokie Roberts and Lesley Stahl to speak about, well, I'm not at all sure what she's speaking about. As much as we can complain about the apparent injustice of the children of the ultra-rich gaining access to halls of power and wealth based on their family name, shouldn't those complaints also include a woman who would obviously not be getting $65,000 for a speaking engagement if her name was Chelsea Jones? To put it another way, isn't Chelsea Clinton a walking advertisement for the very kind of privilege that Democrats have been complaining about for years?