Chelsea Clinton Pregnancy Reveals Everything Bad About Political Media
Chelsea Clinton is pregnant, and once again America's political pundits are making fools of themselves.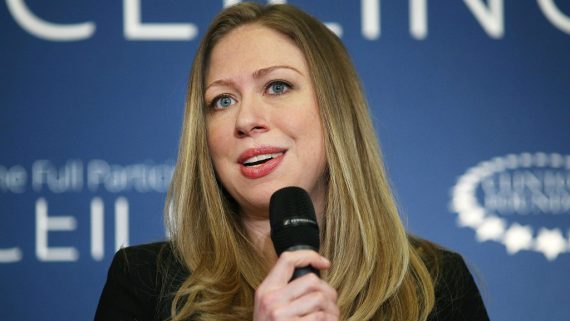 Last yesterday afternoon, political journalists across the United States were sent into a tizzy with the news that Chelsea Clinton, daughter of a former President and possibly also of a future President, was pregnant with her first child with husband Mark Mezvinsky. Given the fact that the Clintons are now, along with the Bushes, part of that sad category known as American "Political Royalty," it was perhaps understandable that there would be a lot of attention paid to the fact that Chelsea had managed to do something that women across the planet have been doing for millions of years. More regrettable, though, are the early indications that this story is likely to bring out the worst in America's already largely absurd political media.
For example. there's this from Politico speculating about what this unnamed grandchild might mean for Hillary Clinton's Presidential plans:
What do you get for the potential presidential candidate who has everything?

If that candidate is Hillary Clinton — and you happen to be her daughter — the answer is a grandchild.

Chelsea Clinton's announcement that she is expecting her first baby sent ripples Thursday through the nation's political and media community, which has come to scrutinize the Clinton family's every move with the rapt enthusiasm of a British tabloid photographer stalking the perimeter of Buckingham Palace.

By those standards, the youngest Clinton's declaration was a politico-obstetric earthquake, a doozy of a story that highlighted both Chelsea Clinton's growing personal prominence and Washington's total fixation with the woman who could be the country's first female president.

For Hillary Clinton, the political implications are less obvious — and less consequential — than the personal ones. The former secretary of state has made no secret of her desire to become a grandmother. Nor has her husband, former President Bill Clinton, downplayed his — and his wife's — determination to bring another baby into the family.

"I'd like to be a grandfather," the 42nd president told a Davos audience in 2011. "I would like to have a happy wife, and she won't be unless she's a grandmother. It's something she wants more than she wanted to be president."

But then, who says this 21st-century woman can't have it all?

Hillary Clinton has now lived the majority of her life as a public figure — as the first lady of Arkansas, the wife of a presidential candidate, the president's spouse, a U.S. senator, a trailblazing national candidate and the country's chief diplomat.

She has faced the voters as a divisive target in the culture wars, a high-powered female lawyer who dismissed the notion that she could have "stayed home and baked cookies and had teas"; as a betrayed wife who alleged her husband's infidelity was the invention of a "vast, right-wing conspiracy"; and as a startlingly resilient campaigner who swept past two credible opponents to claim a Senate seat and then battled a once-in-a-generation political talent for the Democratic presidential nomination.

After her 2008 campaign, Clinton appeared at least for a time to transcend even the normal partisan and political boundaries, soaking up compliments from Republicans who viewed her as a person of more depth than Barack Obama and attaining a level of pop-culture adulation (remember "Texts from Hillary?") that eluded Clinton in her earlier incarnation as a politician who was at best — in Obama's memorable phrase — "likable enough."

Now, Clinton will be something else entirely: the most prominent American politician ever to become a grandmother.

As far as sympathetic roles go, it doesn't get much better than that.
Then, as National Journal's Matt Berman points out, there's this segment from today's Morning Joe (which was both Joe and Mika less due no doubt to it being a holiday weekend) where New York Times reporter Andrew Ross Sorkin making the case that this fetus is a "gamechanger" for Hillary's 2016 bid.
Best wishes are of course called for to Clinton and Mezvinsky on the news of this pregnancy, but the coverage it is getting from the political media is yet another excellent example of what's wrong with them. At the top of the list, of course, there's the ridiculously fawning coverage of any news at all related to a member of American "political royalty," a phrase that would likely make the Founder recoil, whether that family is named Kennedy, Bush, or Clinton. As the matriarch of the Bush family herself said last year, there are other families in the country many of whom could no doubt contribute just as much as these families have, and yet much as we do with Hollywood celebrities and the British Royal Family, Americans seem to fawn over this select group of people notwithstanding the fact that, demonstrably, they really aren't any better than the rest of us. In addition to the obsequiousness of that coverage, though, there's the absolute cynicism that absolutely pervades "horserace journalism" which cases people like Sorkin to spend their time discussing the political implications of a fetus who won't be born for many more months yet. Other political journalists were speculating on CNN last night over whether the arrival of a granddaughter would hold Hillary Clinton back from jumping into the 2016 race or cause her to become more certain about running. And a third group was wondering if the public would hold running for President against the former First Lady, Senator, and Secretary of State because she wasn't spending more time with her as-yet unnamed grandchild of an indeterminate gender.
Perhaps the fact that this is largely a slow news week, and that we're heading into what for many people will be a long weekend, is causing the cable networks to spend much more time than seems appropriate on this story. Indeed, we should probably be thankful that Clinton and Mezvinsky have given Wolf Blizter something to talk about other than a missing airplane that is still missing. On the whole though, this happy, albeit ultimately unimportant for anyone not named Clinton or Mezvinsky, news has once again given America's political pundits cause to embarrass themselves. And we've still got 38 months to go until Election Day 2016.
The good news, of course, is that we already know who our candidates for President will be in 2056. On the Democratic side, the Obama daughters will be facing off against Chelsea's unborn child and Beau Biden's kids. On the Republican side, it will be the child of Jenna Hager Bush, some random member of the Romney clan, and one of Ron Paul's granddaughters.