Chelsea Clinton Being 'Groomed' For Congress, Reports Say
No, the Clinton dynasty isn't dead just yet.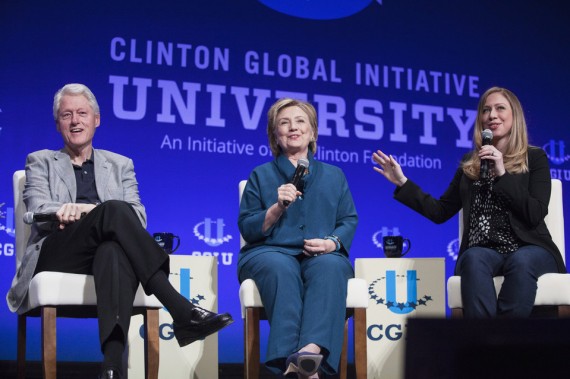 When Hillary Clinton lost her bid for the Presidency, there was discussion that this was the end of the Clinton political dynasty just as Jeb Bush's loss in the Republican primary this year was the alleged end of the Bush political dynasty. Well, just as Jeb's loss clearly isn't the end of Bush's loss wasn't the end of the Bush family in politics given the fact that Jeb's son, George P. Bush is currently serving as Commissioner of the Texas Land Office and has plans for seeking higher office in the future, the next generation of Clintons is reported being groomed for office as well:
While some pundits are declaring the Clinton political dynasty dead, sources tell us that it is far from over. Chelsea Clinton is being groomed for the New York seat held by Rep. Nita Lowey.

Chelsea could run for the seat in NYC's 17th Congressional District once Lowey, a respected, 79-year-old career politician with nearly 30 years in office, decides to retire, we have exclusively learned.

Lowey's district includes parts of Rockland and Westchester counties and, conveniently, Chappaqua, the Clinton family home base.

In August, Hillary and Bill Clinton purchased a home next door to their primary residence in Chappaqua for $1.16 million, which is intended for Chelsea, her husband, Marc Mezvinsky, and their two children, Charlotte and Aidan.

While Chelsea currently lives, and is registered to vote, in Manhattan, she could easily make Chappaqua her legal residence in order to run for Lowey's seat when it becomes vacant.

A source told us, "While it is true the Clintons need some time to regroup after Hillary's crushing loss, they will not give up. Chelsea would be the next extension of the Clinton brand. In the past few years, she has taken a very visible role in the Clinton Foundation and on the campaign trail. While politics isn't the life Hillary wanted for Chelsea, she chose to go on the campaign trail for her mother and has turned out to be very poised, articulate and comfortable with the visibility."

The source continued, "There has been a lot of speculation within New York Democratic circles about Lowey's retirement and Chelsea running for the seat. There is a belief that Chappaqua is a logical place for Chelsea to run, because it would be straightforward for her to raise money and build a powerful base."
Prior to the 2016 campaign, Chelsea Clinton had stayed largely out of the political spotlight. Even during the 2008 campaign for the Democratic nomination, she played a minimal role in a race that her mother would ultimately lose to Barack Obama. This time around, though, she was a primary surrogate for her mother along with her father and President and Mrs. Obama. Unlike in the past, she also seemed to be more comfortable as a public speaker at campaign events than she had in the past. Finally, if she ran as a Democrat in the district in question she'd no doubt run unopposed and would win easily. I suppose the only question is whether she wants to follow in her parents' footsteps and enter the world of electoral politics. So no, for better or worse, and I think largely for worse, the Clinton dynasty might not be dead just yet, which isn't healthy for American politics if you believe, as I do, that we need a wider range of voices in politics than the same families we've been dealing with for decades.