Taking Romney and the GOP to Task on the UK Trip and Foreign Policy
Disseting the Romney visit to the UK and musing about the state of GOP foreign policy views.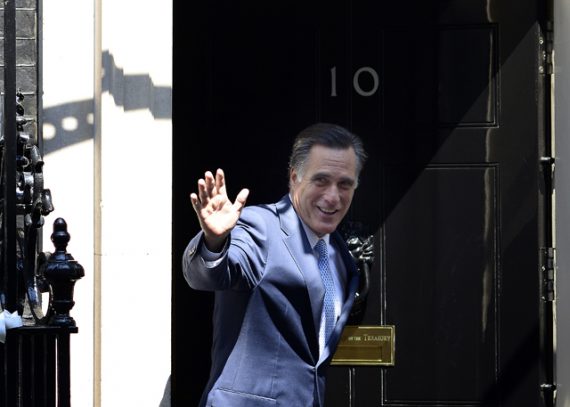 OTB commenter John Persona points to the following from Jonathan Freedland in the Guardian:  Britain is an easy date. So how did Mitt Romney mess up so badly?
Freedland makes several trenchant observations about Romney's trip and the GOP's foreign policy positions.
First, why it might be that the "Romney was just telling the truth" argument:
we're quite happy to whinge endlessly about security, transport and ticketing failures – but we'll be damned if we're going to hear it from some perfect-toothed American.
Indeed.  The bottom line of the gaffe about preparedness for the games is easy:  Romney wasn't polite.  One does not show up as a guest and start criticizing the host.  If dinner wasn't perfectly prepared, then find something polite to say.  Honesty that the roast was overcooked need not be shared.
Further, Romney wasn't even an invited guest but invited himself and was accommodated by the highest levels of the British government (and at a rather busy time).  No doubt this amplified the significance of the various foot-in-mouth moments, yes?
Second, on why the whole thing was worthy of comment in the first place:
For an American politician, Britain is an easy date: just praise the country as a steadfast ally, mention Churchill a couple of times and we'll roll over. Yet somehow Romney managed to provoke both the prime minister and the capital's mayor – both fellow conservatives who should regard a Republican nominee as a kindred spirit – into public rebukes. That takes some doing. So what explains how an accomplished politician, with the resilience to have prevailed in a bruising primary campaign, could mess up so badly?
This is really the bottom line, because this should have been a slam-dunk, feel-good visit, and yet this was not the case.
Third, Feedland makes some observation which are, unfortunately, accurate about the current state of the Republican Party:
Romney is fully in step with the party he now leads. For today's Republican party is characterised by a kind of bellicose ignorance towards the rest of the world, contemptuous of Obama's attempts to show respect to foreigners, crudely aggressive towards those deemed the US's enemies, uninterested in its friends.
Now, one might could argue over whether the GOP is "uninterested in its friends" (although certainly a lot of right-leaning pundits have chosen to blame the UK for the Romneyshambles, rather than blaming, well, Romney himself).  However, I have to admit,  "bellicose ignorance towards the rest of the world, contemptuous of Obama's attempts to show respect to foreigners, crudely aggressive towards those deemed the US's enemies" (especially the "crudely aggressive" part) strikes me as a pretty much on target.
Recognizing that it is problematic to speak of any political party as if it is a singular entity, and also recognizing that just because one is an adherent of a particular party that one is not responsible for what all one's co-partisans do, there is still a lot that should give a lot of us pause.
Certainly, for example,  Romney's rhetoric (and the GOP's in general) on China, Russia, and Iran have all had great dollops of bellicosity.  Likewise his book, No Apologies:  The Case for American Greatness isn't exactly, well humble or reflective.*  The questions becomes, of course, to what degree is it campaign rhetoric and how much of it is a guide to how he would govern if elected.
When we move to the broader GOP we can find examples like Michelle Bachmann's unfounded and xenophobia attacks on State Department Deputy Chief of Staff, Huma Abedin  which fits "bellicose ignorance" if you ask me.  Now, I can easily ignore Bachmann.  But when the Majority Leader in the House, Eric Cantor (R-VA) defends her (along with conservative columnist Cal Thomas), it starts to take on a different tenor.  And yes:  kudos to Senator McCain (R-AZ) for publically criticizing Bachmann.
Of course, the sad truth is that we Americans, in general, often engage in "bellicose ignorance towards the rest of the world" and are "crudely aggressive towards those deemed the US's enemies."  We constantly forget that having the largest economy and military doesn't mean that we always get our way (or, more specifically, that might does not make us right).  We also tend to be really insecure despite our status.  Romney's book subtitle underscores this, as do statements like this from a recent speech (which is a campaign line in general):
If you don't want America to be the strongest nation on Earth, I'm not your president. But with his cuts to the military, you have that president today.
I understand the nature of campaign rhetoric, but this is just jingoistic nonsense (but perhaps I repeat myself).  First, regardless of anything else, the military and economic power of the US has not faded since 2008.**  Second, the cuts in question are part of the sequestration deal that the Republicans wanted as part of the debt ceiling compromise, and third (and perhaps most importantly):  even if we cut defense spending, we remain the most militarily powerful country in the world by several orders of magnitude.
More excerpts from the speech along the same lines:
Have we gained greater confidence among our allies and greater respect from our adversaries? And perhaps most importantly, has the most severe security threat facing America and our friends, a nuclear-armed Iran, become more likely or less likely?

[…]

I am not ashamed of American power. I take pride that throughout history our power has brought justice where there was tyranny, peace where there was conflict, and hope where there was affliction and despair.
To Freddland's point, however:  why is this sort of thing the kind of thing that the GOP nominee feels is needed in his major foreign policy speech?
I will end by noting, in fairness:  American's in general, regardless of party affiliation, tend to like this type of rhetoric because, like most everyone else, we like some nationalism now and again.
—–
*Although, granted, I have only seen excerpts, so perhaps I am mistaken.
**Now, there have been Great Recession related problems, to be sure.  But a) that started before the election, b) the rest of the world has been affected as well, and c) the US remains the world's lone superpower by any measure.