Taliban Monkey Terrorists
The Taliban have a new secret weapon: Monkey terrorist soldiers.
The Taliban have a new secret weapon: Monkey terrorist soldiers. People's Daily:
Afghanistan's Taliban insurgents are training monkeys to use weapons to attack American troops, according to a recent report by a British-based media agency.

Reporters from the media agency spotted and took photos of a few "monkey soldiers" holding AK-47 rifles and Bren light machine guns in the Waziristan tribal region near the border between Pakistan and Afghanistan. The report and photos have been widely spread by media agencies and Web sites across the world.

According to the report, American military experts call them "monkey terrorists."

As a form of cruel political means, wars are launched to meet political goals through conquest, devastation, assaults and other means.

In a sense, the emergence of "monkey soldiers" is the result of asymmetrical warfare. The United States launched the war in Afghanistan using the world's most advanced weapons such as highly-intelligent robots to detect bombs on roadsides and unmanned aerial vehicles to attack major Taliban targets. In response, the Taliban forces have tried any possible means and figured out a method to train monkeys as "replacement killers" against American troops.

Analysts believe that apart from using "monkey killers" to attack the American troops, the Taliban also sought to arouse Western animal protectionists to pressure their governments to withdraw troops from Afghanistan.

An American official responded that the Taliban forces have started training "monkey soldiers" after suffering heavy losses, implying that they have exhausted their tricks. Nevertheless, the Taliban believe that the emergence of "monkey soldiers" indicates that they have found smarter and more effective ways to cope with American troops.

Ironically, the initiators of "monkey soldiers" are the Americans. Between the 1960s and the 1970s, the Central Intelligence Agency (CIA) trained massive "monkey soldiers" in the Vietnam War and dispatched armed monkeys to dangerous jungles to launch assaults on Vietnamese soldiers. Today, the Taliban forces have given the American troops some of their own medicine.
I've been unable to find anything in the British media on this and all the other Web references seem to trace back to the People's Daily report.    The photos below, which look incredibly authentic (for a 1950s sci-fi movie), are from a Pakistan defense forum.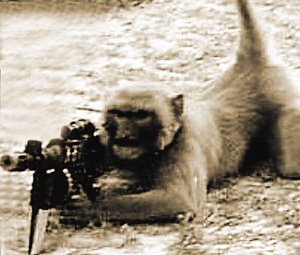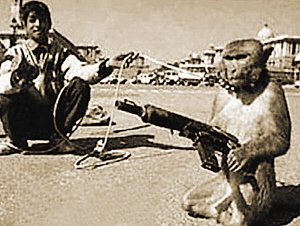 Additional insights from the forum:
Afghanistan's Taliban warlords have developed a bizarre way to deal with foreign forces: they have trained monkeys who love to eat bananas and peanuts to be killers.

Taliban forces have taught monkeys how to use the Kalashnikov, Bren light machine gun and trench mortars. They also teach them how to identify and attack soldiers wearing U.S. military uniforms.

[…]

It is reported that these monkey soldiers are mainly composed of macaques and baboons hunted at an early age in the jungle and sold to the Taliban. These monkey babies who lost their mothers are sent to a secret Taliban training base one-by-one to become killer monkeys. Taliban militants use a series of rewards and punishments to gradually teach them how to use the lethal weapons.

Recently, a British journalist went to Pakistan and Afghanistan border of Waziristan's tribal region where he witnessed a few of the monkey soldiers armed with an AK-47 rifle and Bren light machine gun. Taliban militants in the past have strictly kept the program secret.

However, Taliban leaders have recently taken the initiative show monkey soldiers to tourists of the Pakistan-Afghanistan border area. Apparently, the Taliban look on monkeys as "propaganda tools."

"If a person who loves animals knows the monkeys may be injured in the war, they might pressure the government to force the withdrawal of western forces in Afghanistan," said one Taliban insider.
Now, this raises a red flag:  There are tourists in the Pakistan-Afghanistan border area?!
Steve Hynd is skeptical as well:
I've searched (honestly!) in vain for tales of America's mercenary monkeys in the Vietnam war. Something tells me People's Daily got punked.
Developing . . .